"If you ever really want to move forward, sometimes you have to look back."
Happy Holidays! Past, present, and future. In the next few weeks many of us will be venturing home to see our parents, siblings, relatives. And through all the stress of holiday travel, entertaining and visiting – sometimes we forget how pivotal these moments shared with our family can be in our lives. This week I took an early trip to see my parents. I returned home with words to share – about the value of family, visiting – and of course, vegan food, and even a recipe for Vegan Chick'n Kale Quesadillas..
First the recipe, followed by my visit-with-my-parents travel story…
Quickie Quesadillas Since I didn't have time to make my mom and dad the recipe I bought ingredients for – I am posting it here. So mom, I know you are reading this. Grab this recipe. It's easy, satisfying and tasty. Vintage California comfort food (chicken quesadillas) gone vegan.
"Home"style Chick'n Kale Quesadillas (with a kick)
vegan, makes quesadilla 12 triangles
4 flour tortillas, medium sized
⅔ cup cheddar vegan cheese, shredded (I used Daiya)
⅓ cup spicy salsa
4-5 vegan chick'n 'buffalo wings' (Gardein brand, frozen section)
1 cup steamed kale, tossed in vinegar or soy sauce
pepper
olive oil for pan
optional: fresh cilantro finely chopped
Directions:
1) First prepare the chick'n wings. In a 400 degree oven, lay them on a greased baking sheet. Broil for 20 minutes or until tender and edges start to crisp. Remove from oven to cool a bit. Then chop the wings into tiny cubes. Set aside.
2) Chop your kale into thin shreds. Then steam your kale. Toss in 1Tbsp of soy sauce or apple cider vinegar and a bit of pepper. Set aside.
3) Grab your tortillas and spread a thin layer of salsa over 2 of them. Set aside.
4) Gather your ingredients and heat a saute pan or stovetop grill to high. Add about a tablespoon of EVOO and wait for oil to get hot. Then lay a tortilla over oil, quickly add a in half of the kale, chick'n cubes and cheese. Lay a dry tortilla overtop and press down firmly with a spatula. Allow to cook for about 2 mites and carefully flip tortilla. The cheese should have melted enough so the the layers stick together. Cook this side for another few minutes until edges crisp.
5. Remove quesadilla from pan and lay on a paper towel to cool and soak excess oil.
6. While first quesadilla cools, cook second one. Slice the rounds into triangles. Serve with a side of salsa. Garnish with the fresh chopped cilantro (optional)
…Now Onto my travel Story time…
Quick Trip. I took Amtrak down south. My parents picked me up at the station. Or really, they rescued (a la warm car) my from the freezing cold air and whipping, shiver-inducing winds. By the time my mom pulled up I was a frozen-nosed popsicle. Brrr was an understatement. Maybe wearing my knee-ripped True Religion jeans wasn't such a good idea. Instant, unwanted ventilation.
"This train is making stops: at your past. present. and future."
..By the time I got in my parents car, I was a tad cold and cranky. But my mom knows how to cheer me up! We swung by Roots, an awesome natural grocery store in the DC area, to pick up lunch eats. As well as Starbucks, where I ordered an extra hot soy chai. It was velvety warm, the vanilla-scented steam wafting over my thawing red nose. It tasted as refreshing as a glass of lemonade during a heatwave. I chugged it. It was gone by the time we got home.
At Roots, my mom and I strolled the aisles. For lunch, I picked up a hot mushroom barley soup and a BBQ vegan chick'n wrap with an amazing tofu-cilantro curry dipping sauce. Mom said those magic words: "Kathy, get anything you want!"

I loaded the cart with vegan yummies: two bags of frozen vegan Gardein products (Crispy Chick'n Tenders and Buffalo Wings). I threw in some Daiya cheese, salsa, tortillas, salt and pepper soy crisps, a green juice, coconut water, an apple, some savory roasted kale and even a giant slice of vegan fudge-chocolate cake. Funny, I knew I wasn't going to eat all of the groceries, but wanted my parents to be stocked up on 'vegan'. Thankfully, my parents have embraced a plant-focused diet.
Still strolling the aisles of Roots, my mom rushed to the nut/seed section and said, "Oh I need to get some sunflower seeds for the birds! I'm almost out." I squiggled my face at her. "The birds?"
When we arrived home I saw what she meant. Beautiful birds from the nearby forests came swooping by her windowsill gobbling up a few scattered seeds. It was freezing out so they must have been hungry. Sorry I don't really know their birdie names. But there was a tiny finch-looking bird. A big bold Bluejay, a crazy looking striped bird my mom called a wobbler? And more little sweet birds all perching for a few seconds to eat-and-run. Or eat-and-fly, I guess.

I whipped out my camera to catch the birdies feast in action. We were dining with the birds that lunch. I like the harmony in that. My parents and I watched what my mom called "the show". Nature's version of "dinner and a show". Perfect. Ode to the Birds…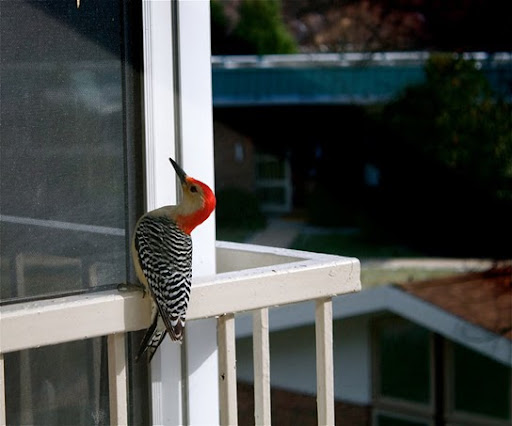 After lunch, I had been craving family photos, so after a short tutorial on Twitter and Facebook 101 for my mom who is courageously embracing this "social networking thing". I dove head-first into the stacks. Piles of vintage photo albums I know as well as the back of my hands – but never tire of looking at.
Every time I look at old photos of myself or my family (especially the vintage ones of my parents), I see a different image. I learn something new. I see the same old photos in a new light. New discoveries. I re-embrace my life. Past, present and future. A pile of dusty photo albums are like my own personal looking-glass into what life is all about. Here are a few to share with you..
My grandma in the kitchen, a few many years ago. I like this one 🙂 ..

Me, eating what else: fruit!

"Cat-loving" runs in the family. My mom's precious kitty..

My mom, as a kid. I love this pic..

My dad in Yosemite Cali, summer of '69!…

One of my many childhood cats, Snowball..

Meet the Parents. It's always a poignant journey – going home to visit my parents. Each time I visit them it seems like I am reawakened to how far I've come since childhood. This realization is both happy and sad. Yet beneath all the changes that come with time, are precious, deeply woven constants between parent and child. Quiet interactions that are heroic in their stone faced commitment to being timeless. My relationship with my parents is pleasantly timeless. It is comforting to have such a constant in a world that is so full of jolty experiences, moody friendships and darting interactions.
"If you really want to move forward, sometimes you have to look back."
Happy Holidays everyone. I hope you get to visit your loved ones this season!
Me and my sister, a cats dance recital…