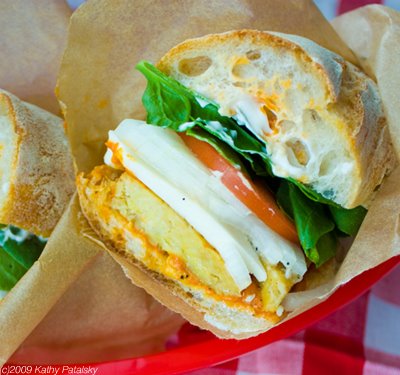 A cool spring breeze sweeps across the farm, tenderly combing the green meadows, wide orchard and sunflower fields. Bluebirds glide over the rusty old farmhouse nestled on a golden hill, a dusty dirt road leads to the open door, painted a cornflower blue. Inside, your picnic awaits. How does a classic Farmhouse Jack Tempeh sandwich sound? Creamy vegan Monterey Jack cheese. Farmhouse red vegan mayo. Maple glazed tempeh and a thick slice of sweet onion. This rusticly scrumptious sandwich has a lot less saturated fat than the traditional version. The healthy recipe awaits…

Healthier Farmhouse Jack. A traditional Farmhouse Jack sandwich, using real cheese and mayonnaise will have significantly more saturated fat than this veganized recipe. Let's compare the cheeses:
Vegan Jack cheese, Follow Your Heart Brand:
serving size: 1 oz.
calories: 70
fat: 7 g
saturated fat: 0.5 g
Traditional Dairy Jack Cheese:
serving size: 1 oz.
calories: 110
fat: 9g
saturated fat: 6g
That is 5.5 grams of saturated fat that you will save yourself in just one ounce of cheese. Plus, by using tempeh instead of a animal-based protein, you will be getting lean saturated fat free protein and nutrients. Tempeh is quite a super food.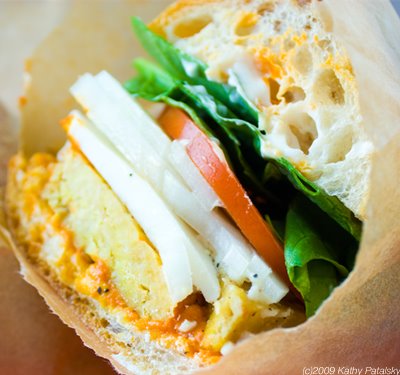 Farmhouse Jack Tempeh Sandwich
vegan, makes one sandwich
1 small ciabatta loaf bread
5.5 ounces tempeh, maple glazed
*one tempeh package is usually 8.5 ounces. Use ¾ of the package
2 thick sweet onion slices
2 thin tomato slices, vine ripened tomatoes
2 romaine lettuce leaves or baby mixed greens
2 slices Vegan Monterey Jack Cheese
*I like Follow Your Heart brand
1 tablespoon Vegenaise
½ teaspoon paprika
fresh black pepper
1 tablespoon spicy Dijon mustard, optional
Maple Glaze for Tempeh:
1 tablespoon maple syrup
1 tablespoon lemon juice
1 teaspoon black pepper
½ teaspoon salt
1 tablespoon olive oil
To Make:
Tempeh:
First you want to either lightly saute, or microwave the tempeh. I prefer to use the stove top, but if you are in a crunch, the microwave works very well on tempeh marinades.
Slice the tempeh diagonally, into two long triangles.
Soak the tempeh slices in the marinade.
Then microwave on high, half covered for 1 minute. Flip tempeh, and microwave for an additional minute.
Or saute on high for 5 minutes until browned on both sides.
Drape slices of cheese over warm tempeh snd set aside.
Spread:
Mix ½ tablespoon vegenaise with paprika, to get a red mayo spread.
Sandwich Assembly:
Slice ciabata loaf in half.
Spread paprika vegenaise on bottom half.
Spread ½ tablespoon white vegenaise on top half.
Layer sandwich starting with the cheese draped tempeh slices.
Next place tomato and onion slices.
Next drape lettuce leaves.
And lastly, sprinkle fresh ground pepper on top of the lettuce.
Place top half of bread on and slice in half.
Serve with spicy dill pickles or sunflower oil kettle chips.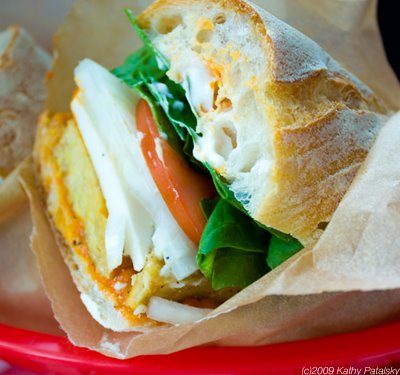 Want it even healthier? Here are some tips, below…
Healther Still.
Use multigrain baguette bread. Or whole wheat loaf.
Use all mustard and no mayo. Less fat.
Use an oil/vinegar spritzer bottle to season the lettuce and use less mayo.
Use spinach or mache greens-higher in nutrients than romaine.
Add some sunflower or poppy seeds.
Share it with a farmhouse friend and split a pitcher of fresh lemonade!
Yum.