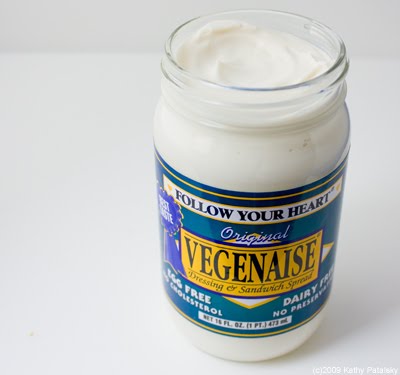 "You can eat it with a spoon." She said.
"Eat what with a spoon?" I asked.
"Vegenaise. OMG, it's so good." She replied.
"Yuck. I'm not a big creamy-condiment fan." I scrunched my face.
"Just try it." She answered. I tried it. Loved it.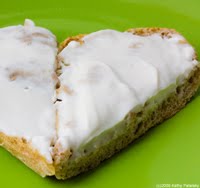 Vegenaise was invented in the early 1970's by the Follow Your Heart (FYH) brand, which originated in Topanga Canyon, California as a hippie-vibed vegetarian cafe/market. Since then, both the store and innovative product brand have gained a loyal fan following. And yes, you can eat Vegenaise with a spoon. But why do that when I've come up with Fifty creative uses for Vegenaise Spread…

VGP Trend Product. Vegenaise was on the "product trends" list from my Veggie Girl Power interview series. I'm always trying to get more foodies and chefs (veg or not, mayo-lovers and mayo-haters) to try it.
Vegenaise Facts:
*Facts obtained from the Follow Your Heart website.
*Vegenaise or Veganaise? Why is a vegan product, called Vegenaise instead of Veganaise? Here's the answer from Follow Your Heart: "When we first invented Vegenaise in the early 70's, the word vegan was not widely recognized. We named it Vegenaise for vegetarian-mayonnaise."
*4 varieties of Vegenaise: Original (Blue Label), Expeller Pressed (Green Label), Grapeseed Oil (Purple Label) and Organic (Gold Label). There is also a reduced fat version with a yellow label. However, I have yet to see that one in stores.

*Mayo Alternative? Sort've. "The Federal Standard of Identity specifies that mayonnaise must contain eggs. Vegenaise is egg free. Therefore, it comes under the FDA category of Dressing and Sandwich Spread."
*Why is it healthier than mayo? "Vegenaise is 20% lower in total fat than ordinary mayonnaise. It has approximately nine grams of fat in a serving. However, do to the fact that it is egg and dairy free, Vegenaise is very low in saturated fat, and has absolutely no cholesterol. Vegenaise contains no hydrogenated or partially hydrogenated fat and no transfat."
*Common Allergens/Special Diets: Gluten Free. Vegan. Egg Free. Milk Free. Corn Free. Honey Free.

*Sodium Content? "Vegenaise is actually low in sodium. It contains about 80 milligrams per serving."
*Refrigeration Required? Yes, (and no). "Unlike mayonnaise, since Vegenaise contains no eggs, there is no health risk associated with lack of refrigeration. We have simply found that Vegenaise tastes best when kept refrigerated. Even, if it is accidentally put in the pantry for a day, there is no need to worry. If it still looks and tastes good, it's almost always okay."
The list! Here are my 50 creative ideas for Vegenaise. Some of the ideas are commonplace, and some are uber-creative. Don't knock it until you've tried it! Who knows, you may find that "Vegenaise-infused muffins" or "Vegan-Wasabi-Mayo" are your new fave foodie ideas.
Fifty Creative (and yummy) Uses for Vegenaise Spread
1. Salad Sandwiches. Substitute Vegenaise and a vegan protein in virtually any 'salad sandwich' recipe. Vegenaise's bright perky flavor beats out traditional mayo in taste and health.
2. Salad Dressings. Make 'creamy' salad dressing from scratch using Vegenaise, healthy fat oils, vinegar, lemon juice, tahini salt pepper and fresh herbs….just to name a few ingredients.

3. Vegenaise Garlic Bread. Use Vegenaise in place of 'butter' on your next garlic bread recipe. Toasts up creamy and flavorful!
4. Vegenaise-spread Muffins! Spread on muffins. Better than artery-clogging butter.
5. Soy Blended. Blend Vegenaise with soy sauce and a bit of maple syrup for a unique salty-sweet dressing dip.
6. Vegan Cole Slaw. Whip up tangy sweet vegan cole slaw in a snap with Vegenaise instead of mayo.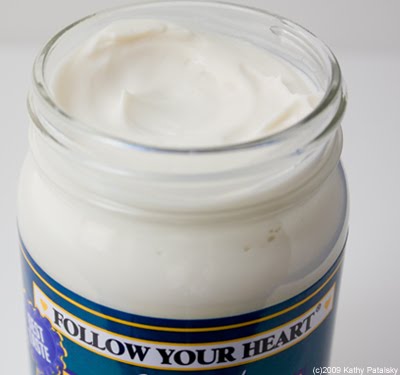 7. Lemon 'Mayo'. Blend Vegenaise with lemon juice and black pepper for lemon-pepper vegan mayo.

8. Baked Potato Craving? Satisfy that craving for a classic baked potato by adding Vegenaise and fresh chopped chives to a foil wrapped baked golden potato.
9. Sweet Sauce. Maple Syrup whipped into Vegenaise makes a simple sweet sauce that can be drizzled on just about anything you choose.

10. Got Spinach? Try a VSP: Vegenaise spread in a pita that's stuffed to the brim with raw fresh spinach leaves.

11. Pizza Spread. Spread it right on pizza. A small dab brightens up any pizza. (Especially one that may be cheese less due to an absence of vegan cheese!)
12. Vegenaise Ranch Dip. Make a vegan ranch dressing/dip with it.

13. Vegenaise Savory White Sauce: Vegenaise, roasted garlic, olive oil, citrus juice spritz, salt, pepper. Goes great with pasta and mushrooms.
14. 30 second Lemon Custard. Mix 1 tablespoon of Vegenaise into a lemon soy yogurt cup. Watch it instantly turn into a light yellow, creamy dessert with a custard-like flavor. Can be repeated with any yogurt flavor, although lemon is my fave.
15. Toast. Vegenaise on sprouted grain toast is a yummy way to start the day.

16. Spinach Dip. Substitute it for 'mayo' in any classic spinach dip recipe.

17. Spicy Potatoes. Pair roasted potatoes with spicy harissa. Then add a dollop of cool creamy Vegenaise to calm the spicy flavors.

18. Soup Topping (Dollop). A tiny dollop of Vegenaise perks up virtually any vegan soup recipe.

19. Out of Vegan Sour Cream? Vegenaise can easily be used as a 'sour cream substitute' for your Mexican tacos, burritos and enchiladas. Ole!
20. Sweet Potato Mash. Mash it into sweet potatoes for a creamy bold flavor.
21. Tempeh Dip. I love dipping tempeh cubes or strips into a simple dollop of Vegenaise.
22. Saute Add-in. I love adding a bit of Vegenaise into the pan whenever I am sauteing veggie proteins like tofu, tempeh or seitan.

23. Mac 'n Cheese. Whenever I make vegan Mac, I like to add a bit of creamy Vegenaise to the final product. It gives my pasta that shiny creamy sauce glow that I crave. Plus it adds a boost of flavor.
24. Chili Topper. Vegenaise is the perfect dollop of delight for your vegan chili bowl-especially if your chili is spicy!

25. Fruit Salad. I'm actually not a big fan of 'creamy' fruit salad dressings. I like fruit in the raw. But if it's a creamy fruit salad you crave, simply use some Vegenaise mixed with soy yogurt for a better-than-dairy flavor.
26. Vegenaise Morning Muffin. Try a breakfast Sandwich with vegan toppings, vegan sausage, Vegenaise!

27. Tempeh Reuban. Sauerkraut, tempeh and a Vegenaise-based Russian dressing.
28. Wasabi 'Vegan-Mayo'. Blend a bit of wasabi into Vegenaise for a spicy kick to any innovative dish or sandwich.

29. Tomato Love. Tomatoes pair fabulously with Vegenaise…so add those two ingredients to a sandwich and you are half way to bliss.

30. Vegenaise Muffins (No oil needed)! Use it in place of 'oil' in your next batch of muffins. It adds a tangy-sweet flavor to the batter. Great in apple muffins!
31. Grilled "Cheese". Spread Vegenaise on the tops, and bottoms of your grilled vegan-cheese sandwich. It will toast up nicely in the pan and add a creamy 'mayo-esque' flavor that will remind you of your childhood.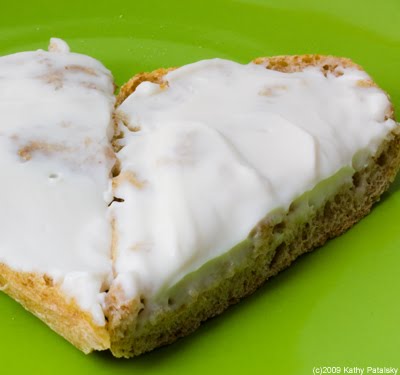 32. Vegenaise Frosting. Use this easy recipe for vegan cream cheese frosting: 1 container vegan cream cheese, ¼ cup maple syrup, 2 tablespoon Vegan buttery spread, 1 heaping tablespoon Vegenaise, pinch of salt. Blend and chill in fridge. The Vegenaise adds a perfect 'edge' to your frosting.
33. Pie and Pudding Accent. Add it to your pie and pudding recipes for a tangy twist. Examples: Banana Cream, Key Lime, Lemon, Chocolate, Vanilla, Peanut Butter…ect. Works best for creamy blended vegan pie fillings.
34. Artichoke Dip. Whatever your artichoke dip recipe is, add some Vegenaise and 'veganize it' for flavor and health! Reverse it: You can even dip artichoke leaves into Vegenaise.
35. Roasted Garlic-Vegenaise Pasta. Toss your pasta in a big mash of roasted garlic and Vegenaise. Creamy, decadent, vegan.

36. Pancakes and Vegenaise. Whether your making sweet brunch blueberry pancakes or savory sweet potato pancakes with dinner, try some Vegenaise as a creamy accent. Plus, Vegenaise goes great with maple syrup if its a pancake-breakfast your making!
37. Sorbet Add-in. OK, want a trick to change your vegan sorbet into a vegan sherbet really fast??? Fold in 1 tablespoon of Vegenaise to 1 cup of sorbet! Yes it will taste a bit tangy, but give it a try! Works best with very sweet sorbet flavors like mango, raspberry and passion-fruit.
38. TVP Flavor-Booster. Create an awesome vegan 'sandwich salad' with some cooked TVP and Vegenaise. Add some seasonings.chopped veggies and chill in the fridge.
39. Tofu Scramble. Add some Vegenaise to your tofu scramble recipe. Boosts flavor and ads a 'buttery' creamy texture to the tofu.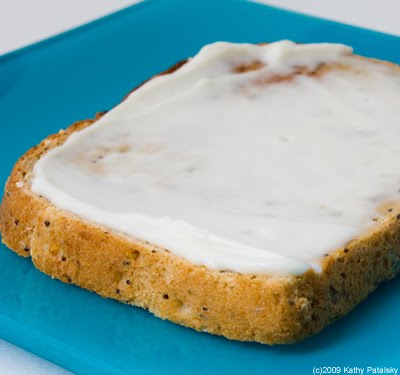 40. Rice Dishes. Fold some Vegenaise into your Rice recipes. Super simple way to boost a bit of flavor and texture.
41. Bagels and Vegenaise. Out of cream cheese? Simply add some Vegenaise to your bagel. Top with tomatoes, greens, sliced apples, sprouts, shrooms, onions, black pepper, sesame seeds…anything you'd like!
42. Veggie Burger Perfection. Makes any veggie burger or grilled portobello cap much happier sitting in a bun.

43. White Sauce Pizza. Craving a 'white pizza'? Add a thin layer of Vegenaise to your crust, layer with vegan cheese and toppings and bake!
44. Vegenaise Tahini. Change up your traditional tahini sauce recipe by blending in a bit of Vegenaise. Goes perfect with falafel pitas.

45. Vegenaise Brownies. You've heard of cream cheese and peanut butter brownies, well now put a savory twist on your brownies by swirling in a bit of Vegenaise. Great for blondie brownies too.
46. Vegenaise Oats and Wheat. Swirl a dab of Vegenaise right into your morning oatmeal or cream of wheat cereal. Adds a savory flavor and a bit of body.
47. Vegenaise Roll-Ups. Make some delicious lavash bread wrap-up spirals by using Vegenaise as your inside spread.
48. Peanut butter-Vegenaise Cookies. There's something delicious about adding a few spoonfuls of Vegenaise to your peanut butter cookie recipe. A must try for pb cookies. (Plus, you can replace any oil in your recipe with the Vegenaise).
49. Roasted Veggies and Vegenaise. Instead of using your old stand by of "olive oil and sea salt" tossed roasted veggies, try tossing your veggies (squash, mushrooms, potatoes and more) in a bit of Vegenaise. You'll probably use less 'sodium' in the end and get an amazing zesty flavor.
50. Eat it with a Spoon…
Do you have any more ideas for Vegenaise spread??? Let me know! And as always, don't be afraid to get creative in the kitchen. Yes you may create a few "misses" but those creative "hits" will make it all worth while!