On the fifth day of Vegan Treats, my true love gave to me, Five Gol-den Fuyus!,
Four Coconut Snowballs,
Three French Toasts,
Two Cups of Cocoa,
and a North Pole Peppermint Chai (just for me.)
My recipe for Fried Golden Fuyus is my holiday dessert spin on the beloved classic "fried green tomatoes". Fuyu persimmons get the 'southern style' treatment! Get this recipe…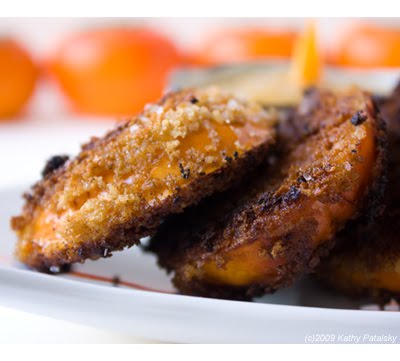 You say Green Tomatoes, I say Golden Fuyus. As I was pondering my fifth day of vegan treats I knew I had to do golden 'something'. And I pretty much had my persimmon-loving heart on doing five golden fuyus. But what can you do with a fuyu? They are so simply delicious on their own. I considered a basic maple-roasting recipe to be served a la mode with some vanilla hemp ice cream. But then I was staring at the tiny fuyus and it suddenly hit me! Fuyus remind me of tomatoes, beefy green tomatoes! And one of my favorite southern side dishes is 'fried green tomatoes' – so the wheels of creativity began to spin. (Fun fact: The movie Fried Green Tomatoes is a personal fave. I posted a few movie quotes, post recipe.)

I Love Condiments. I really wanted a side 'dip' for these fuyus. And mustard or ketchup just didn't seem right. I crafted a simple vanilla-cinnamon dipping pudding. You don't need the dip, but it's a nice touch. And fyi, I used the leftover Brazil nut/coconut shreds from my Four Coconut Snowballs to flavor my vanilla pudding dip.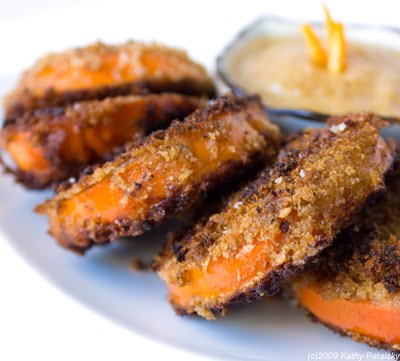 Fried Golden Fuyus
vegan, makes about 10 slices
4 small ripe fuyu persimmons
1 ½ cups organic Panko bread crumbs
*I used Edward and Sons brand
½ cup whole wheat flour
½ cup soy milk
2 tablespoon maple syrup
1 tablespoon cinnamon
1 teaspoon fresh citrus juice
for frying: ¼ cup olive or canola oil. Plus 1 teaspoon buttery spread (optional).
optional dry flavors:
¼ teaspoon cayenne
1 tablespoon brown sugar
½ teaspoon black pepper
2 tablespoon coconut
optional wet flavors:
sub soy nog for the soy milk
add ¼ cup citrus juice
1 teaspoon citrus zest
Directions:
1. Trim of the top stem and bottom flat skin off each fuyu. Slice your fuyus into about ¼″ – ½″ thick slices. My fuyus got about 3 round slices each. Continue with all of your fuyus.
2. In a flat bottom dish, combine the soy milk and maple syrup. You can add a few wet flavor add-ins here if you'd like.
3. Spread your panko bread crumbs in a flat dish. Mix and place your flour and dry spices in another flat dish. Note: I actually used one large casserole dish for both the dry ingredients. Just keep the flour and crumbs on opposite sides of the dish.
4. Turn your frying pan on med-high. Put about ½ your oil (coat the pan well) and add a touch of buttery spread into the pan. Wait until it starts to sizzle, then quickly dip your fuyus and place them on the hot pan.
5. Dipping process: milk, flour, milk, bread crumbs, pan. That's the process. Dip a round in your milk-squish it down so it absorbs some liquid. Then transfer it to the flour, coat both sides. Drop back into milk. Drop into bread crumbs. Coat both sides with a thick layer of bread crumbs. Transfer to pan. Proceed to fill your pan with breaded fuyus.
6. Once all your fuyus hit the pan, cover gently with foil, grab your 1 teaspoon of fresh citrus juice and pour it onto the pan, under the foil. This will create a big poof of steam for a few seconds. This helps to heat your fuyus through while keeping them nice and moist.
7. Lift the foil and flip the first fuyu about 3 minutes after placing it on the pan. Continue flipping all the fuyus. They should be a light caramel/deep brown crisp color, but not soggy or burnt. (A few burnt edges is good). Allow them to cook for another 2-3 minutes on the remaining side. If you need to add more oil half way through the cooking/flipping process, go ahead.
8. When the fuyus are finished frying, remove them and place them on a paper towel to cool. Sprinkle 1 teaspoon of coarse sea salt over top all the slices. Serve hot! They should stay warm in the center for about 20 minutes. Right off the pan they will be too hot to eat..don't burn your mouth.
Plate with fresh citrus zest and/or dipping pudding (recipe below).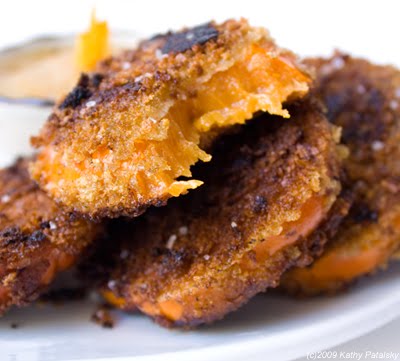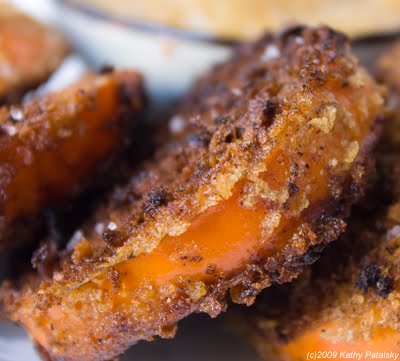 Cinna-Coco-Vanilla 'Dipping' Pudding
vegan, makes about 2 ½ cups
1 packet Dr. Oetker Vanilla pudding
2 cups plain soy milk
1 teaspoon cinnamon
1 teaspoon citrus zest
1 tablespoon soy creamer (or more soy milk)
¼ cup coconut flakes, fine grain
garnish: maple syrup, citrus zest
optional: sub coconut with coconut/brazil nut shreds.
*I used leftover shreds from my Coconut Snowball Cookies!
Directions:
1. You can either cook the pudding stovetop or microwave it. The microwave method is super easy: simply stir the pudding packet into milk and microwave for 2-3 minutes. Stir well again and stir in seasonings. The stovetop version is the same, only using a pan over heat.
2. After you stir in the seasonings (coconut, citrus zest and soy creamer), place the pudding in the fridge to chill OR serve right away.
3. When you plate the dipping 'pudding' into small bowls, add a drizzle of maple syrup and sprinkle of leftover zest on top.
Vanilla Pudding Dipping Sauce: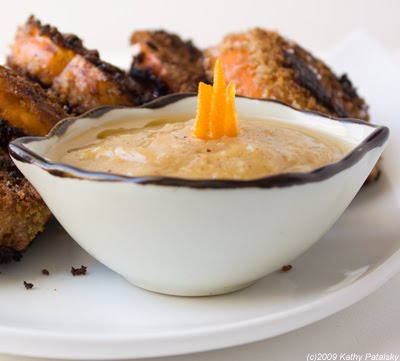 Fave Fried Green Tomatoes Movie Quotes/Scenes from IMDB:
Ed Couch: What the hell's this?
Evelyn Couch: That's a low cholesterol meal. Happy Valentine's.
Ed Couch: God! Are you trying to kill me?
Evelyn Couch: If I was gonna kill you, I'd use my hands.
—————————-
[Evelyn is cut off in a parking lot]
Evelyn Couch: Hey! I was waiting for that spot!
Girl #1: Face it, lady, we're younger and faster!
[Evelyn rear-ends the other car six times]
Girl #1: What are you *doing*?
Girl #2: Are you *crazy*?
Evelyn Couch: Face it, girls, I'm older and I have more insurance.
—————————-
Sipsey: It's all right, honey. Let her go. Let her go. You know, Miss Ruth was a lady. And a lady always knows when to leave.
—————————-
Idgie Threadgoode: See, now is a time for courage. I guess you already know that there are angels masquerading as people walking around this planet and your mom was the bravest one of those.
—————————-
Ninny Threadgoode: Hey Evelyn, somebody stole my house.
—————————-
Ninny Threadgoode: [voiceover] After Ruth died and the railroad stopped runnin', the cafe shut down and everybody just scattered to the winds. It was never more'n just a little knockabout place, but now that I look back on it, when that cafe closed, the heart of the town just stopped beatin'. It's funny how a little place like this brought so many people together.
—————————-
Ninny Threadgoode: I found out what the secret to life is: friends. Best friends.