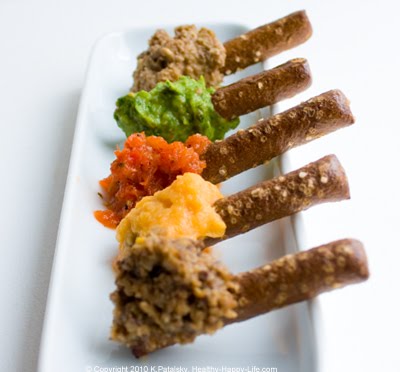 Newsflash, Super Bowl snacks can be healthy and delicious! So even if you've decided to plop down on the couch and happily claim the title couch potato for a day – at least you can munch on some healthy snacks that won't bore you (ie, the bean dip, salsa, bean dip, cheese dip, ranch, salsa, bean dip, snoozer…) or knock you into a football snack coma by halftime.
Super Bowl Dips: Not Very Athletic. Most of the 'dip' you find at the supermarket is loaded with fat, sodium, preservatives and sometimes even worse – like trans fat, artificial colorings or chemicals. And be honest – they aren't really all that yummy anyways. In fact, some of them are quite nasty tasting. So why do people buy them? Because they are easy and cheap. So what if you could make a whole Super Bowl worth of delicious, healthy, easy dips and spreads – five different flavors – for only ten bucks? Get ready to be wowed by your culinary skills…

Don't Fear the Couch. When I think about what some folks do on Super Bowl Sunday, I cringe. It's the ultimate in health disasters. Turn on a 6+ hour television event – stick some fried salty chips in a giant bowl, a plethora of unhealthy 'dips' and other cheesy, gooey, high calorie, low-nutrient processed foods – a few bottles of beer and soda – and call the day a cultural tradition. Well I'd looove to change that tradition. Yes, you can still plop on the couch and declare Super Bowl Sunday a 'lazy day' but why not munch on healthy snacks?

The Test. And if you think your boyfriend, husband or other sports fan guests won't eat 'healthy snacks' – do this: place both the healthy dips and the unhealthy dips on your appetizer platter. You might be surprised which dip disappears first.
Super Bowl Dips Part One: Shopping list
Before I share my recipes in PART TWO with you, I want to give you the shopping list. And show you how easy it is to save money by making your own spreads, dips, tapenades and salsas at home. By using fresh, healthy, you-pick-them-out ingredients, you guarantee optimal flavor and nutrition. None of this "sitting on a shelf for a month or more" stuff. Just think about when that dip was actually made? It sat in a warehouse, a box, a delivery truck, a back warehouse, a box, a shelf, a shelf, a shelf – and finally your cart, then your kitchen cabinet and finally your mouth. Hmm, not too appetizing is it?

Save Money. Check out your shopping list and how you will be able to do this for around $10. Five premium dips at Whole Foods would cost me around $25. The 'best' brand I can find is $5 each. And mine are better – and fresher.
What you'll need and estimated cost:
*prices are based on an estimated cost – prices vary by location/store
1 can cannellini beans $1
½ can garbanzo beans $.40
1 can of black olives $1.20
1 cup sliced mushrooms $1
handful spinach $.40
1 red pepper $1.80
1 cup store-bought salsa $.50
1 small sweet potato $1
a bit of EVOO $.50
some maple syrup $.50
some sunflower seeds $.20
1 lemon $.50
1 juicy orange $.50
½ avocado $.50
a black pepper grinder – pennies
sea salt – pennies
COST: $10 (give or take a bit depending where you shop, not bad)

How Much Dip? *note that each recipe will be making about 1 ½-2 cups of dip. That is about 8+ cups of dip total. Plenty for your Super Bowl party.

How Long? I made all these dips in about 25 minutes. All you need is a food processor. I used a mini sized food processor.
So now that you have your ingredients list, check out the recipes I'll be posting in the next blog post…later today:
The Recipes
1 – Pure Olive Dip
2 – Roasted Red Pepper Salsa
3 – Green Dream Dip
4 – Sweet Maple Sweet Potato Dip
5 – Savory Sunny Mushroom Dip
Recipes later today…