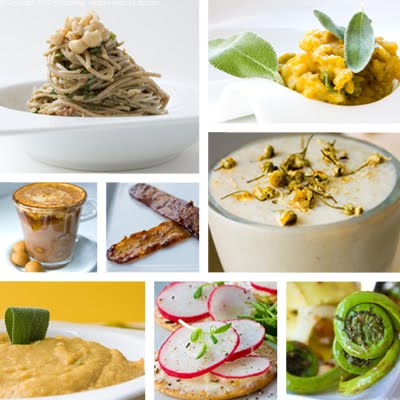 An intriguing brief interaction with Gael Greene on Twitter yesterday left me pondering, once again, the question: Can Vegan Food be Considered Gourmet? I am curious to see what you all think. Can tempeh, mushrooms and dairy-free risotto ever win the hearts of Gael and her utensil-wielding army of Gourmands?
Gourmand-A lover of good food. Someone who is extremely (and often excessively) fond of eating and drinking. A person with discriminating taste in food and wine. source: various online definitions.
You Say Gourmand, I Say Foodie. To me, gourmands, gourmets, foodies and epicures all love the same thing: Good Food. And they are all life-long students devoted to refining their palates and perfecting the art of eating.
Outside their own kitchen, foodies are raptured by the art of the dining experience: the reservation, the seating, the menu, the waiter, the pouring of the wine and water, the summoning of the dessert menu – or the refusing of it – as my foodie friend Jen likes to signal by waving her hand in refusal.
Foodies love to review the specials, refuse the pedestrian offerings, snicker at "Restaurant Week", chatter like they are Tom and Padma at Judges Table, order the Chef's tasting menu or off the menu completely, and give their waiter a thumbs up – or down. Foodies love food, and the rituals that come with it. And in all hopes, the food they eat will be something that inspires them, something they will come to crave and even recommend to fellow foodies.
Foodies are not Hermits. The most distinguishing trait that makes someone a foodie, rather than merely a passionate eater, is a sense of adventure. Foodies are driven by their craving from something new, experimental and even risky. Foodies go on dining adventures. Think Indiana Jones with a knife and fork. And yes, even those with restricted diets can be adventurous. Also true: foodies know what they like and dislike. For example, I know that if I dine on risotto, seitan skewers, salt and pepper oyster mushrooms and corn chowder from GoBo, my belly will be in heaven. But to eat this everyday would be a bore. So the hunt begins: what's new? What's trendy? What makes my eye pop open, my jaw drop and my mouth water? Foodies are defined by their sense of adventure.
Vegan Foodie. I call myself a vegan foodie. Obviously indicating that while I experience glee and bliss engaging in new food adventures (fine dining, grab-n-go and in my own kitchen), the vegan part of this title indicates that I care about plant-based ingredients, animals and a sense of kindness in the food I seek. I personally also care about the nutritional value of the food I eat – not all vegans are like this though. Vegan foodies have limits on their adventures. But on the same note, I will not curl up in a lettuce leaf and be timid in the face of mainstream dining.
Make Mine Vegan. Please. I love a good challenge when it comes to fine dining. I'm proud to have dined at some of the world's top rated restaurants – yes, I was that 'obnoxious vegan' in the dining room who requested her pasta dish, egg-free and without any cheese or cream. I have my limits, but I have gone to Le Bernardin, Butter, Felidia's, Morimoto, Craft and Jean Georges among others, and asked for my delicious gourmet meal to be prepared vegan. All obliged me, generously.
Even though ordering vegan at a non-vegan restaurant is stressful for me, it's worth it. In my own small way I feel as though I am reminding the kitchen staff that vegetarians and vegans eat too! More importantly, they are paying customers…
But Take Note: my favorite restaurants are the stress-free ones, aka veg or vegan: Candle 79, Dirt Candy, Counter, Blossom, Pure Food and Wine, Caravan of Dreams and GoBo – all in NYC. And in other states there is a wide pool of exquisite veg dining contenders. See my list in my FAQ's.
Others have their own opinions of vegan dining: SuperVegan is a great all around resource. And PETA ranks their top 8 Gourmet vegan restaurants here. Blackbook has their own veg and vegan LA dining list. And fellow vegan blogger QuarryGirl has a top 5 list of faves. Another Top 10 Veg NYC Restaurants list is here.
Is Vegan Food Gourmet? My short answer: yes. I came to this conclusion after a lot of foodie explorations. Don't agree? First, head to Blossom for a long romantic meal, GoBo for some butternut squash risotto, Candle 79 for seitan picatta, and Pure Food and Wine for raw lasagna and a mallomar. Then go to Dirt Candy and order any of Chef of the Year Amanda Cohen's vegan dishes – then I'll consider your appeal.
My personal collection of "gourmand-friendly" vegan recipes are proof enough for me. Here are a few recipes:
Soba Noodles with Beech Mushrooms
Triple S Risotto: Scallion, Sweet Potato, Sage
Fall Pasta: Butternut, Shiitake, Sage
Spicy Sweet Fiddleheads Pasta
Fennel Arugula Citrus Salad
Sunny Mushroom Tempeh AM Bagel
Golden Fried Fuyus
Triple Spicy Potatoes Au Gratin
Radishes with "Butter"
Chocolate Pom Parfait
Ginger Poppy Thyme Tea Cookies
Diva Tofu-ccino Parfait
Cheesecake Pumpkin Pie
Broccoli Jack Soup with Tempeh Croutons
Calm Chamomile Flower Smoothie
Butternut Squash Sage Dip
Summertime Lemon Focaccia Bread
Toasted Walnut Pesto
Tempeh Pesto Stuffed Tomatoes
Tempeh Bacon, aka facon
Bullseye Spiral Wraps
Ginger Juice Shooters: Palate Cleanser
Respect. I respect Gael Green's opinion – whole-heartedly. However, I'm sure she will agree that one night at one restaurant shouldn't mark the end of her vegan food explorations. And sadly, Gael was being gentle in her remarks – though she represents a large number of foodies. There is a significant lack of respect for vegan food in the "foodie" "gourmand" community. How can I get Gael Greene and her utensil-wielding army of gourmands to take tofu, tempeh, seitan, vegan risotto, vegan pizza, vegan sausages, tempeh bacon, vegan cupcakes, dairy-free mac n cheese and sumptuous vegan desserts seriously? If someone like Gael can give vegan food a label of "gourmand-approved" perhaps more will agree.
Review the Tweets that inspired this post:
@GaelGreene: "Had hi hopes last night with vegetarian niece at Candle 79 Alas,there's no such thing as gourmet seitan & tempeh, not for me. #fb" -11:20 AM Feb 16th from web
@Lunchboxbunch: "Well if foie gras & caviar are "gourmet"..count me out. RT @GaelGreene ..there's no such thing as gourmet seitan & tempeh, not for me."
@Lunchboxbunch: "One of my fave dining experiences ever was @Candle79. @GaelGreene: If u r looking for snooty gourmet food/service, keep looking."
@GaelGreene: "@lunchboxbunch Apologies for using the word gourmet. I never do, Gourmands I know love caviar&foie gras.Tempeh is no subsitute 4 lamb chops" -about 3 hours ago from web in reply to lunchboxbunch
@Lunchboxbunch: "@GaelGreene I can agree with you on that on! And I'll take the tempeh… 🙂 RT "Tempeh is no subsitute 4 lamb chop"
How Do I Convince the Masses? Beg, plead and re-inspire non-veg foodies to try a week or weekend of vegan eating. Heck, start with one meal. Carnivore and vegan foodies are able to understand one thing: feeling fabulously! Vegan food is not only good for the planet, but good for the body, spirit and the heart. It makes you feel good. I have no doubts that eating a diet rich in plant-based foods for one week will leave you feeling healthy and full of energy. But you have to eat the right vegan food – a warning: yes, bad vegan food is alive and well. It must be carefully avoided. My advice:
Dine Out. Do your research and pick a good restaurant: Blossom, Dirt Candy, Pure Food and Wine, GoBo, Candle 79, Millennium, Madeleine Bistro, Sublime, Real Food Daily, M Cafe, Saf Restaurant and more… Do your foodie research and make a reservation. Reviews, yelpers and critics may be conflicting, but your own taste buds won't lie.
Dine In: Try a few of my favorite "gourmand-friendly" vegan recipes listed above. Give vegan food a whirl. A taste. A try. A nibble. Afterall, didn't I say that foodies are defined by their sense of adventure???…
March on foodies~
What do you think? Is vegan food gourmet? Why or why not? And really, what is a "gourmand" and "gourmet" anyways?