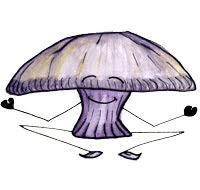 Here it is! Foods for your Mood mini-series part one of four: calming foods and recipes.

"To be calm is the highest achievement of self" -my tea bag tag. I hope you had a zen, relaxed and utterly calm day. However, if you are like most people and felt frazzled, stressed, anxious and just plain tense, listen up! One way to zen out your mood is to use calming foods. So take a deep breath in, and out and in and out and check out this list of calming recipes to soothe your hectic mind and body. Check these out…
Yoga, check. Calming smoothie, check.
*Don't forget to check out the entire Foods for your Mood mini series schedule here.*
Foods for Your Mood: Part One, Calming.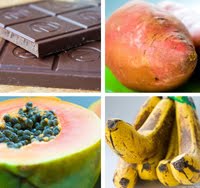 1. Complete List of Calming Foods/Ingredients *it's a must click!*
This is my personal list of calming foods and ingredients. Each food includes a reason as to why I consider them "calming".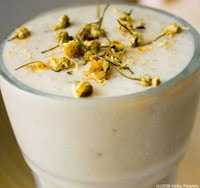 2. Calm Chamomile Banana Smoothie
Luscious vanilla, soothing chamomile flowers and a pile of sweet ripe bananas. Add a dash of warming cinnamon and a few scoops of soy yogurt and you have yourself a super-calming smoothie. I call it a "zen-blended".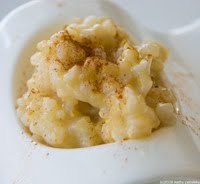 3. Vegan Rice Pudding
Rice is part of the BRAT diet. You read number one already right? Well then you know that rice is packed with mood-lifting complex carbs and tummy soothing 'blandness'. OK, bland isn't the yummiest word, but this rice pudding recipe will indeed make your rice yummy!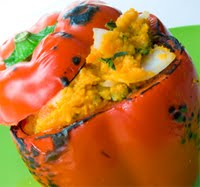 4. Sweet Potato Stuffed Roasted Peppers
Sweet potatoes are one of my favorite calming foods. Mashed up they are soft and soothing to eat, and they contain those serotonin-boosting complex carbs. This warm side dish would calm me down after a long stressful day.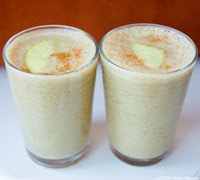 5. Ginger Snap Smoothie Sipper
Ginger isn't necessarily a 'calming' food. But it is a great ingredient to use when your digestive system is feeling ultra sensitive, such as in times of stress-when you are NOT calm. Choose ginger to sooth any stress-induced nausea. Ginger is a simple way to aid your digestion. And this smoothie tastes like a gingersnap cookie…can't beat that.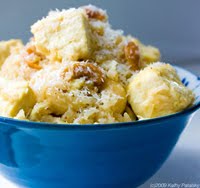 6. Fluffy Coconut Rice with Tofu Pillows
Who wants pillows for dinner?! I do. Rice, part of the BRAT diet, and a light coconut rice dish make this a very calming entree. Easy to digest complex carbs with a hefty dose of protein from the soft tofu pillows. If I could eat this dish on a cloud I would, it would only seem natural…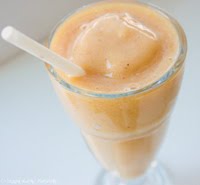 7. Calm Tummy Banana Cashew Juice Smoothie
Cashew juice has been known to calm a tummy. And so have bananas. So why not stick them into a smooth sweet taste-bud blasting recipe? warning: may cause extreme calmness and tension reduction. Do not drink while driving. 🙂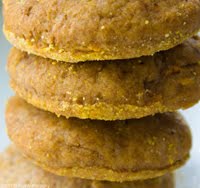 8. Spelt Sweet Potato Biscuits
Complex carbs? Check! Sweet potatoes? Check! Spelt? Check! These biscuits have it all, including using spelt flour instead of traditional wheat flour. Spelt flour is easier for some people to digest because it contains less gluten than wheat.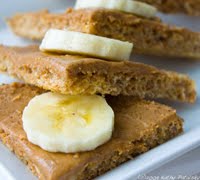 9. Almond Butter Toast, Jean Georges Style
Toast and bananas are both part of that BRAT diet. So why not be like Jean Georges and eat them together in the morning. Jean Georges seems like a pretty calm guy, even though he has a hectic job being a Michelin starred chef and restaurant mogul..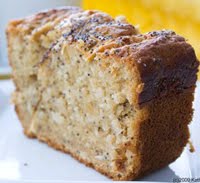 10. Lemon Poppyseed Chamomile Tea Bread
Tea cake. Tea cake. Tea cake. The phrase 'tea cake' makes me think of calm thoughts like afternoons tea, relaxing in the 'sitting room' and enjoying a warm pot of chamomile on a dreary rainy London day. So I don't live in London, but I can still make and eat the perfect calming tea cake right? So can you.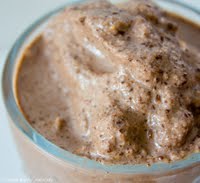 11. Double Chocolate Chip Shake
Chocolate. In a shake. Times two. And it's vegan. Calmness: yes.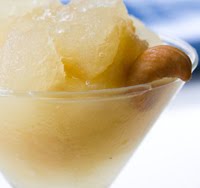 12. ONE Cashew Juice Slushee Sipper
Cashew Juice is said to calm the tummy. Thus why not slush it up into a cold slushee beverage? Divine for a cool calm-fest.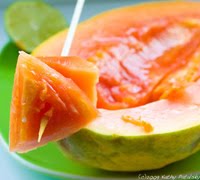 13. Papaya Bowl with Lime
Papaya contains papain, an enzyme that aids in digestion. Papaya is also super easy to digest. Eat this papaya bowl on its own and get yummy fruit nutrients that certainly won't stress you out.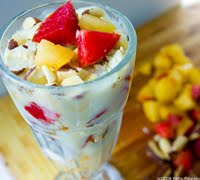 14. Yogurt Fruit Parfait
This parfait uses pluots. I'd change it up to use bananas. Banana vanilla parfait. Total calm in a pretty layered parfait glass.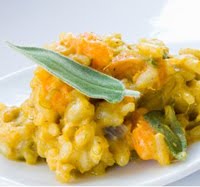 15. Triple "S" Risotto
Sweet potatoes, sage and rice help to craft this creamy gourmet rice dish. So creamy it will make you want to curl up by the fire, grab a cozy blanket and turn off all electronic devices for the evening. Zen out everyone.