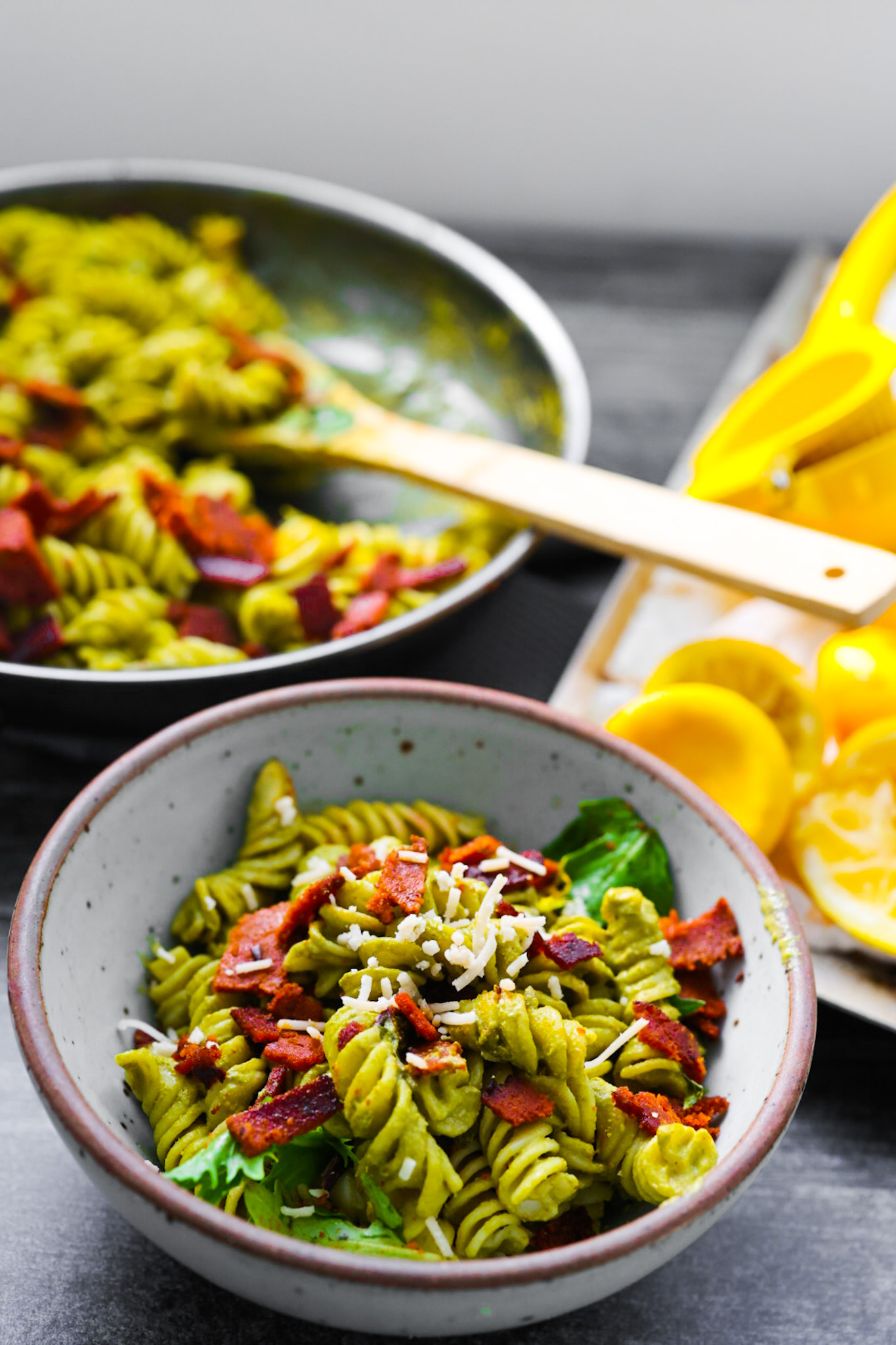 I have been very into pesto pasta this past year. And this Fusilli with Pesto and Crispy Vegan Bacon on top is a super easy and flavorful dinner that you can whip up in under 30 minutes.
I was inspired to make this vegan recipe when I saw a non-vegan version of it while browsing TheKitchn. The version linked uses a yummy arugula pesto and pancetta. Well I would like to challenge anyone to try my vegan version for just as much flavor, texture and oomph in their pasta bowl!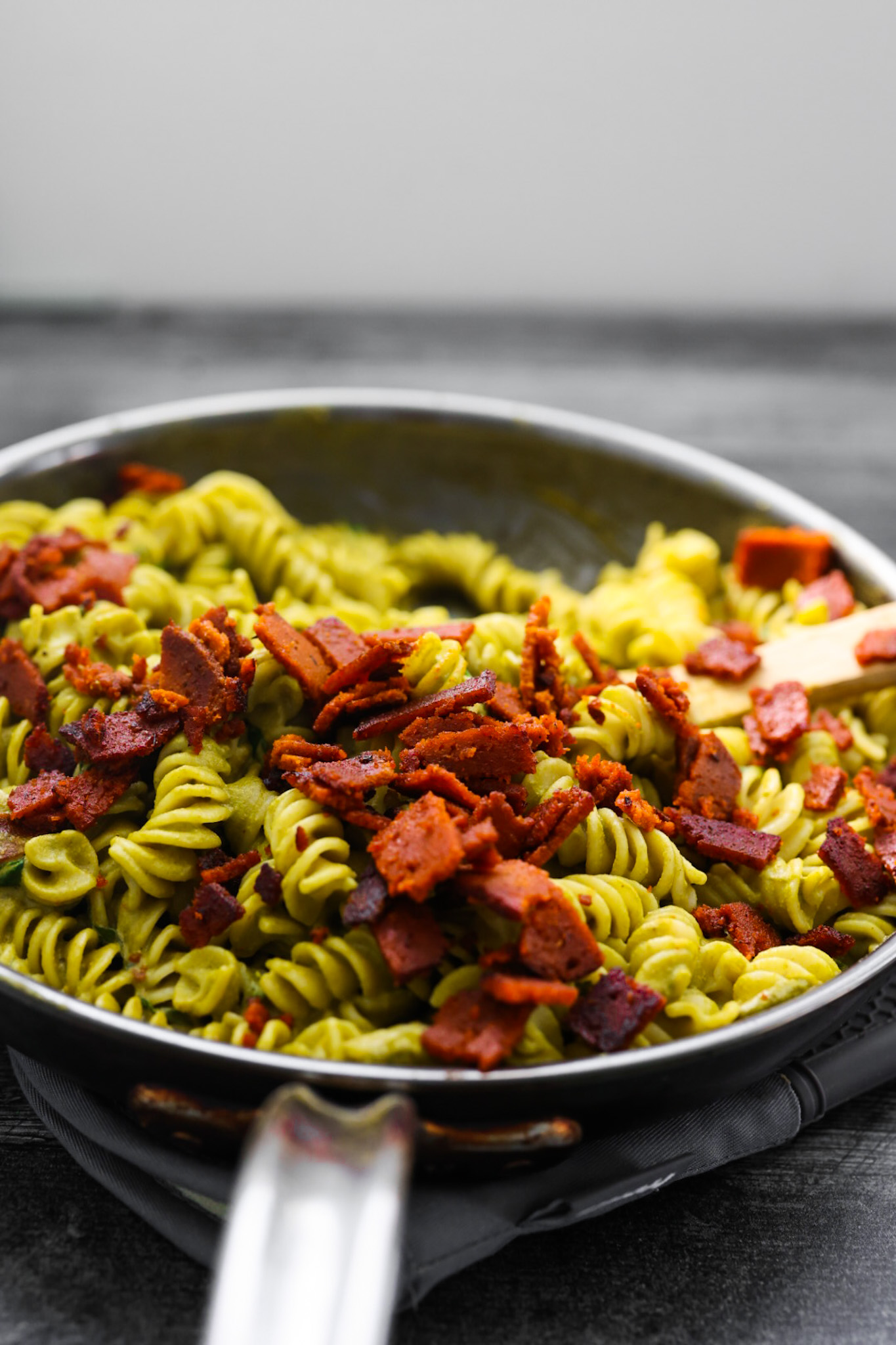 Pesto Pasta
Like I said, I am obsessed with pesto pasta for dinner. It happens weekly in our household. I switch from penne to spaghetti and to fusilli. And fusilli with pesto is a fave.
I actually think it is more versatile than marinara pasta because you can pair and toss so many different veggies and legumes with it and not feel like the sauce will overtake everything. Pesto blends so well with so many ingredients! Here are a few faves..
peas
kale
broccoli
zucchini
cauliflower
mushrooms
arugula
potato
garlic
corn
and more.
You can also add in nuts and seeds like pumpkin seeds, walnuts, pine nuts and more. Yup, I truly think that pesto is such a versatile sauce for pasta!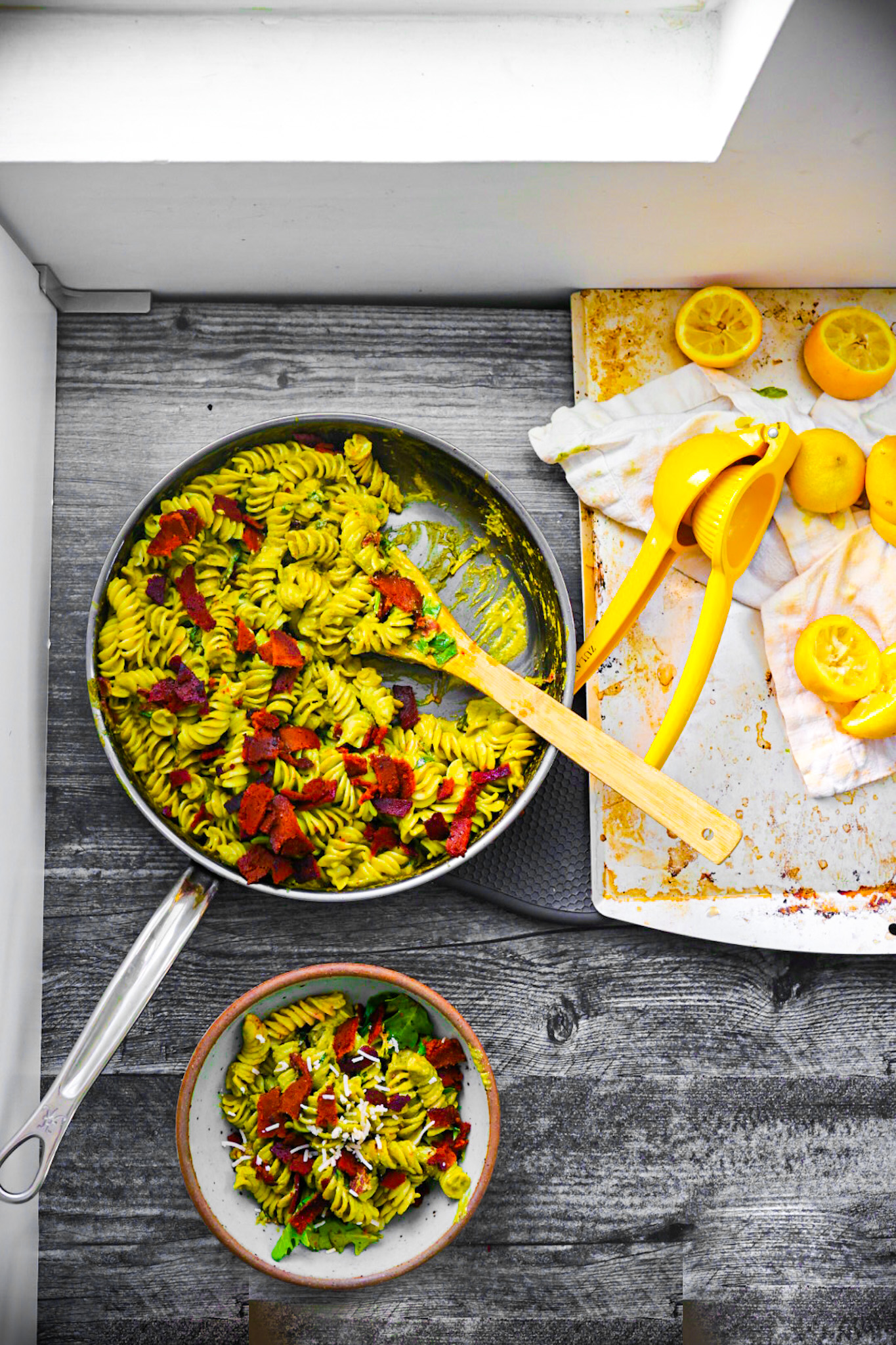 Marinara or Pesto?
Marinara is awesome, but I usually just stick to veggies like zucchini, mushrooms and greens when adding to marinara sauce pasta. Pesto allows me to get really creative — and basically use whatever I have in my veggie drawer.
One of my favorite pesto sauce recipes is this Pine Nut Pesto. And for marinara sauce – or red sauce pasta, give this pasta sauce recipe a try: Chunky Veggie Tomato Sauce
Vegan Bacon
Vegan bacon is an excellent topper for salads and pasta like this fusilli with pesto. It adds a pop of flavor and texture. There are two vegan bacons that I love best:
Tempeh Bacon – Smoky and tender, just a little crispy on the edges. Lots of body in the texture, nuttiness and heartiness from the bean base.
Benevolent Bacon by Sweet Earth – Peppery and smoky, sizzles up nice and crisp with a chewy texture. Mimics real bacon a bit better. Rich in protein from a seitan base.
Those are my two faves. For this recipe, I did Benevolent Bacon because I really wanted a crispy texture for contrasting with the tender pasta.
Fusilli for Fun!
Fusilli with pesto is a great sauce and pasta shape pairing. Those spirals soak in so much flavor and keep their bouncy texture so well. You can add a lot of add-ins for texture with fusilli pasta. Try vegan cheese, nuts, seeds, beans, veggies and more.
But really, you do not have to use fusilli shaped pasta. But for bouncy, fluffy yumminess, you gotta love those spirals.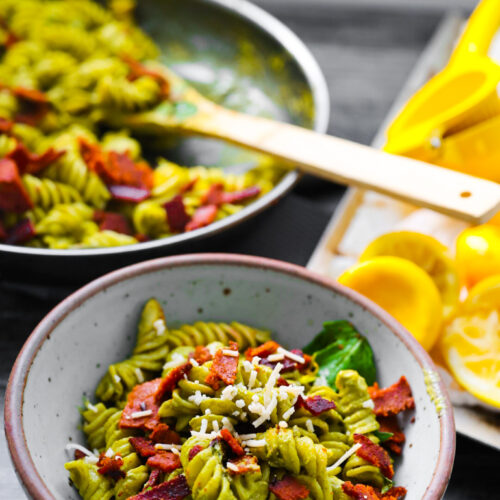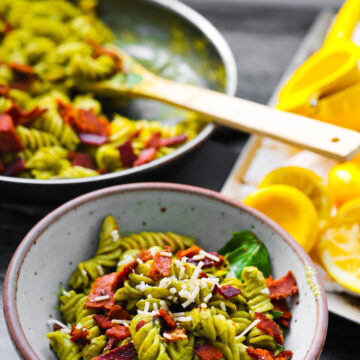 Fusilli with Pesto and Crispy Vegan Bacon
Simple and flavorful, this protein-packed pasta pairs basil-scented sauce, aka pesto, with crispy, smoky vegan bacon. Fusilli spirals pair with the pesto beautifully to absorb all the sauce and add-ins. Greens to accent.
Print
Pin
Ingredients
Pesto
1

cup

fresh basil

,

rinsed and packed

⅓

cup

walnuts

,

*

2

cloves

raw garlic

2-3

tablespoon

fresh lemon juice

2-3

tablespoon

olive oil

,

extra virgin

2

tablespoon

Parmesan

,

vegan

½

cup

spinach

2-4

tablespoon

'pasta water'

¼

teaspoon

pink salt

pinch

black pepper
Other
4

cups

dry pasta

,

fusilli

1

cup

vegan bacon

,

tempeh or seitan

2

cups

leafy greens

,

chopped

vegan parmesan

,

to taste

olive oil

,

for pan

2

tablespoon

nutritional yeast

,

for pasta – optional
Instructions
Fill a large pasta pot with water and a pinch of salt. Bring to a boil. Boil pasta until tender, usually 10-14 minutes.

While pasta is cooking, blend up your pesto in a blender or food processor. Blend until silky smooth. (You can also blend until just under smooth, if you like your pesto with some texture.)

Warm a skillet over high heat. Add a drizzle of olive oil. Add the chopped vegan bacon. When pan is sizzling hot, lower heat to medium and cook bacon for 3-5 minutes – or until crispy and browned on edges. Turn off heat and set aside.

Fold in the chopped leafy greens – the warm pasta will wilt them.

Serve pasta and top with heaping scoops of the crispy vegan bacon. Vegan parmesan on top.
Equipment
pasta pot

skillet

spatula

blender if DIY-ing pesto
Notes
*in place of walnuts,

pine nuts or pumpkin seeds also work
nutrition estimate | per serving
Calories:
434
kcal
|
Carbohydrates:
51
g
|
Protein:
18
g
|
Fat:
18
g
|
Saturated Fat:
2
g
|
Cholesterol:
2
mg
|
Sodium:
201
mg
|
Potassium:
341
mg
|
Fiber:
4
g
|
Sugar:
2
g
|
Vitamin A:
917
IU
|
Vitamin C:
10
mg
|
Calcium:
150
mg
|
Iron:
3
mg