This Peanut Noodles with Tempeh and Kale bowl is an easy and totally nourishing anytime meal. Packed with plant-based protein, leafy greens and noodles of your choosing, this flavorful meal is one to add to your weekly rotation.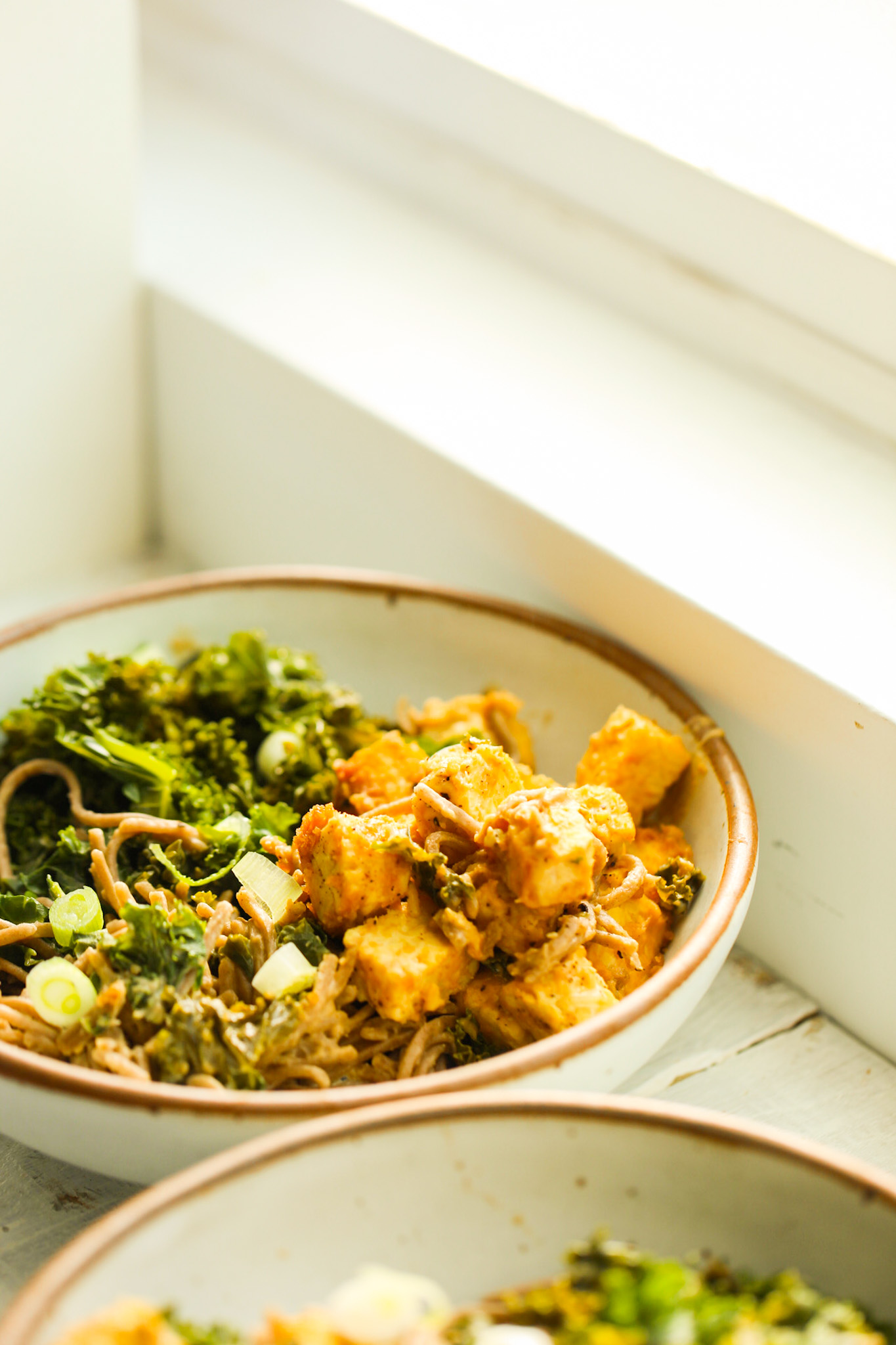 Soba Noodles if you Have them
I have made this dish a few times and I prefer it best with soba noodles. The 100% buckwheat soba noodles to be exact. I love the texture, flavor and awesome nutrition profile of buckwheat soba.
It is often easier to find soba noodles in the grocery store that are a mix of wheat flour and buckwheat flour. Those absolutely work well too. But if you can find the all-buckwheat soba, go for it! I buy Eden brand and when I can't find them at Whole Foods, I have bought in bulk on Amazon.
Other noodle options for this dish include…
udon noodles
rice noodles
any variety of wheat noodle
something creative like a legume-based noodle
any noodles you have on hand!
Or…
rice
farro
quinoa
barley
…So many great options to play around with here! But again, try the soba if you can, soba noodles just really work in this Peanut Noodles with Tempeh recipe.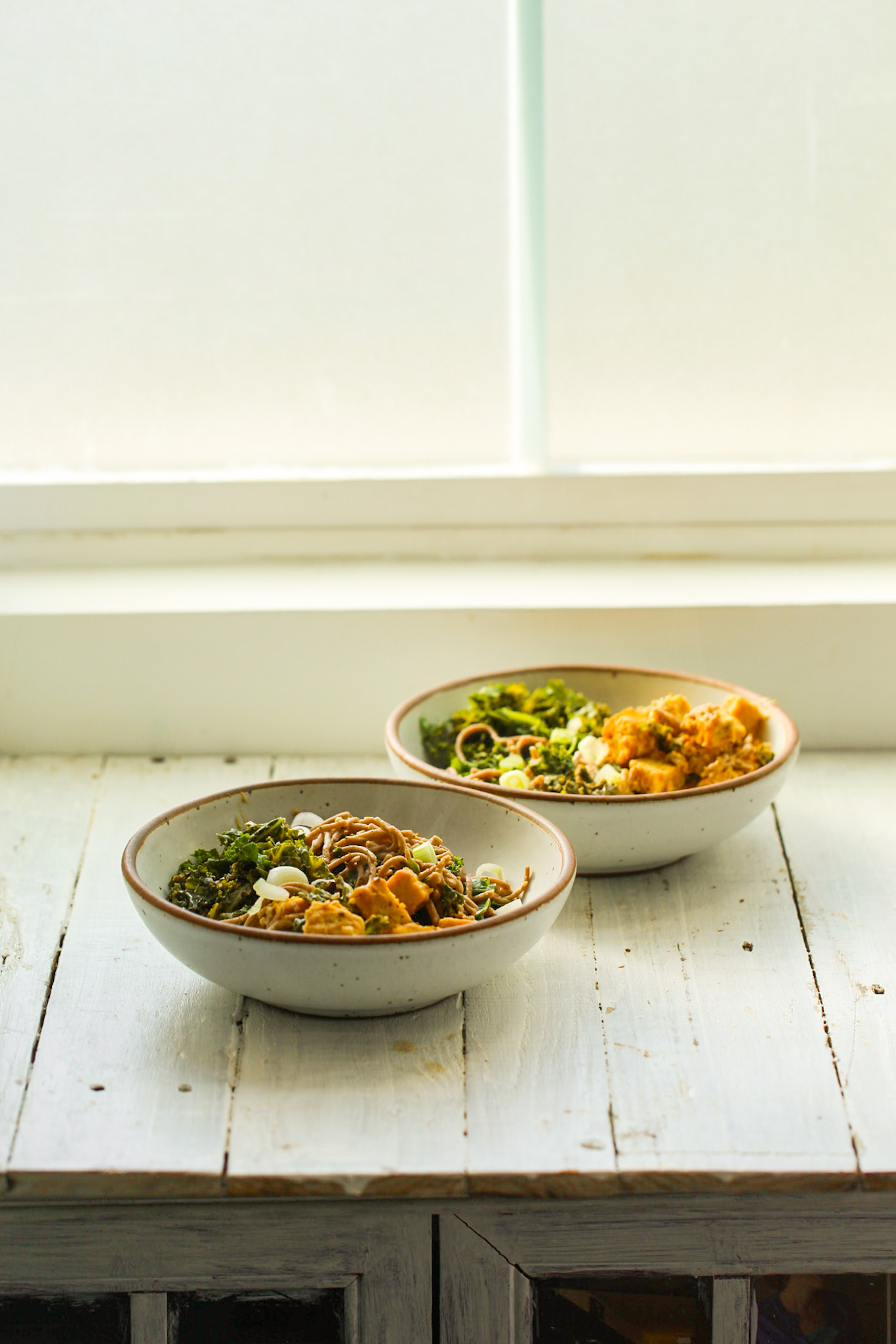 Kale with Peanut Sauce
Ok, so if you have never had peanutty kale, you are missing out! Kale pairs so well with peanut sauce. I often do a quick saute/wilt of my kale and add some peanut sauce as a veggie side dish. So good! Sometimes I add a splash more maple syrup because the sweet compliments out the grassiness of the kale. And the peanut butter acts as the perfect healthy fat for giving kale some oomph.
Other Veggies to Try…
Today's recipe is really made for kale, but if you want to play around with others, try these..
spinach
broccoli
bok choy
chard
cauliflower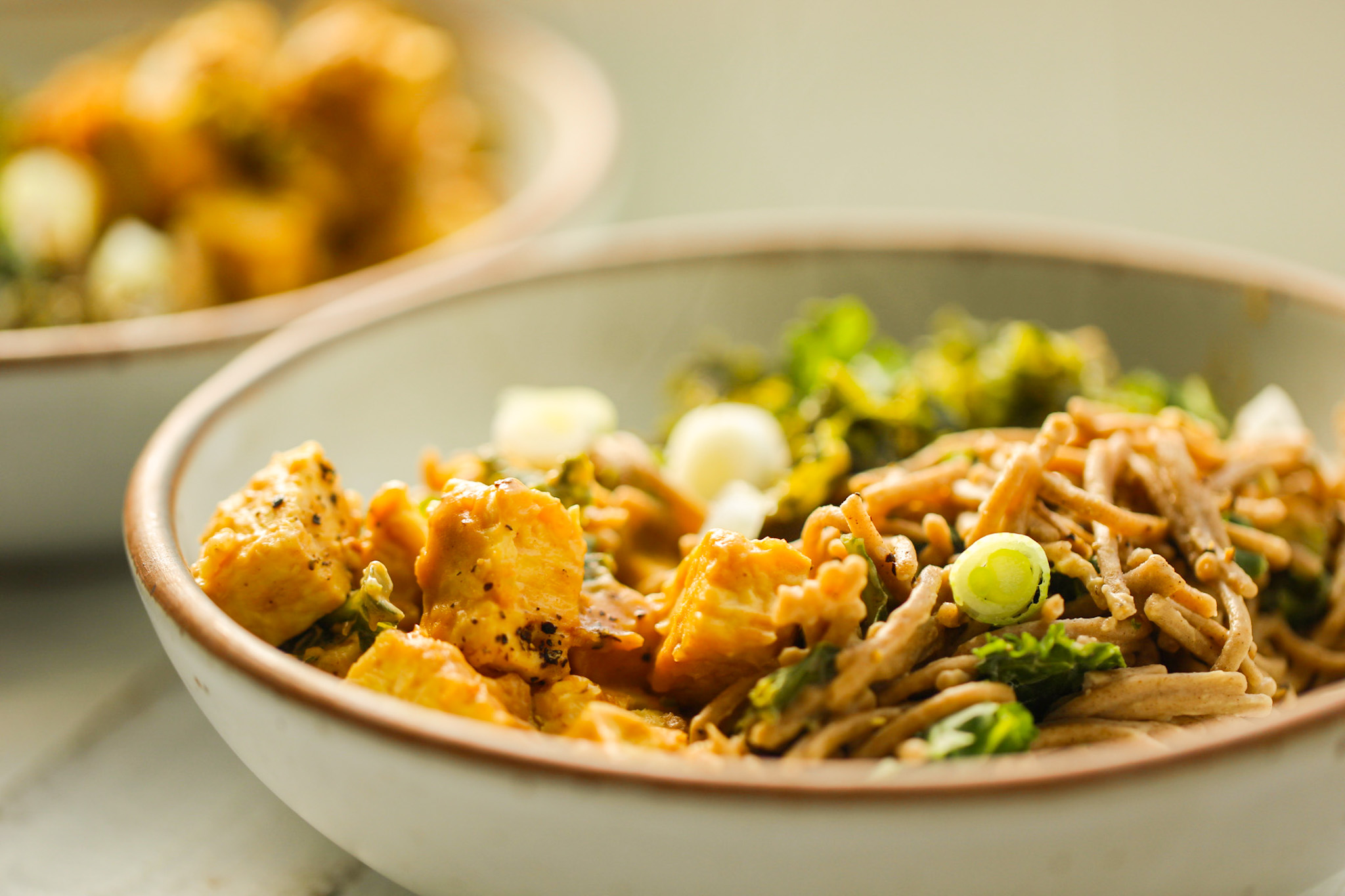 Tempeh Cubes
Tempeh is made from fermented soy beans. It has a nutty flavor and is packed with vegan protein. Tempeh is one of those strange foods that you have to know how to prepare to really love. Sort've like tofu! So here are my basic tips for the tempeh in this Peanut Noodles with Tempeh and Kale dish…
1 – Do a quick steam in your skillet. Add your cubes and water. Then cover with a lid. This will steam and hydrate the tempeh. Nothing is worse than DRY tempeh cubes! Some people even think that when you steam the tempeh first, it reduces some of the natural bitterness.
2 – Let the tempeh cook in sauce. Once you add some of the sauce, really allow time for the hot skillet to help marinate the tempeh in sauce. Don't just toss and serve.
3 – Tiny cubes! I think tiny cubes are the most flavorful because you get a higher amount of sauce per tempeh bite copared to a larger tempeh cube or triangle. Tempeh takes a while to fully marinate .. so since we have not pre-marinated the tempeh in this recipe, you want tiny bits, smothered in sauce.
To Serve: Other Toppings to Try…
Once you plate your dish, there are so many ingredients you can add for extra flavor, veggies, color and texture. Here are my faves…
avocado
hot sauce
fresh lime juice via lime wedges
scallions, chopped
sesame seeds
chopped carrots
kimchi
thinly sliced radish
crispy onions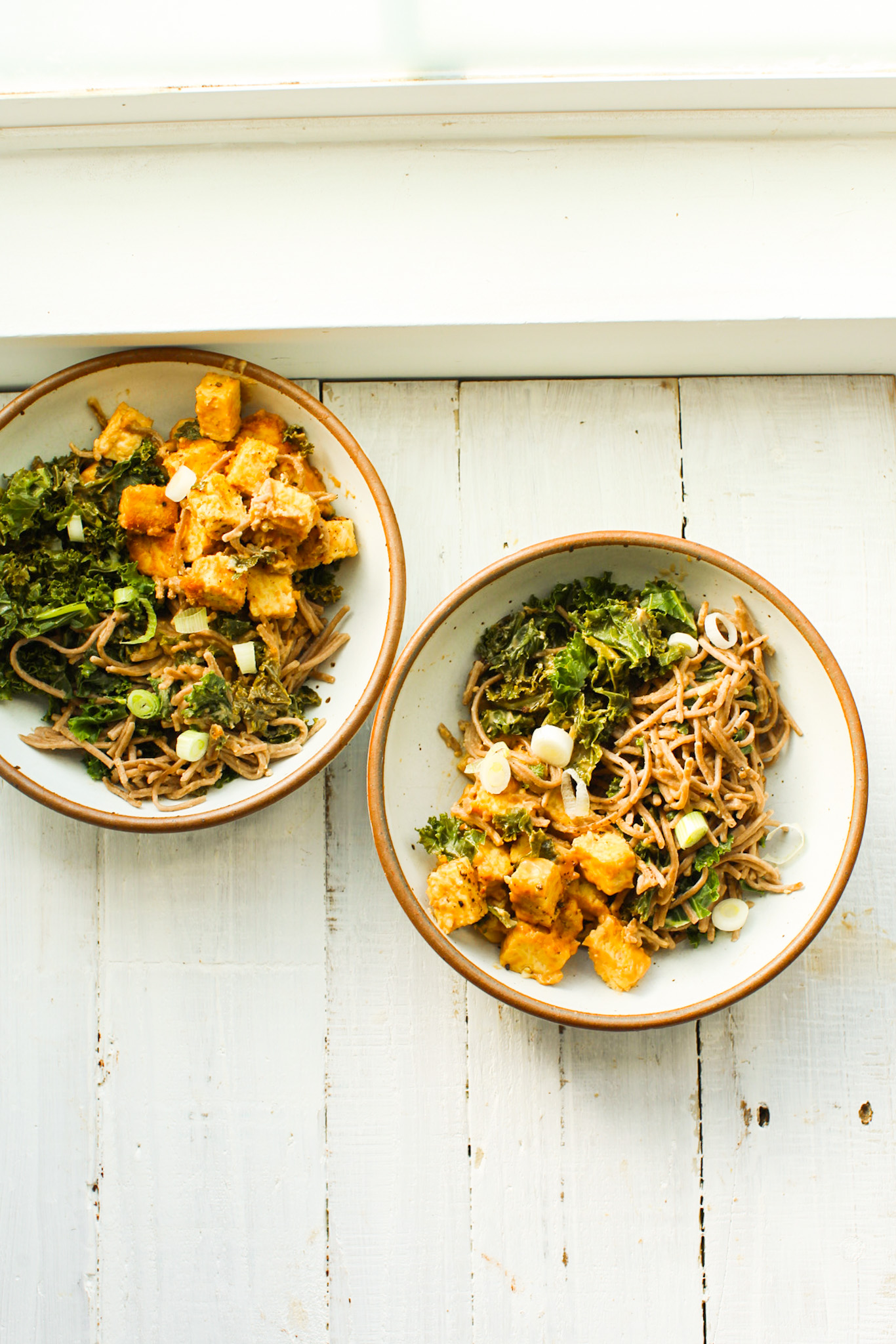 Alrighty! Let's get to this Peanut Noodles with Tempeh and Kale recipe…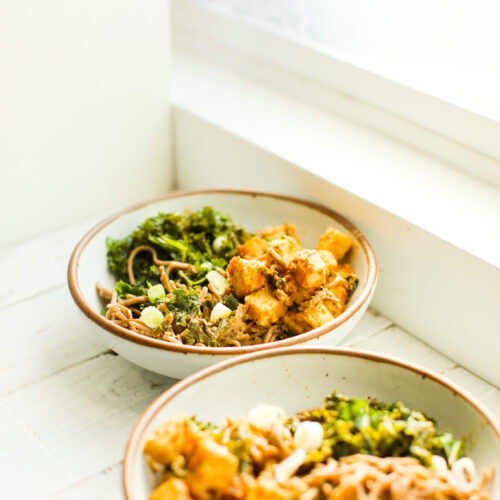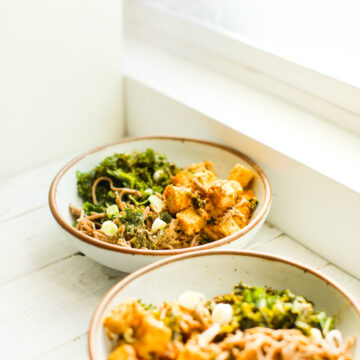 Peanut Noodles and Tempeh
Peanut noodles with tofu cubes and wilted kale makes for a balanced and nourishing vegan dinner. Protein and flavor packed.
Print
Pin
Ingredients
8

oz

tempeh

,

small cubes

8

oz

soba noodles

½

cup

peanut sauce

,

see notes for recipe

1

bunch

kale

,

thick stems removed, leaves roughly chopped

2

scallions

,

chopped – optional

1

tablespoon

olive oil

,

extra virgin

½ – ¾

cups

water

salt and black pepper

,

to taste – optional

1

clove

garlic

,

sliced – optional
Instructions
Fill a large soup pot with water and bring to a boil. Add your soba noodles. Cook time will be about 7-8 minutes.

While the noodles cook, prepare your peanut sauce in a blender. Set aside. (My recipe in notes)

Tempeh: Warm a skillet over medium heat and add the tempeh and ½ cup of water. Cover with lid. Allow the water to steam. It will absorb into the tempeh and soften, plump up the tempeh a bit. When the water is gone or just about gone, remove lid and toss tempeh a bit in the pan to prevent sticking.

Add the olive oil, optional sliced garlic and toss tempeh again – this time to be coated in the oil. Push tempeh over to one side of the pan and add the kale leaves to the other side. Add another splash of water and quickly cover with lid again and let cook for another two minutes. The kale will start to cook down as well. When the kale is half-wilted, turn off heat.

With the skillet hot, but turned off, pour about ¼ cup of peanut sauce over top the tempeh. Cover with lid again and let sit.

Your noodles should be just about done by now. You will want to drain them and the rinse them well in cold water to loosen any that are sticking together. This also helps rinse any sticky residue off them. The 100% soba noodles will 'leak' and stick more than any other noodle… Once the water runs clear and noodles are rinsed well, drain all the water one last time.

Turn heat back on – medium -the skillet and push the wilted kale together to create space for the noodles. Add the noodles to your skillet – if worried about sticking you can add another splash of oil.

Now pour more peanut sauce over top the skillet – tempeh, noodles and some of the kale. Place lid back on and cook until the lid starts to steam a bit. You basically just want to allow the peanut sauce and noodles to fully warm and the sauce to marinate the noodles and the tempeh a bit more. Using tongs, you can toss everything around a bit if desired. Add salt and pepper to taste now or after serving and tasting.

Serve! Add the noodles, tempeh and kale to your bowls. Top with optional chopped scallions. Add additional peanut sauce if desired. Other toppings could include: avocado, hot sauce, sesame seeds, chopped carrots and more…
Notes
nutrition estimate | per serving
Calories:
569
kcal
|
Carbohydrates:
77
g
|
Protein:
29
g
|
Fat:
19
g
|
Saturated Fat:
2
g
|
Sodium:
1185
mg
|
Potassium:
737
mg
|
Fiber:
1
g
|
Sugar:
7
g
|
Vitamin A:
4409
IU
|
Vitamin C:
54
mg
|
Calcium:
181
mg
|
Iron:
5
mg
Pin it for later…