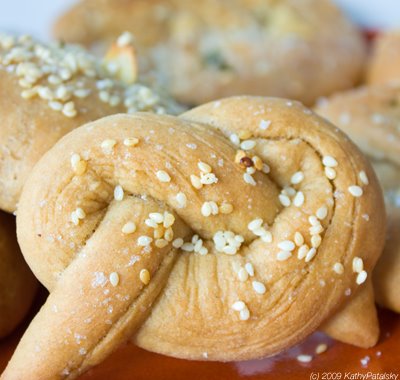 The Giant Sidewalk Pretzel has gone healthy. Living in New York City, you see a lot of Giant Pretzels. Pretzels the size of your head. They are stacked up in tall piles on street-side food cart's; sprinkled with blinding white salt cubes and doused in neon yellow mustard (if you'd like). Those darn pretzels always catch my eye, and that starchy smell catches my nose. Most tourists indulge freely; NYC's pretzels and hot dogs are like Paris's crepes and croissants. But I know better. Pretzels can range anywhere from 300-500 calories (all pretzel sizes are not created equal). Ingredients are processed white wheat flour and often times corn syrup. So if you are craving that salty street starch without all the calories and a bit more nutrients, check out my recipe for Whole Wheat Giant Soft Summer Pretzels….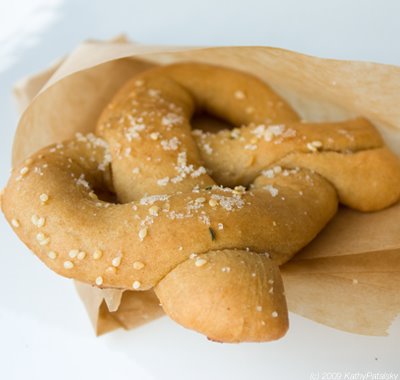 Healthier Giant Pretzel. My research found that most NYC giant pretzels have about 483 calories and around 5 grams of fat. Nearly 100 grams of carbohydrates. And not the good complex, high fiber, nutrient-dense carbs. Carbs like corn syrup and white flour. Yuck. See the complete nutrition info at FitWatch here. So is it possible to make one of these devilish tourist treats healthy? You bet!
Better Ingredients. Better Pretzels. I use 100% Whole Wheat flour in my yeasted pretzels. I also use exotic sea salt from the dead sea. Rich in minerals. But any natural sea salt works fine. (Those bleached-looking white cubes I see on the street carts scare me). I use extra virgin olive oil and a very small amount of agave syrup to sweeten these golden twisted gems. And the mustard? Top notch spicy deli mustard. All natural. None of this glows-in-the-dark yellow mustard. I wish there was a sidewalk cart that sold these delicious snack treats! I'd buy them!
Whole Wheat Giant Soft Summer Pretzels
vegan, makes about 5-9 pretzels depending on size
4 cups whole wheat flour
*you may need more/less for dusting/achieving the right dough texture
1 envelope, about 2 teaspoon Active Dry Yeast
*I use FLEISCHMANN'S RapidRise Yeast
2-3 tablespoon agave syrup
1 ½ teaspoon sea salt, fine
½ teaspoon black pepper
3 tablespoon Olive Oil
1 cup warm water, warmed
½ cup soy milk, unsweetened
2 tablespoon lemon juice
1 teaspoon fresh thyme, chopped fine
optional: 3 tablespoon Flax seed Powder
For Brushing:
Olive Oil
Lemon Juice
For topping:
coarse salt
sesame seeds
thyme
black pepper
Directions:
In large bowl, combine 2 cups flour, salt, pepper, thyme. Set Aside.
Combine warm water (about 120 degrees) and yeast to bowl. Stir for about a minute.
Add to the yeasted water: olive oil, lemon juice, agave syrup and warmed soy milk.
Mix all liquids together.
Slowly fold the liquid mixture into the flour mixture.
Add the remaining flour into the mixture, until a nice ball of dough is formed.
Knead on floured surface for 5 minutes.
Add a swipe of olive oil to the large mixing bowl and re-place the kneaded dough in the bowl. Cover with a clean dish towel and place in a warm (high)spot to rise.
Allow to rise according to time on yeast packet. Rapid Rise yeast only takes about a half hour!
Retrieve dough. Punch the dough once, then transfer it to a floured kneading surface.
Knead for about 2 minutes.
Split the dough into equal parts and roll each part into a long snake-like piece. Form a pretzel. It may take a few tries, but think about tying your shoe laces-sort've.
Place formed pretzels on a piece of parchment paper-on a baking sheet.
Brush each pretzel with a mixture of 2 tablespoon olive oil and 1 teaspoon lemon juice.
Sprinkle the brushed pretzels with a bit of course salt.
Cover pretzels, and allow to rest for 5-10 minutes.
Bake pretzels in a pre-heated 350 degree oven for 15 minutes.
Remove from oven, brush again with olive oil mixture.
Sprinkle with salt, pepper, sesame seeds, herbs or vegan Parmesan cheese.
Return to oven and bake for 7-15 minutes or until browned and crisp on top.
Allow pretzels to cool before serving.
Serve with mustard, I like mine spicy.

Serving/Topping Idea: Cinnamon-Sugar Pretzels. You can easily make these cinnamon sugar pretzels by topping the pretzels with a cinna-sugar mixture in place of the seeds and herbs! Sweet treat.