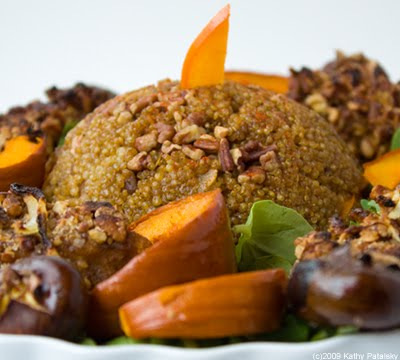 Traditionally when people think of vegan protein on Thanksgiving four things come to mind: Tofurky, tofu, tempeh and seitan. But I wanted to kick off my "main dish proteins" recipes with a nontraditional vegan protein: quinoa. Quinoa 101 here. This gluten free grain has become quite popular in the past few years, notably because it is one of the most complete protein grains out there. It is quite tasty too, with a mellow nutty flavor and tiny fluffy granules. It is a delicious substitute for rice, barley or couscous.
Apple Cider Quinoa. It all started with my idea to boil the grains in a mix of apple cider and veggie broth instead of just broth or water. My idea worked, with some flavorful results. My Thanksgiving-inspired Golden Orchard Quinoa recipe is infused with the flavors of fall, including: fresh organic apple cider, persimmons, pecans, satsuma mandarins and plenty of fall spices. The dish is heartier than most quinoa dishes. It takes on a risotto-esque texture as opposed to a fluffy grain 'side dish' texture. This dish makes an excellent centerpiece grain for my vegan pumpkin platter which also features roasted sugar pumpkin, roasted chestnuts and pumpkin-pecan-crusted tempeh and tofu. More on those recipes in my next post. Get my quinoa recipe…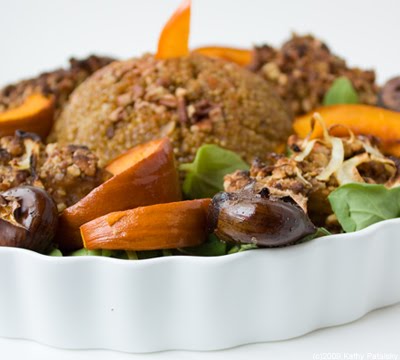 Pumpkin Platter: Part One. This quinoa dish is part one in my pumpkin platter centerpiece dish. When you think back on childhood memories of Thanksgiving what three symbols come to mind? For me, they are turkeys, pilgrims and pumpkins. So why not swap out the turkey for a "pumpkin platter" as a symbol of Thanksgiving. On my platter I arrange roasted sugar pumpkin, a dome-shaped cider spiced quinoa mound, a few roasted chestnuts and a portioned vegan protein.
Vegan Protein: My protein is pumpkin-nut crusted tempeh and tofu. I will be posting this recipe next. You can also use another portioned protein for this platter. Ideas: Field Roast sausages, celebration loaf, simple sauteed tofu or seitan, seitan skewers, tempeh sticks or even a Tofurky. But I'm not a huge fan of the Tofurky. I don't think it is vegan protein at its best, and for newbie guests trying veg protein for the first time – I'd rather not give them the impression that Tofurky's are the best of the best. Because it's just not so-in my opinion.

Golden Orchard Quinoa ~ Apple Cider Spiced.
vegan, makes 5-6 cups
2 cups organic apple cider
1 cup veggie broth
1 cup whole grain organic quinoa, water rinsed
1 teaspoon Satsuma Mandarin Orange Zest
1 peeled Satsuma Mandarin Orange, chopped
1 teaspoon garlic powder
1 teaspoon black pepper
1 teaspoon salt
1 teaspoon cinnamon/nutmeg/cloves spice blend
½ teaspoon cumin
½ teaspoon dried orange peel
½ cup diced yellow onion
dash of paprika
dash of cayenne (more for heat)
¼ cup soy creamer
½ cup chopped pecans
1 ripe fuyu persimmon, thinly chopped
optional: 1 tablespoon olive oil
optional: dried cranberries or golden raisins.
Directions:
1. Rinse and carefully drain your quinoa in cold water.
2. Pour 1 cup of veggie broth and 1 ½ cups of cider into a soup pot, place over med-high heat stove top burner.
3. Pour quinoa into pot. Stir.
4. Add orange zest, chopped orange, chopped onion and all spices/pepper/salt to pot. Stir briskly until the liquid comes to a boil.
5. Cover and reduce heat to medium. Let simmer for 5-10 minutes, stirring and fluffing quinoa occasionally.
6. The liquid should be absorbed by now and the quinoa should beginning to 'blossom' or open. The small hard balls will expand into translucent fluffy little bits of grain. Continue stirring briskly uncovered until all the liquid is absorbed and the bottom of the pan becomes dry and hot. You will now treat the grain almost like a risotto by adding more liquid tot the uncovered pot, and stirring and folding the grain until the liquid is absorbed.
7. Fold in soy creamer and apple cider little by little until it has been absorbed and the quinoa is perfectly dense and tender. This is a heavier quinoa than you may have made in the past.
8. You can now fold in the chopped fuyu, chopped pecans and if you'd like to add a bit of olive oil or vegan buttery spread as well. Optional. Also optional: dried cranberries or golden raisins. Garnish with a few more chopped pecans.
9. Remove from heat and set aside. If you'd like to plate your quinoa is a curved dome (as in my images), you can scoop it into a dome shaped bowl, cover and allow to firm a bit until plating. Tip: use a perfectly rounded out bowl. I use a large bowl I bought at Le Pain Quotidien. Also, spray the bowl with oil before filling so that it does not stick when you release the grain.