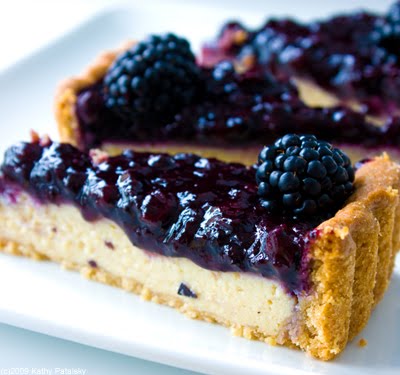 The pie is gone. By now, you've already been drooling over Gone Pie Bakery's delicious Pumpkin and Walnut Brownies that I reviewed in part one of my two part Gone Pie Vegan Bakery series. Next up, organic pie and cheesecake!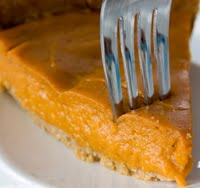 Gone Pie? Once I tasted these pies, I finally understood what the bakery name "Gone Pie" means…find out ahead. Plus tons of "OMG-YUM" photos and my review of GP's Berry Cheesecake and Sweet Potato Pie. Warning: Photos may cause uncontrollable pie cravings…
What's in a Name? Gone Pie. At first I thought it might mean that you have 'gone pie' like you are crazy for this pie. Next I thought the owner might be a math fanatic. Pi? But no, my personal interpretation of "Gone Pie" is: once you taste this pie, in a few minutes it will be gone! Yup, Gone Pie pies really are gone before you know it.
Must share this description with you. Here is the gourmet description of the two pies I reviewed, as written by Gone Pie bakery owner Barbara:
"A pair of little change of season pies, using the last local berries of summer and the first local sweet potatoes of fall. The first pie is a summer ending blackberry/blueberry vegan cheesecake. The cheesecake is in a lightly spiced brazil nut crust, with a citrus infused filling and a topping of blueberries and blackberries. The second pie is an early autumn sweet potato pie. The crust is again the spiced brazil nut crust. The filling speaks for itself — a sweet creamy blend of sweet potato and spices." -Barbara, Gone Pie Vegan Bakery

Here are my pie reviews…
My Review: Gone Pie Bakery,
Pies: Organic Berry Cheesecake and Organic Sweet Potato Pie
Shelf Appeal: Beautiful pies. The berries look fresh, moist and uniform, while the sweet potato is glossy, bright 'sweet potato orange' colored and visibly moist. The pie crusts are elegant and perfectly molded. These pies could easily get the silver platter treatment at a fancy dinner party of holiday gathering.

Label Check: Organic ingredients that are healthy and vegan. I actually ate the sweet potato pie for breakfast two mornings in a row because it tasted so delicious, yet I could tell it's packed with healthy sweet potato, protein-rich organic tofu and sweeteners like maple syrup and brown rice syrup. I am in love with the crust, which is made from organic barley flour as well as brazil nuts (one of my favorite nuts. Brazil nuts are incredibly versatile. And healthy. Brazil nut nutrition info here.)
Pie Ingredients:
ORGANIC SWEET POTATO PIE
CRUST: organic barley flour, organic oats, organic maple syrup, brazil nuts, canola oil, arrowroot, spices.
FILLING: organic sweet potato, organic tofu, organic rice/soy milk, organic brown rice syrup, organic maple syrup, arrowroot, spices, sea salt.
ORGANIC VEGAN CHEESECAKE
CRUST: organic barley flour, organic oats, organic maple syrup, brazil nuts, canola oil, arrowroot, spices.
FILLING: organic tofu, organic maple syrup, organic brown rice syrup, organic rice/soy milk, organic tahini, arrowroot, lemon/orange rind, vanilla, almond.
TOPPING: organic blueberries/blackberries, organic rice syrup, organic maple syrup, organic succanat, agar agar, arrowroot, vanilla.
Taste Test:
Organic Sweet Potato Pie: Silky, sweet, pure sweet potato flavor. Melts-in-your-mouth texture, while still keeping a nice shape. Probably from the tofu. Light enough for breakfast or as a tea-time treat, yet sweet enough as an after meal dessert. The crust compliments this pie perfectly. Nutty, crumbly, tender and dense. As a sweet potato fanatic, I have very high sweet potato standards. This pie exceeds those standards. The sweet potatoes would be proud.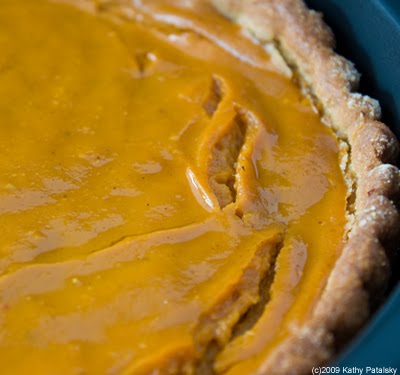 Organic Berry Cheesecake: Wow, totally unexpected taste and texture, but I love it! I've tasted a good many vegan berry cheesecakes in my day. Most are either way too hard (they try to be a dense cheesecake texture) or way too soft (poor ingredient selection). But Gone Pie's cheesecake is just right. It's not trying to be something it's not. Super light airy texture, with a warm savory-sweet vanilla light-citrus flavor. I could easily eat this cheesecake at any hour of the day and feel great about it. The berry topping is magical. Why? Because it tastes like the best blueberry jam you ever tasted with a fresh blackberry harvest on top. I was pleasantly surprised by how moist and flavorful this cheesecake stayed even after a day of sitting half-eaten in my fridge. Calling it 'cheesecake' is almost an insult to this light, healthy yet decadent pie treat. I am dreaming of this same pie featuring different fruit toppings…strawberries, peaches, pomegranate, winter mandarins or even holiday season persimmons. Yum.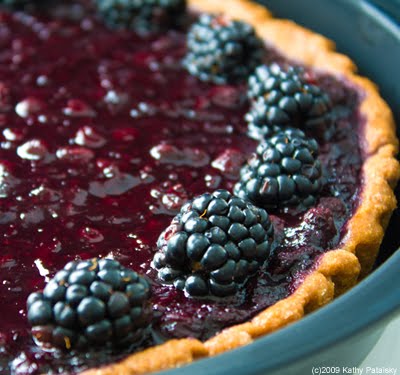 Price Check: The special order pies run around $40 per pie. 10-12 slices per pie. That's around $4 a slice. And sad to say, but Gone Pie only delivers its specialty pies locally, in the NYC area. If you are lucky enough to be within pie-delivery-range, I'd definitely put Gone Pie on your holiday baked goods list. Awesome option for those busy days when you know you won't have time to spend a few hours in your own kitchen baking organic vegan pies. (And don't forget, you don't have to live locally to try Gone Pie. They deliver a selection of baked goods like cookies and brownies via USPS.)

Last Word: Good luck finding a tastier organic vegan sweet potato pie folks, and there is nothing cheesy about this vegan cheesecake. It's simply a smile on a plate.
Gone Pie: www.gonepie.com
Follow them on twitter!
More must-see photos of these yummy pie treats: