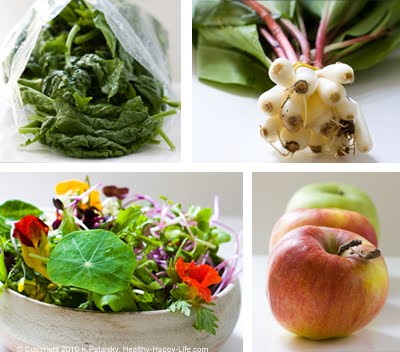 If you're in New York City, you must give your senses a treat by taking a stroll through the Union Square Greenmarket – the year-round flagship Farmer's Market of NYC.
True Farm-to-Table. My NYC Vegan Dining Series showcases restaurants that serve up some of the freshest, most flavorful and artistic dishes in the world. But every Chef will agree that without high quality ingredients, it is impossible to produce a high quality dish. Enter: the NYC Greenmarkets. Home of fresh produce and culinary delights of all sorts. Wanna get all trendy and ECO-chic my locavore, green foodie friends? Go green at the Greenmarket. It doesn't get more Farm-to-Table than this…
Check out my photo slide show of market faves and my Greenmarket Tips!…
***NYC Greenmarket Photo Slideshow***
***NYC Greenmarket Photo Slideshow***
***NYC Greenmarket Photo Slideshow***
NYC vs. CA Greenmarkets. I grew up in California where Farmer's Market Saturdays were a staple in our household. The good 'ol Santa Cruz Farmer's Markets were my second home. Then I moved to Los Angeles and fell in love with the vast, sprawling Santa Monica 3rd st Farmer's Market. Exquisite. So once I moved to NYC, one of the first things I had to check out was the Union Square Farmer's Market. I went on a super busy, hot Saturday and to be honest, it was a tad too crowded and small in comparison to my beloved California markets.
So I gave up on the USQ market for a while and found myself shopping at Whole Foods, Essex Market and a few smaller Greenmarkets like the tiny one at Thompson Square Park. But eventually I found my way back to the Union Square market. I went one early morning, on a Wednesday. It was delightful! Calmer crowd, more goodies to choose from and the foggy morning air was perfect for keeping fresh produce – fresh! I fell back in love.
Farmer's Market Tips:
1. Go early!! I usually get there around 10:30 am – which is early enough for me. But if you get there past 1pm, most of the best stuff will be gone.
2. True Farmer's Market connoisseurs do not go on a Saturday! Go during the week when the tourist crowds have dwindled and you can really get a chance to peruse the offerings and chat with the farmers.
3. Bring bags! Bring lots of big canvas bags to carry your goodies. I forgot mine once and ended up schlepping home about 5 big heavy plastic bags on my tired arms. Not fun. Fruit and veggies are heavy! Might I suggest one of these adorable Lunchbox Bunch canvas bags.
4. Talk to People. Don't just grab and go. Take a few minutes to ask the booth workers (sometimes the farmers) about their produce offerings. You might pick up a cooking tip, fun fact or just make a new friend.
5. If you have time, walk the entire market first before buying. I see it all the time, people buy all their apples from the first stand they see, then towards the end they see five more stands that look even better! Buy from different vendors each week and get to know your faves. And don't skip the stands on the end – walk the whole circle loop.
6. Check out the in-season sign. I love the little chalkboard at the market that alerts buyers what is "in season" – check it out and get a few Greenmarket questions answered from the friendly Greenmarket folks.
7. Have fun! Stroll. Soak in the sun. Sip some cider. Take a deep breath. Absorb the sights and smells of the market – some of the best this city has to offer.
8. Celeb-Chef Watch! Foodies, keep your eyes peeled for a few celeb Chefs at the market. I've seen more than my fair share of Chefs strolling the stands. Last week I spotted Food Network's Chef Alex as she was perusing the same stand as me (slides #15-19 in my photo tour). I wanted to say, "Hey Alex, is this what you do on your day off?" (I guess only FN watchers would get that one…) 🙂
Now onto my photo slideshow, featuring a few of my fave goodies I buy at the market (note: these are just a small portion of my fave farmers…)
***NYC Greenmarket Photo Slideshow***
***NYC Greenmarket Photo Slideshow***
***NYC Greenmarket Photo Slideshow***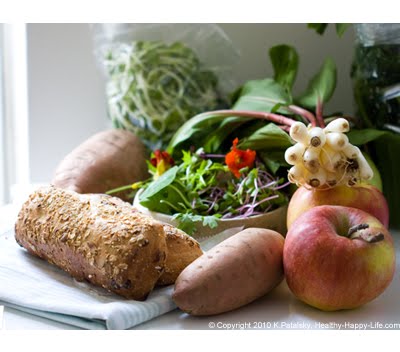 Links to my Fave Farmers -some featured in my photo slide show:
Greenmarket NYC List of Farmers
Hawthorne Valley Farm
Katchkie Farms
Rick's Pick's
Windfall Farms
Prospect Orchards
Breezy Hill Orchard
Red Jacket Orchards
Stone Ridge Orchard
Bread Alone Bakery
Beth's Farm Kitchen Jams
Garden of Eve
I also love (no link available)
Bulich Mushroom from Greene County, New York
Farmers: …if I'm missing you, please let me know and I'll be sure to stop by your booth next Greenmarket visit and possibly add you to my list of faves.
Patrons: What are your Greenmarket faves??? Let me know!
Tweeters! Don't forget to follow the Union Square Greenmarket on Twitter! @UnSqGreenmarket
And follow me at @lunchboxbunch
Now don't miss my awesome photo tour of the Greenmarket…