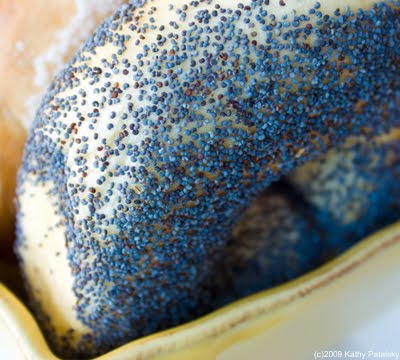 Bagel Run! I was roaming around the upper east side today-not my usual neck of the 'Manhattan' woods. But whenever I get close to 80th street and 2nd avenue, a detour trip to H and H Bagels is a total must. And I did confirm, they are brushed with water, not egg wash, so they are indeed vegan, water brushed bagels…
New York City Bagels. There are a few things synonymous with New York: Taxi Cabs. Times Square. Shopping. Tourists. Broadway. Crowded sidewalks. NYC Subways. Central Park. And Amazing Food including fine dining, street food, pizza and bagels. New York City Bagels are up there with Maine blueberries, Georgia peaches, Florida oranges, Parisian cappuccinos and San Francisco sourdough. It's not hard to find a bagel in NYC, but it is hard to find a good bagel. If you are desperately seeking pure bagel bliss, you'll probably do your research and head to H and H Bagels. Foodies in the know, or anyone who watched the Festivus episode of Seinfeld, knows that H and H bagels are known as the best in the city. So, are they indeed the "world's best bagels," as their slogan claims? My review…
UPDATE 9/4: I wanted to confirm that H and H bagels were brushed with water and not an egg wash, so they would be vegan. And today I got this reply from H and H: "Good morning, our bagels are brushed with water." -HandH customer service.
Yippee! Egg wash free bagels. Just don't order the 'egg' flavor bagel if you want it vegan! On to the review…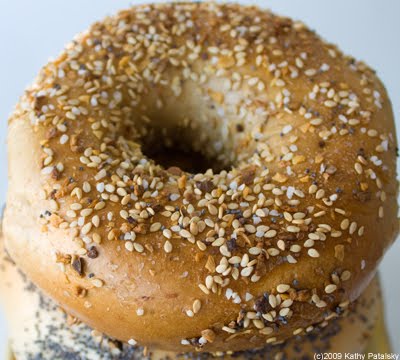 Good vs. Bad Bagels. If you think all bagels taste the same, you've obviously never had a good bagel. Or you've lived in New York your whole life and have never had a bad bagel. (Highly rare). Well let me clue you in to how a bagel should taste: Warm and chewy. Airy center with a few air pockets in the soft and moist inside flesh. Chewy sturdy crust on the outside. Highly aromatic scent. Slightly sweet, slightly salt. When toasted, the crust becomes super crisp and chewy, while the flesh stays soft. "A bagel's fresh taste and chewy texture come from the moisture rich center which is protected by its baked skin." -H and H
A look inside the whole wheat H and H bagel: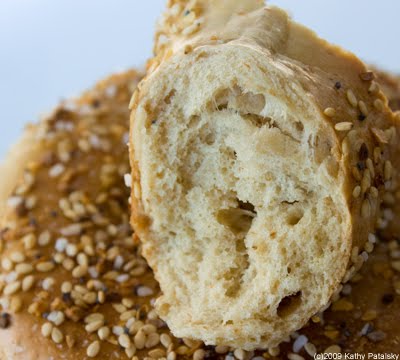 But is H and H really the best bagel establishment on the planet, as they claim themselves to be? H and H's slogan is: World's Best Bagels. Lets get to my review of the world famous H and H bagels…
My Review: H and H Bagels, Upper East Side NYC
Shelf Appeal: Walk in the H and H store and you might think you are in the wrong place. It's a humble local-feel atmosphere with very simple set-up. Nothing flashy, nothing loud. Just a few simple silver colored cafe tables in the entrance and a big bakery window filled with goodies, cookies and treats. But where are the bagels? In the back. A lineup of wire baskets are filled with heavenly smelling bagels. So get your bagels and off you go. Don't expect to hang out in a big Starbucks-style seating area. However there is a Starbucks one block up…
Label Check: My research found that my favorite bagel, the whole wheat everything, has 160 calories per serving. Two servings per bagel. 2 grams of fiber, 6 grams of protein and 0-.5 grams of fat. So since I'm guessing you will eat the entire bagel: 320 calories, 12 grams of protein, 4 grams of fiber and 0-1 gram of fat. Who knew bagels have 12 grams of protein? Not bad. Yes they are high on carbs, but you are eating a bagel.
Here is the nutritional label for an H and H plain bagel (although for more fiber and nutrients-go with whole wheat):
Nutritional Facts: H&H Plain Bagels
Ingredients: High gluten flour, water, brown sugar, salt, fresh yeast.
Serving Size: ½ bagel
Calories: 150
Total Fat: 0g, % Daily Value
Cholesterol: 0mg
Sodium: 230mg
Total Carbohydrate: 32g
Sugars: 4g
Dietary Fiber: 1g
Protein: 6g
Vitamin A: 0%
Vitamin C: 0%
Calcium: 0%
Iron: 10%
Thiamine: 25%
Riboflavin: 10%
Niacin: 10%
Iron: 10%
Potassium: 60 mg
Taste Test: I must say I adore these bagels. The smell of them is enough to make my mouth water. Then when you bite into a warm bagel it is chewy, soft, salty, silky and pretty much perfect. I never eat bagels without some tofu cream cheese or almond butter, unless they are H and H bagels. Eat them plain and they are divine. My fave flavor is the whole wheat everything. Also tasty is the pumpernickel and blueberry. I'm not a big fan of white flour bagels though. And you'd be surprised by hour smooth this whole wheat dough is! Trust me, it doesn't even taste like what most people call 'whole wheat'.
Price Check: A dozen bagels will run you about $13. That's about a buck a bagel-a little over. On the pricey end for sure, but not really. Freeze the bagels and they will last you a while. That's a lot of bagel bliss for $13 bucks.
Last Word: I've tried a lot of bagels in NYC. Some other brands are good and even great, but H and H never misses and has that 'special something' that makes the taste pure New York. …Maybe it's the water…