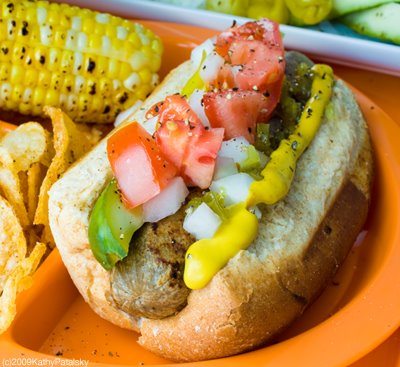 Hot Dogs are a classic, social, American food. Hot dogs are eaten at sporting events, from sidewalk food vendor carts and my favorite, at summer beach BBQ's. But the traditional recipe, with a white flour bun, processed unhealthy dog and sugar-laden toppings (like electric-green relish and neon yellow mustard) leaves me feeling less than patriotic. But swap out those unhealthy ingredients for organic, vegan, premium ones and we are in beach barbecue business. Here's my healthier Beach Hot Dogs recipe. No beach? You can make them in your kitchen…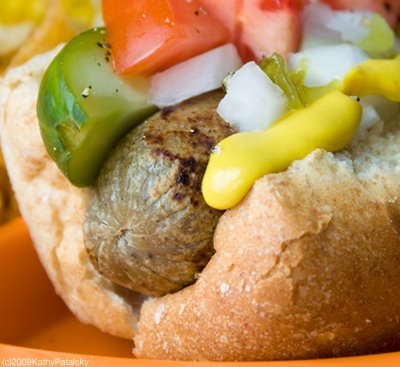 What Came First, the bun or the dog?

Vegan Hot Dogs. There are several brands on the market. Here are my personal favorites. (Out of what I have tried)
*Turtle Island: Tofurky Beer brats (what I used in my photos). Higher in calories, that my other picks, but very tasty and a nice plump size. Uses real microbrewed Full Sail Ale in the flavoring. Grill approved. 260 calories, 13 g fat, 27 g protein.
*Lightlife: Smart Dogs and Jumbo Smart Dogs. Fat free. High in protein. Very lean.
*Yves: Jumbo Hot Dogs. 110 calories, 3.5 g fat, 16 g protein. Made with vital wheat gluten. They also have a tofu dog option.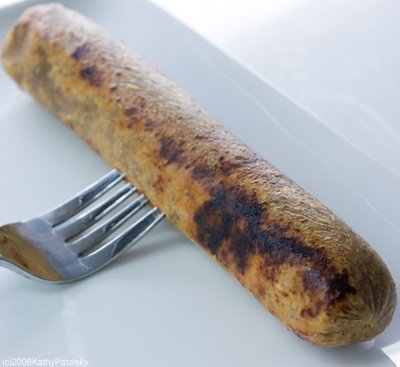 Now for the bun….

Bun Appeal. Do not go with a white flour bun. The whole wheat version hot dog buns are just as soft and tasty and higher in nutrients. If you are super healthy, go with a sprouted grain bun. I adore Alvarado Street Bakery sprouted buns. Those are delicious.
Pickles. Luckily, downtown NYC is home to three amazing pickle vendors: Guss' Pickles, Mr. Pickle and The Pickle Guys. Try to find a really good pickle vendor for your pickles, relish and sauerkraut. It makes a big, healthy difference, No one likes rubbery mushy pickles.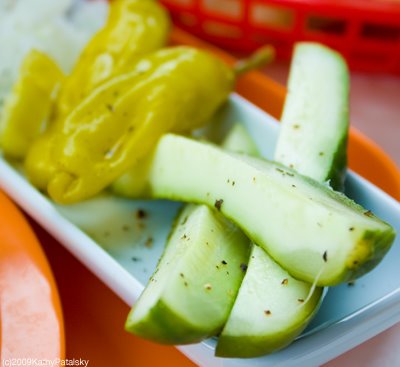 Healthier Beach Hot Dogs
vegan, makes 4 dogs
4 vegan hot dogs
4 whole or sprouted grain hot dog buns
1 medium organic tomato, diced
1 medium sweet onion, diced
1 cup organic sauerkraut
4 whole pickles, 'new' is best
1 cup sauerkraut
½ cup pickle relish
1 bottle mustard, you select variety
*read the ingredients and choose a mustard free of preservatives or anything artificial. Read those labels.
¼ cup spicy peppercinis
black pepper grinder

optional sides: grilled corn on the cob, baked BBQ chips, watermelon, fresh fruit
To cook dogs:
Follow instructions on package. To get that nice black-charred look, heat dogs directly on gas stove for a few seconds. You can also broil them in your oven or use a grill.
Assembly:
Well this is too easy, set up the toppings and let everyone build their own hot dog. Everyone gets what they like. Just one rule: no ketchup! Use tomatoes. (OK, if you need it go ahead, but read that label first!)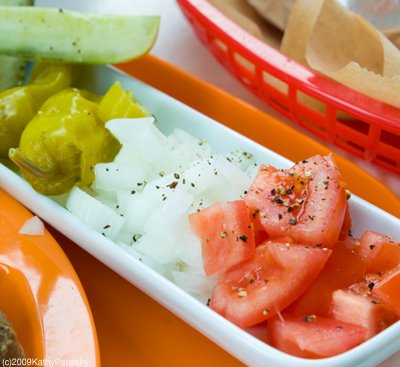 Drink ideas: ice cold lemonade, iced tea, mint-lemon water or fruit juice spritzer.