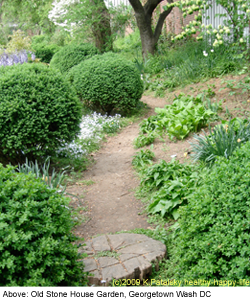 Paradise Island, Bahamas. The Holey Farm on Paradise Island in the Bahamas is producing five star quality produce from an incredibly challenging terrain- limestone holes.
It is Extreme Gardening at its best. Top foodies-celebrities including Martha Stewart and Jean Georges have noticed.
Martha trekked her entire television crew out to the farm to get the inside scoop on its "special techniques."
Jean Georges, recently back from the Bahamas, referenced Holey Farm in his blog just this weekend.
An Inspiring Story. Holey Farm teaches every chef and farmer that if you have enough heart, passion and persistence, you can create a garden that thrives, in even the most unideal of settings. What a nice metaphor for life.
Click forward to read more about Martha, Jean Georges and Holey Farm…
Back from the Bahamas…
Jean Georges, who like vegans, just posted a new blog titled Wine Tasting. He describes how he recently returned from the Bahamas. Good idea, escaping these chilly thirty degree days in NYC. So jealous.
In his blog, JG referenced Holey Farm, where he sources all his fresh produce for his restaurants Dune and Café Martinique, both on Paradise Island in the Bahamas. A bit of research showed me that Holey Farm has quite the celebrity following! Martha Stewart raves about the place. She even featured it on her show and blog. And I can understand why, HF has a fascinating story behind it.
Holey Farm: What's in a name?
As Martha describes, the Holey Farm succeeded even with a few terrain challenges. In the end, HF was successful by growing its produce in limestone holes! Thus the name, Holey farm.
Says Martha:
"Holey Farm is called such because of the very unique limestone craters that comprise the landscape."
How did Martha Discover Holey Farm?
Martha wrote:
"As I mentioned the other day, while I was in the Bahamas, I cooked a fabulous meal with Frederic Demers at Jean-George Vongerichten's, Café Martinique. I wanted to know where this top chef finds all his beautiful produce and he told me about a wonderful gem of a farm called Holey Farm. I wanted to visit in the worst way, so I grabbed the television crew and off we went. We were greeted by Maria-Therese E. Kemp, who created this amazing place. Holey Farm gets its name because the growing areas are actually situated in the holes of limestone formations. It was very challenging to grow produce at first, in such rugged terrain, but Therese had perseverance and developed many special techniques."
Vegans Will Like….
Martha shows photos of adorable goats. And she captions the photos with:
"These beautiful goats are raised solely for their manure – they are not for meat."
Yay.
JG Loves this place too!
Jean Georges is actually the person who introduced Martha to the farm. He loves this place! He wrote on a recent blog titled Wine Tasting:
"On the island, we get the most amazing produce from Maria-Therese Kemp's Holey Farm"
You Can Grow Your Own Farm Too!
With the economy not doing so well, a lot of folks have been hopping on the farm your own produce trend. And the story of Holey Farm is an inspiring one. If they can create a thriving farm in limestone holes in the Bahamas that top chefs like JG and MS adore. Well than you can probably grow a few tomatoes in a planter box in your windowsill. If some beets in your side garden. Or some string beans in your backyard. Produce grown the locavore way is all the rage. And it lets you know that your food is pesticide free, fresh and plentiful in nutrients and enzymes and hey you may save a few bucks.
LINKS:
Read Martha's blog post, with amazing photos of Holey Farm.
Read Jean Georges blog post, Wine Tasting, noting the Holey Farm.