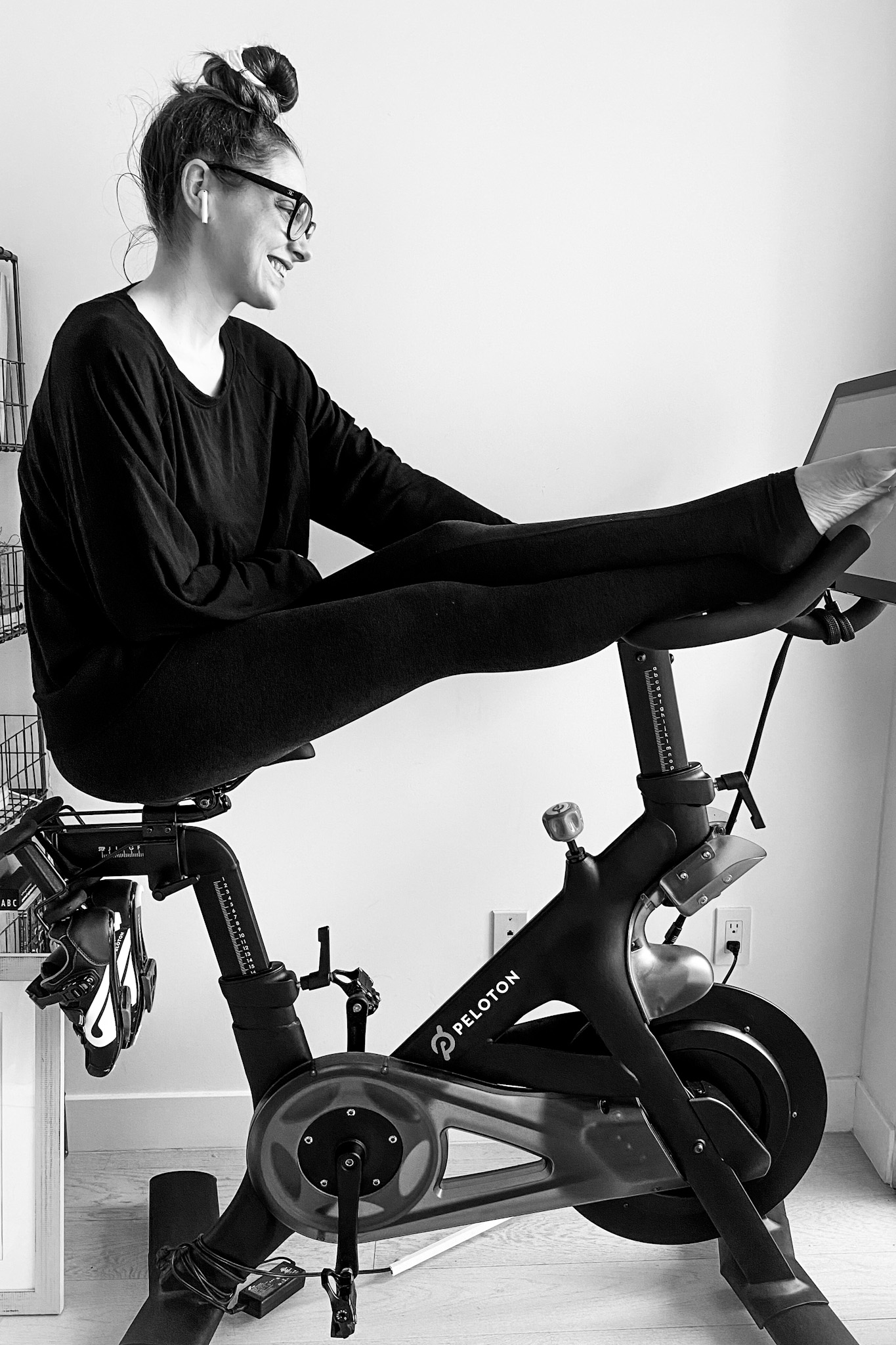 I have owned my Peloton bike for about 14 months now and I absolutely adore it. Today I'm sharing my passion for this bike, my fitness journey with it and why I choose my Peloton bike every day I can..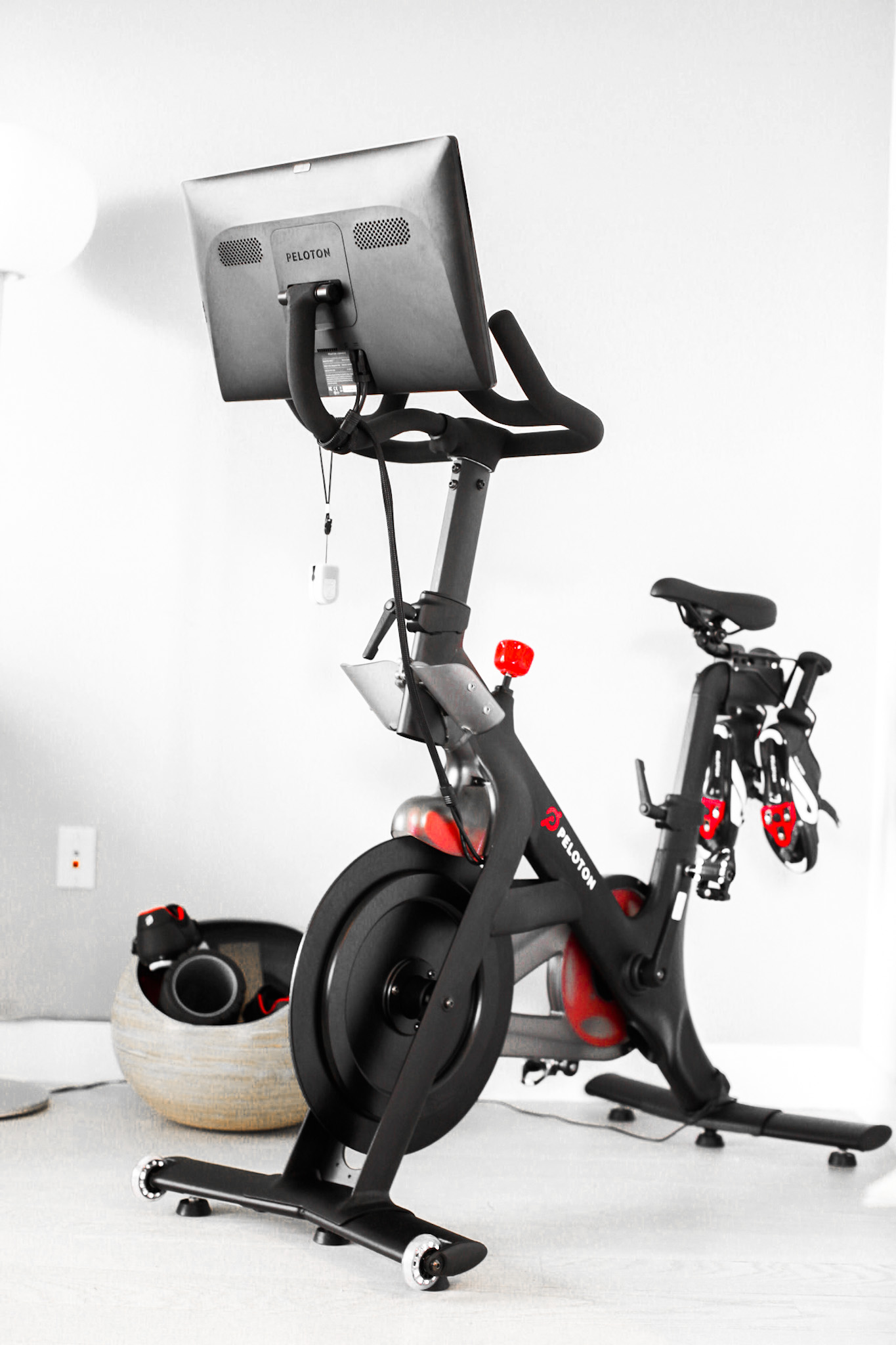 I Want More Time In My Day, You Too?
The past year I have become very aware of the hours in every day.
With a new baby who demands a lot of my time, I wish I could add a few hours to every day.
For me.
But being that I am not a magical unicorn that can wave a wand and freeze or add to time, I have to structure my day in a thoughtful way. But really, who am I kidding, Rosalie (10 months on the 13th of June!) is the one who really carves out the day.
Structure barely exists.
Schedules are messy.
Every day is different.
Baby Days 101
Most days I arrive at dinnertime and look back going, "What in the world happened today??" It's like an odd mommy hangover soaked in breastmilk, bubble bath and mushy strawberries mangled pasta. (The girl loves her fruit and pasta, but wow that can get messy! Ha.)
Naps, feedings, baths, walks, cleaning, playing. It all goes by so fast and most days I feel like I don't have any time left for … myself. And when I do get a window of time I find myself staring at a computer screen like a fuzzy-eyed zombie asking…
"What do I want to do with my time??"
And many many times, I plop down and scroll on my phone or nap or just do NOTHING for a few minutes. But when I have the energy, I get excited and choose Peloton to fill my ME time slot.
Peloton Basics – What is it??
So let's back up a bit. What is a Peloton?
Peloton is a company that sells at-home fitness machines. A Bike and a treadmill. Though we only have the bike. I'm not much of a runner and the tread demands a lot of space and is more expensive. So I won't be speaking about the treadmill, just the bike.
The Bike has a small footprint – meaning it easily fits into a variety of rooms. We have ours in the corner of our office/den. And on the bike is a large touchscreen monitor. On the monitor you can check out your stats and profile and browse a very wide array of both LIVE and on demand (repeat) classes. The live classes are actually taught and filmed in a studio and happen as you use them! Pretty cool, yes? It's like attending a live studio class in the comfort of your own home. You can workout whenever you'd like.
Besides spin classes, you can access meditation, yoga, strength and more classes. I usually stick to cycling, but I love the strength and a few meditation classes too. And when I was pregnant I did a few of the prenatal yoga classes.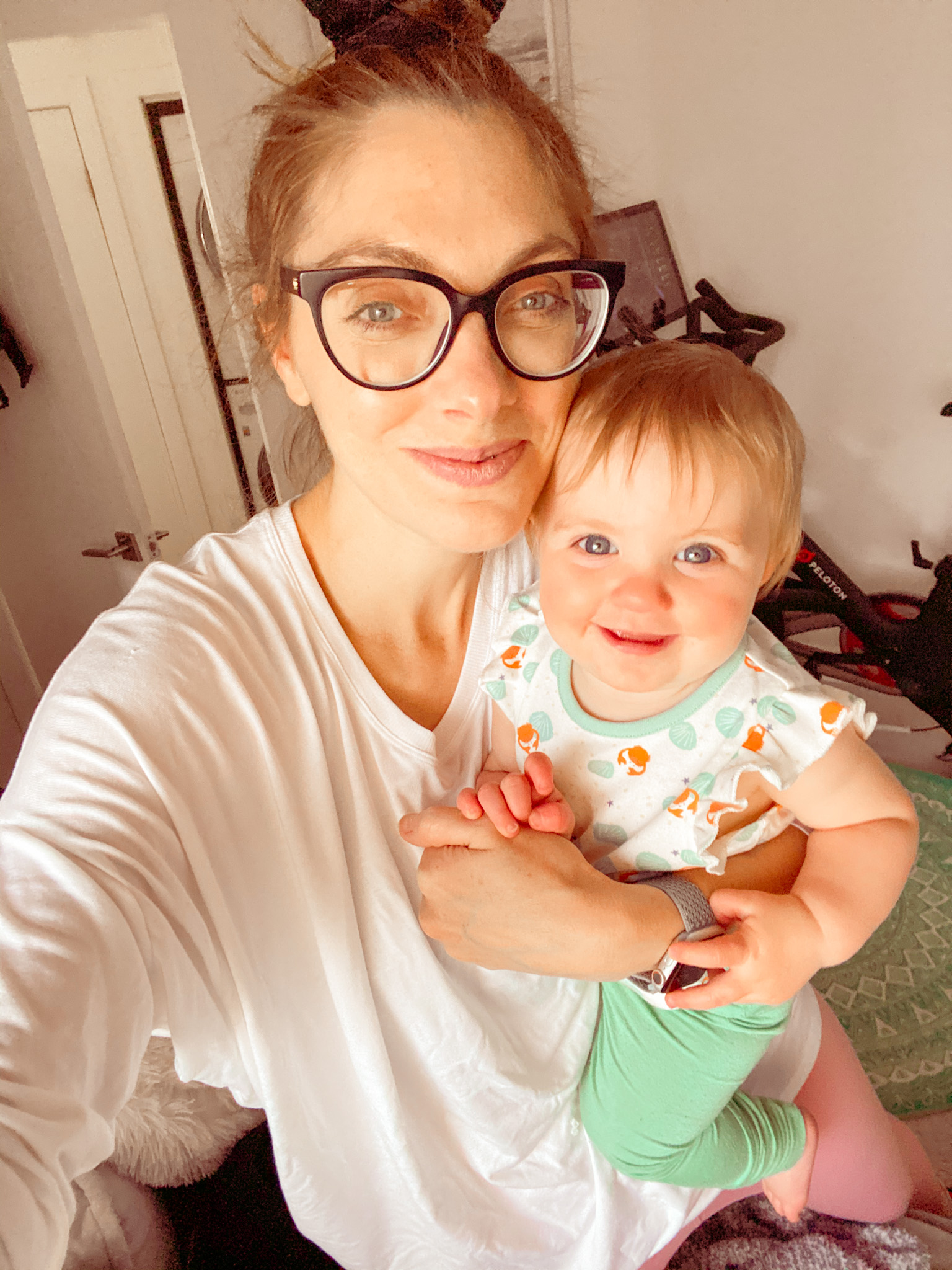 The Peloton Instructors
The thing that really sold Peloton for me is the amazing lineup of instructors. They are fun, lively, inspiring, quirky, knowledgable and entertaining. They all have different personalities and "brands" per say. Some instructors are fun and lively and make me laugh (Cody!) and others are awesome when I am in the mood to be inspired and do some deep thinking on the bike. And sometimes I just want to work my butt off with a good Climb ride or HIIT class.
My go-to instructors are Cody, Denis, Leanne and Emma. I also love Kendall and Robin and Alex. But really, they are all awesome. I try to never miss a Cody class though. I especially love tuning in early to his live rides because he always chats for a few minutes about random things which is fun.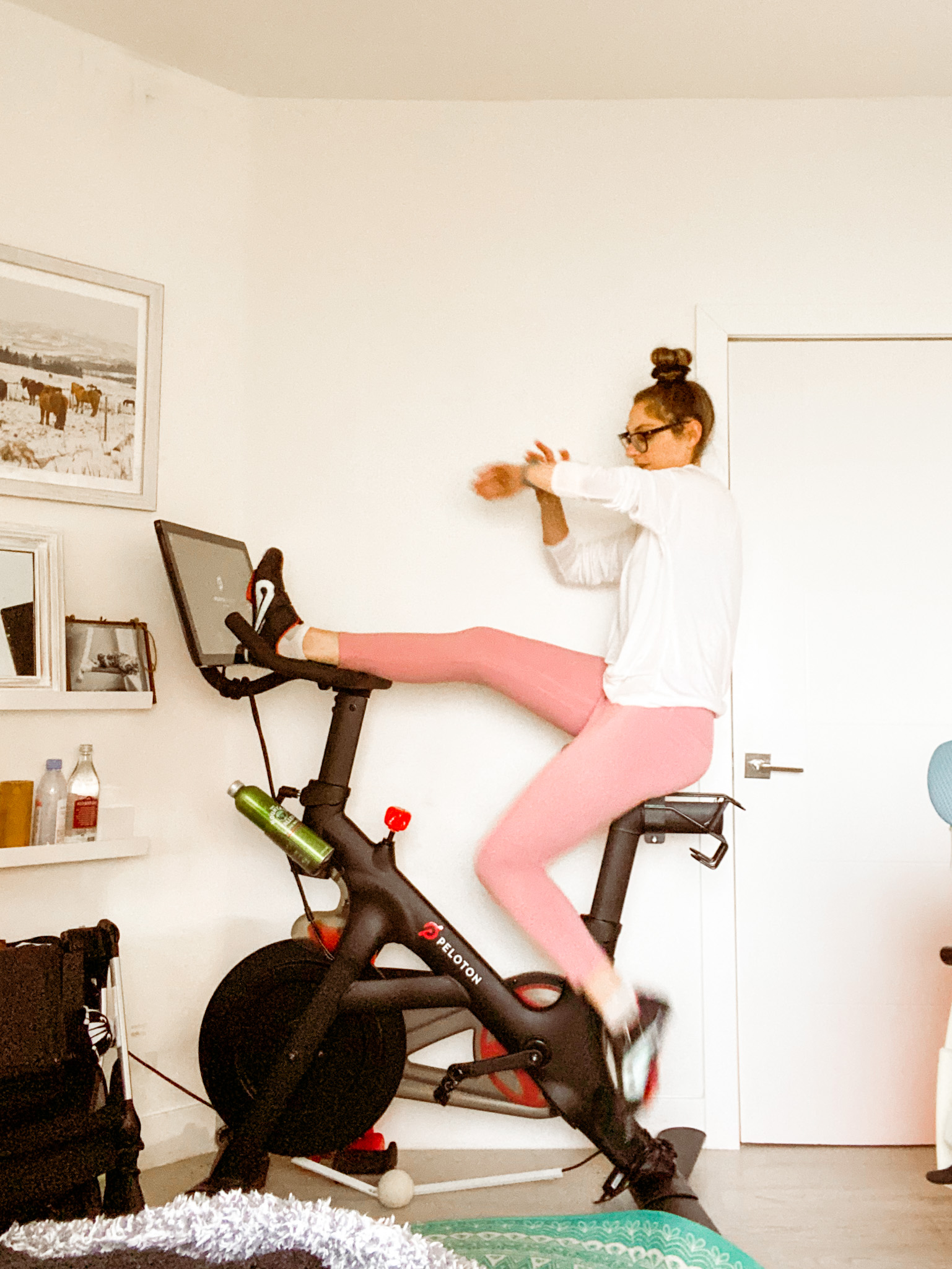 The Peloton Classes
My go-to fave classes are the decade pop rides. 90's 00's 10's etc. I also love theme rides featuring fave artists (Britney!) and more. I will do any Peloton class that Cody leads just because he always makes me laugh. My profile hashtag is #CodyIsMySpiritAnimal because he embodies the joy, fun and levity to his mood that I strive to have each day. I know he is not like that 24/7 … no one could be, but the energy he brings to his rides, really rubs off on my mood!
I usually do a 20 or 30 minute ride then either a ten minutes cool down or arms class. Sometimes I do a 45-minute class when I want a good workout – and actually find time for that.
But overall, I choose my Peloton classes every day I have the opportunity! I usually hop to take a live class – no matter who is teaching it – if that coincides with the time I can break from baby and life and ride.
I Hated Spinning
The funny thing about my Peloton passion is that before this bike, I pretty much hated "spinning" as exercise. I had taken a few pro spin classes and I always loved bike riding, but hopping on a bike for exercise always sounded and felt boring and one dimensional. But guess what? This is one of the first times in my life I have stuck with a specific fitness plan for over a year — not in the form of a sport of leisure activity like tennis and such. I have played tennis my whole life, but not as an everyday fitness workout. And I have always despised running – sorry running shoes. And I tolerate the gym. But Peloton is something I LOVE and look forward to every day!
Side note, I have done yoga on and off for years, but that never gave me a hardcore cardio workout like a Peloton class does.
Why do I love my Peloton?
To me, Peloton workouts are fun.
I actually use it and I see and feel fitness and wellness results.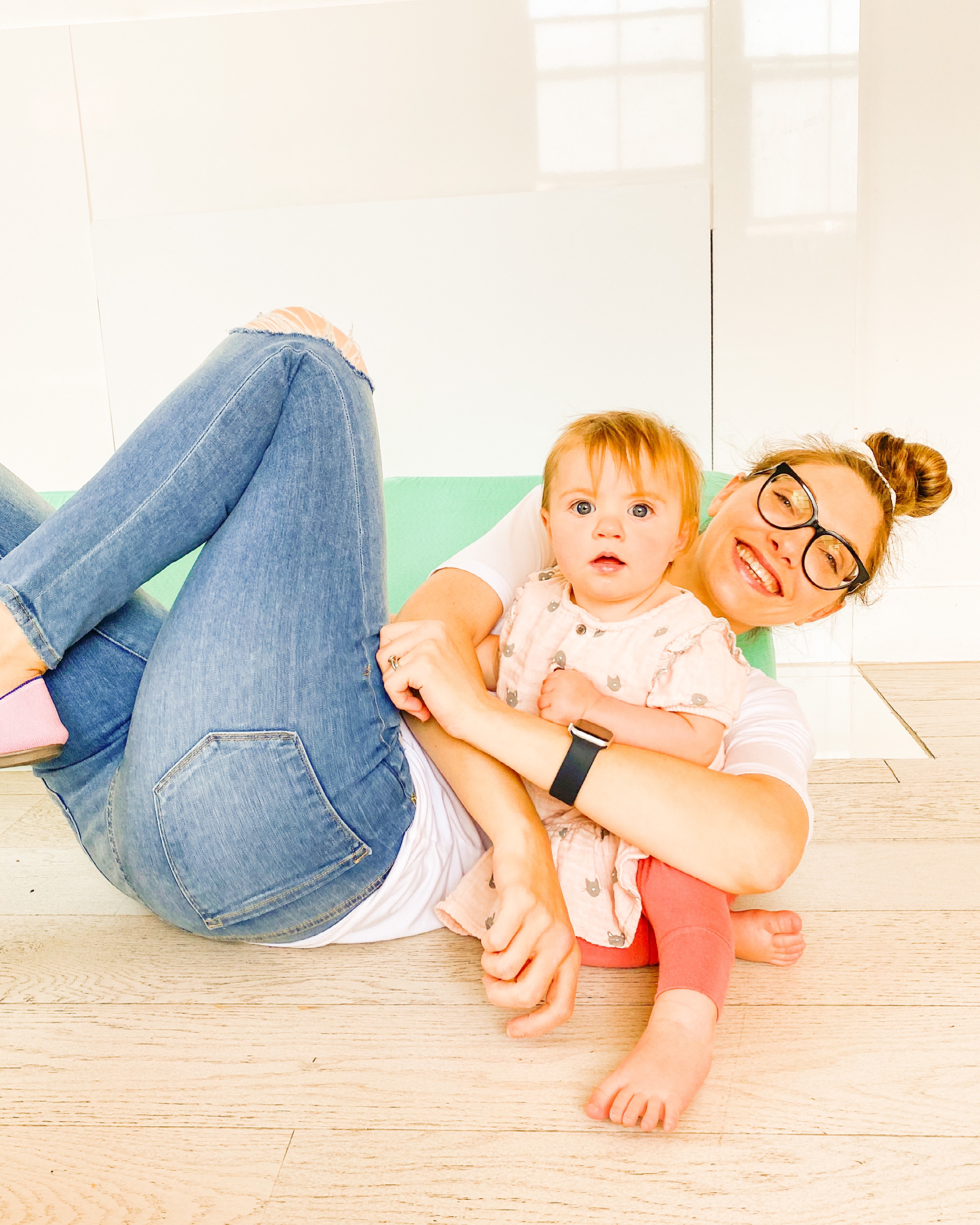 Free Time = Peloton
I choose exercise and music and joy and endorphins and fitness as my me time.
But I'm a Food Blogger…. Right?
Free time? I should be cooking, right???
I wish I had the motivation to hop in the kitchen and whip up recipes. But right now, getting any home-cooked food on the table is a challenge. So getting creative with recipes only happens in a quick, messy way.
So when I get that tiny window for myself… usually, I choose my Peloton.
Not a Fitness Junkie
And let me say again — I have never considered myself a fitness junkie in a "workout everyday" kind of way. I love hiking and yoga and tennis and walking, but I've never had a "routine" that stuck.
But for 14 months – Peloton has stuck. I'm impressed. I'm a flighty, flaky cookie when it comes to fitness.
Why I Ride My Bike
I ride to feel stronger, happier and healthier.
To keep my heart strong.
I want to be healthy and happy for myself and family.
And I also love having a space to be with my thoughts.
I love the cardio endorphins!
I ride to feel strong.
It's FUN! Riding brings me joy.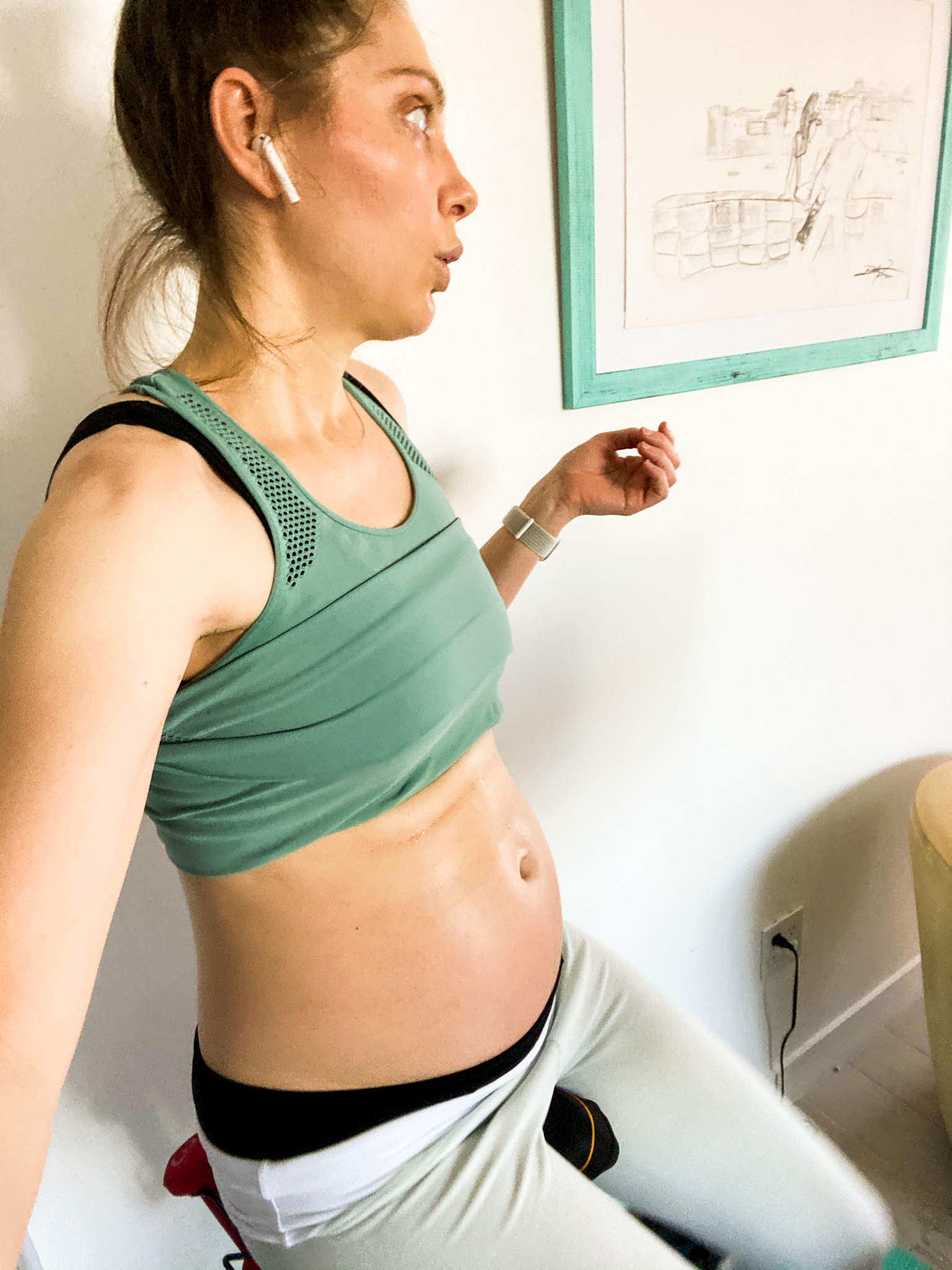 Peloton and Motherhood + Pregnancy
I used my Peloton while I was pregnant. I did a ride the day before I gave birth. It felt so good! In fact the first time I started riding, I was about 3-4 months pregnant!
I also rode postpartum while breastfeeding (still in that!)
My Peloton fits so well into my new mom life because I don't have to leave the house to get an amazing workout in.
I felt fit and strong and really energized my second and third trimesters and I really think getting in my Peloton workouts helped with that.
The endorphin boost for mental health was so important too.
Always talk to your doctor about your unique body and health situation with pregnancy fitness and postpartum healing.
I loved my pregnant belly and staying active helped my feel good during those beach ball in my belly days!…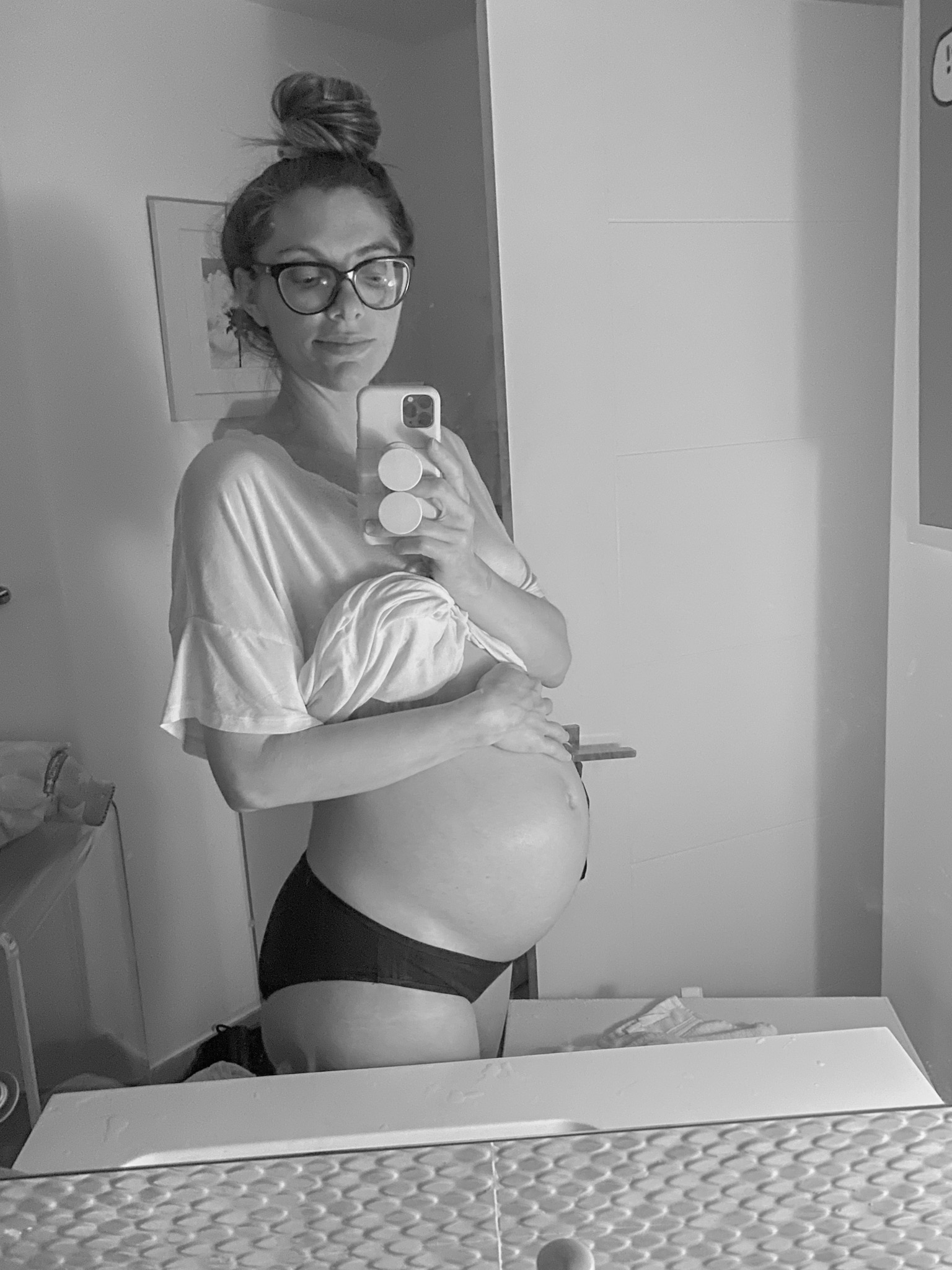 Peloton $100 Code
Already ready to buy one? Get $100 off any bike accessories (shoes, weight, bike pad, etc..) with my referral code — Use my link to get $100 off.
My referral code: MXRYC3
Three Things To Know About Peloton…
It Might Take a While for Your Bike to Arrive.
I had heard that some bikes last year were arriving in a few days! Well with COVID, those days are over. My bike took six weeks to arrive and I've heard anywhere from 2-8 weeks is standard these days.

Your First Ride May be Clumsy or Just "OK."
I don't really remember my first ride. I know it was short and easy. But I felt awkward and clumsy and every cadence and resistance level just felt off. Basically, I had no idea what I was doing and with ZERO muscle memory yet, I didn't feel super excited after that first ride. Plus, clipping out of the shoes felt impossible!

Don't let that deter you! Better rides are in your future.

Your Butt Will Hurt at First.
My butt hurt. That's all I really remember about the after part of my first few rides. We even bought a cushy supplemental seat pad cover off Amazon and kept it on for a few months. It never really fit right and was annoying to position.

Eventually we went back to the Peloton "saddle" as it comes. It's a bit firm at first, but you do get used to it. And if not, wear some padded bike shorts rather than a seat pad.
So yeah, I love my bike. And I try to choose Peloton each and every day I can. Having those few minutes alone on my bike makes me a better mom and happier person. Those exercise endorphins are so addictive and lovely!
If you have questions about Peloton or are curious, check out their website and feel free to DM me on social media or add a comment here and I will try to help! I remember I had to ask one of my friends how to clip out of the bike from my shoes when I first got it because I legit thought I was stuck – ha! I can be THAT person for you. Haha.
Happy summer everyone. No matter what exercise you choose, I hope you can get out there, get your heart pumping and improve your fitness goals for health and happiness.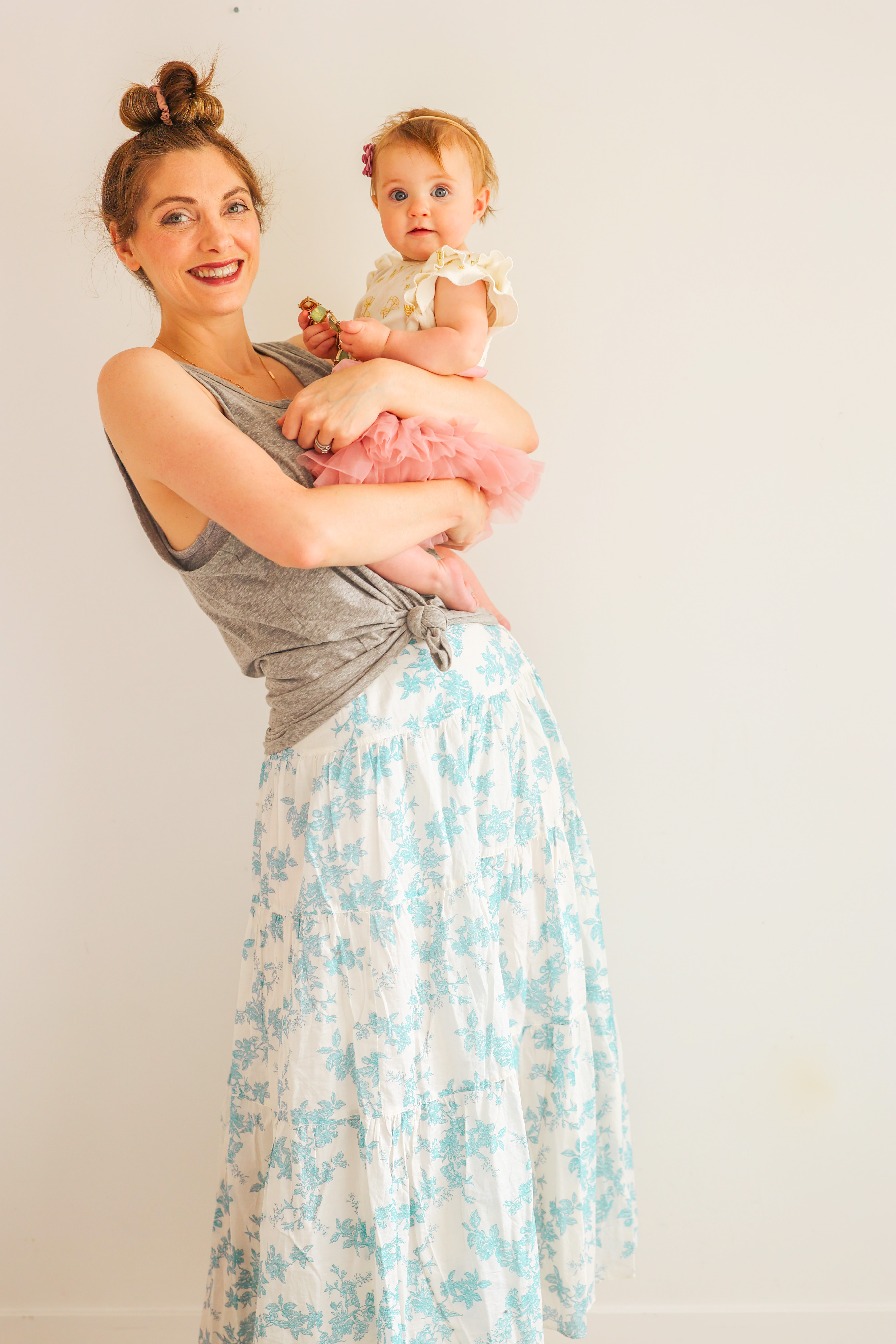 Disclosure: This post is not sponsored, but I am happy to share my referral code — My referral code: MXRYC3 — I receive a $100 gift card for Peloton apparel when I refer someone.