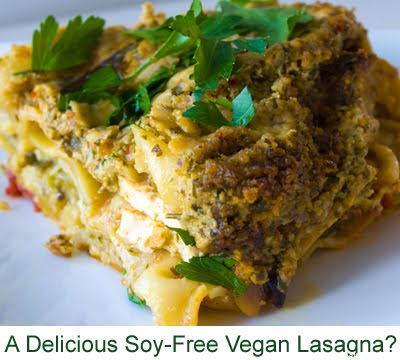 I recently received this email from a blog reader,
"Hi Kathy,
I recently discovered your blog and am really enjoying all of your awesome recipes. I made your spelt biscuits for Thanksgiving and they were a HUGE hit – so thanks! I am a vegan and am trying to put together a hearty Christmas menu for my meat-eating parents. We traditionally have lasagna but having recently cut out all dairy and soy from my diet am looking for a flavorful vegan recipe that is soy-free (no tempeh, seitan or fake / veggie meats either) to prepare for them. I have found the recipes you have on your blog – but they either have tofu, cheese or are raw (a little too radical for my fam). Just wondering if you have any other recipes you could share or even a suggestion for what I could use to replace the tofu…I would really appreciate it!!
Thanks so, so much. Hope you had a very happy holiday!
Best, Lisa"
Here's my answer…
Hi Lisa,

That is a great question! I feel like I have been making tofu-based lasagna in place of traditional meat-lasagna, for years now. And sometimes it almost feels outdated! Though I must admit I still love it. But it's easy to forget that the true stars of any vegan recipe are the high quality veggies! And thus, I give you my answer… I have three easy solutions for your soy-free vegan 'holiday special' lasagna:
1) Replace the tofu/cheese with a nut-based basil pesto. A very hearty ingredient to add to lasagna is my pine nut (or walnut) pesto. It is incredibly dense, almost like ricotta cheese, and could easily take the place of both cheese and tofu. My layers would go like this: Noodles, marinara sauce, pesto, hearty EVOO/garlic-sauteed veggies (like zucchini/spinach/mushrooms/more ideas below), then repeat those layers. Plenty of veggies will fill the tofu-void, and a thin layering of pesto will fill the cheese-void. There is no need for cheese or tofu when you use pine nut or walnut based pesto sauce as the 'thick and dense' filling portion of your lasagna.

2) Straight-Up Mushroom Lasagna. Mushrooms are an incredibly flavorful and filling ingredient to add to pasta dishes, and by choosing 'hearty' varieties of mushrooms – like portobella, shiitake, chanterelle, bluefoot, hen of the woods and baby bella's (instead of simple white button shrooms) you will easily be able to create a satisfying yet flavorful lasagna. You can even keep this really simple and do your layers like this: noodles, sauce, mushrooms, noodles, sauce, mushrooms. Super simple, yet delicious. I'd add in a nice amount of fresh basil, oregano and garlic to give your lasagna a perky Italian flavor. *Yes, chanterelle mushrooms are expensive, but for a special occasion they are well worth it.*
Tip: Add gourmet chanterelle mushrooms to your lasagna and no one will miss the vegan cheese or tofu: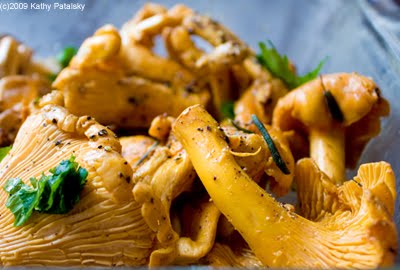 3) Potato Innovation. Another tip is to replace the cheese layer of your lasagna with a mashed potato layer. (You can also use a puree of parsnip or butternut squash). It might sound a bit odd, but some folks love it! Simply add a layer of garlic mashed white, sweet or red potatoes to your lasagna. A very thin layer on the bottom of the lasagna will do the trick. If that idea is too oddball for you, simply stick with a nice smorgasbord of mixed hearty veggies (spinach, mushrooms, fennel, kale, onions, zucchini, roasted peppers, olives, tomatoes, peas, asparagus and broccoli)…and your vegan, soy-free, dairy-free lasagna should be a hit.
…Veggies always save the day.
You can find my spicy pesto recipe here.
*to make it soy free, simply leave out the vegan parm cheese, it will be delicious without it.*
Hope that helps, and I'm so glad the spelt biscuits were a hit – my guests enjoyed the spelt biscuits I made too!
~Kathy
UPDATE: Received this idea from a tweeter: "From @Planithealthier: "I would make a soy-free lasagna with layers of garlic-basil white bean puree. Tahini on top bubbles like melted cheese."
…Great idea!!
Noodles, Veggies and good Marinara Sauce = delicious lasagna.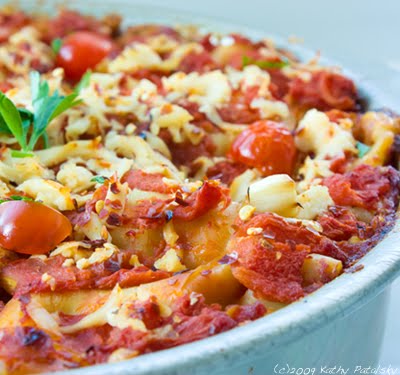 Gourmet Mixed Mushrooms will perk up any soy-free vegan lasagna: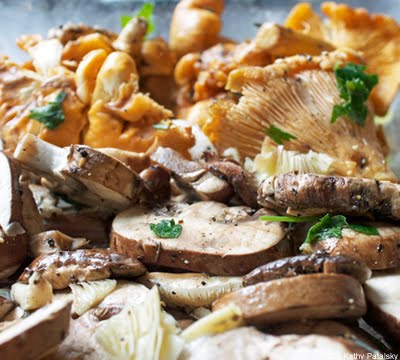 A layer of sauteed zucchini is a delicious addition to a vegan lasagna: