It's been a while since I grilled up a
vegan breakfast sandwich
and my fall inspired mood was the perfect excuse to create a new recipe!
My Jack-o-Pumpkin Breakfast Sandwich is stacked tall with savory sweet flavors throughout. Sweet maple pumpkin butter is slathered on each grilled whole wheat English muffin. A thick patty of vegan breakfast sausage is grilled with an accent of black pepper and olive oil. Some earthy grilled mushrooms are piled on top of the oozing vegan Monterey Jack cheese. A pile of crisp, spicy arugula completes the stack.
Serve with a pumpkin spice latte or pumpkin spice chai and your fall morning is pretty darn desirable. You'll be sure to skip out the door with a big Jack-o-lantern smile on your face..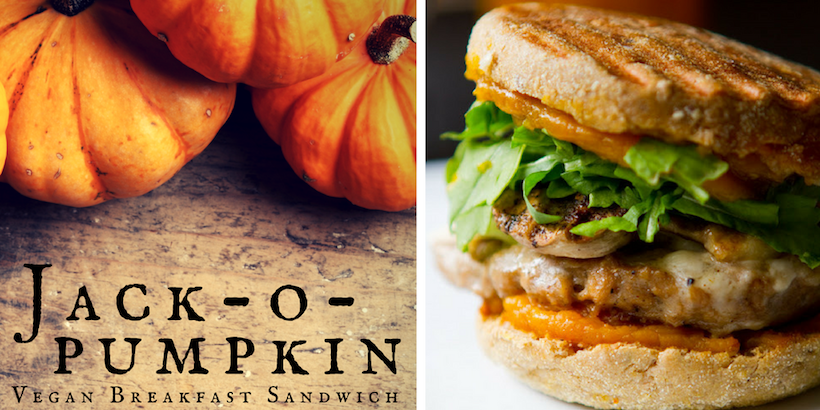 Pumpkin Maple Quickie Butter:

Guy Approved. Vegan breakfast sandwiches are my husband's fave AM treat. So ladies, if you are making this for your guy – even if they aren't vegan – I can pretty much guarantee that they will love it. But go easy on the pumpkin butter at first (serve more on the side) – unless they love the savory-sweet flavor of pumpkin butter. I like to add a teaspoon of hot sauce to my husband's sandwich since he likes them on the spicy side.
Happy Fall Mornings!..
Jack-o-Pumpkin Breakfast Sandwich
By Kathy PatalskyPublished 10/03/2011

This savory and sweet fall breakfast sandwich has a secret ingredient: maple pumpkin butter! Homemade, by you, in a flash.
Ingredients
Maple Pumpkin Butter:
½ cup pumpkin puree, unsweetened
1 tablespoon maple syrup
½ teaspoon extra virgin olive oil
pinch of sea salt
pinch of pumpkin pie spice (or just use cinnamon)
Sandwich:
1 English muffin, toasted
⅓ cup vegan sausage patty* (formed by hand or a pre-formed variety)
½ cup sliced mushrooms
1 slice vegan cheese, pepper jack or similar white cheese
small handful arugula or spinach greens
⅛ teaspoon hot sauce or pinch of cayenne (optional)
extra virgin olive oil + black pepper as needed
*GimmeLean vegan sausage used
Instructions
Pumpkin butter: Whisk together the ingredients in a small mug. Place in the microwave, heat for thirty seconds to a minute, just to warm. Set aside. Note, you will have leftover pumpkin butter that you can use the next day or use for other recipes.
Toast your English muffin.
In a small skillet, warm about ½ teaspoon olive oil. Place the sausage in the pan, right in the oil. You can flip the patty a few times at first to coat the patty in oil. Cook for 1-2 minutes on each side – you want the edges to be golden brown.
Add the mushrooms to the pan about midway through the patty-cooking process. Allow them to soak up some of the oil to help the cook faster. Sprinkle the mushrooms with a pinch of salt and pepper.
When the patty and mushrooms are just about cooked (this should only take 2-3 minutes), place the cheese over top the patty. Place one small ice cube in the pan, cover pan with a lid, reduce heat to low and allow the steam to melt the cheese. When steam has slowed, lift lid and place the greens in the pan. Turn off heat. Press the greens into the pan a bit. Allow the dull heat from the pan to slightly wilt and soften the greens – only slightly though – you do not want them soggy.
Spread the pumpkin butter on the English muffin halves. Then layer in the patty, mushrooms and greens. Add black pepper and optional hot sauce or cayenne sprinkle. Close top of sandwich and serve warm!
Yield: 1 sandwichPrep Time: 00 hrs. 05 mins. Cook time: 00 hrs. 07 mins. Total time: 12 mins.
Nutrition
Calories:

300

Protein:

13
Tags: breakfast,vegan,sausage,plant based,breakfast sandwich,pumpkin,pumpkin butter,fall,seasonal,easy,