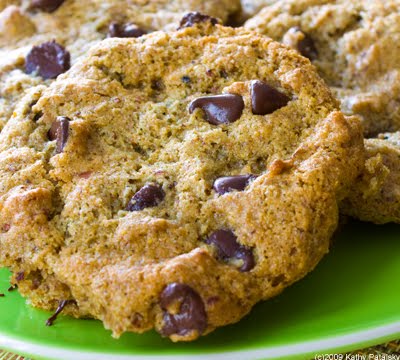 As promised, my brand new recipe for Just Almond and Chocolate Chip Cookies is revealed. Everyone needs a crowd-pleasing, slightly unique cookie recipe to grab on a rainy day, and this one will blow you away. My inspiration? One of my product finds of the week: "Just Almond Meal" that I purchased at Trader Joe's. It's a fine milled powder made from 100% ground almonds. Enough chatter, lets get to this recipe! And more yummy photos….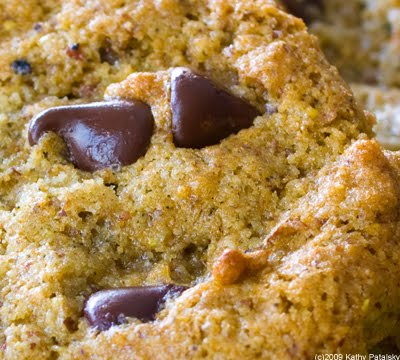 Perfect Cookies? Yes. These cookies were perfect. I can't tell you how warm, gooey, chewy and flavorful they tasted just out of the oven. Creamy melting chocolate chips all over my face. And I stuck them in the fridge for the next day-they still tasted amazing. Lovely. Really.

Trader Joe's Inspired. I honestly didn't mean to do this, but almost every item I used was purchased at TJ's. The only non TJ's item was my Silk Live Vanilla Soy Yogurt. Makes for an easy shopping trip.
Just Almond and Chocolate Chip Cookies
vegan, makes about a dozen
1 ½ cups 'white' whole wheat flour*
¾ cup +2 tablespoon organic natural sugar*
1 ¼ teaspoon baking powder
1 ¼ teaspoon sea salt*
½ teaspoon cinnamon*
¾ cup "Just" Almond Meal*
1 ½ teaspoon vanilla extract*
¼ cup canola oil*
1 ½ tablespoon soy creamer*
¼ cup vanilla soy yogurt
2 tablespoon hand-chopped almonds, roasted and salted*
1 ¼ cups chocolate chips, semi-sweet/vegan*
1 ½ tablespoon flax seed meal, (blueberry flavored* or plain)
*Purchased at Trader Joe's
Directions:
1. Combine these dry ingredients: flour, sugar, baking soda, salt, cinnamon, almond meal and flax seed meal. Combine well.
2. Add in liquid ingredients: soy yogurt, canola oil, soy creamer and vanilla extract.
3. Fold in the chopped almonds and chocolate chips.
4. You should have a nice wet cookie dough that is suitable for spooning onto a baking sheet. If the batter seems a bit too wet add a few pinches of flour. Too dry, add in some soy milk or water.
5. Spoon 1 ½ tablespoon balls onto a lightly greased cookie sheet or ungreased parchment paper.
6. Bake at 375 degrees for ten minutes.
7. Allow to cool for 20 minutes before handling. You can also transfer to a cooling rack if you have one.
Storage: Store on counter-top for a day-store in the fridge for a few days-freeze for longer.