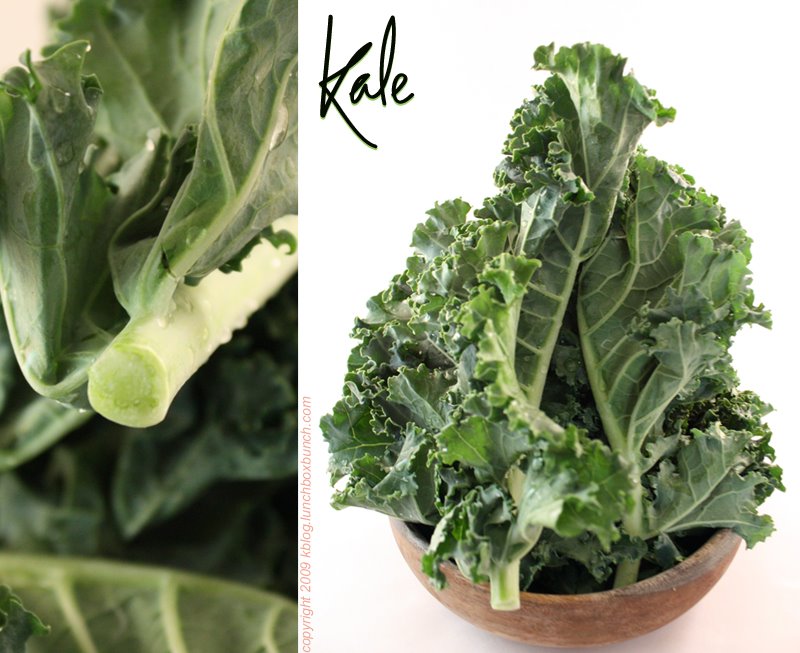 Craving a satisfying leafy green? Choose kale.


Kale is a sturdy leafy green. It's rippling leaves and strong veins are perfect for absorbing flavors. Thus it makes a heartier and more complex cooked green than say, easy-to-wilt spinach or dandelion greens.
Kale is delicious steamed with garlic, olive oil, lemon, citrus or pine nut flavors. This green has some amazing dinnertime potential.
Kale is a nutrient powerhouse! Just one cup of steamed kale contains 1328% RDA Vitamin K and 354% RDA of Vitamin A. Wowsers!
Keep reading for more kale photos, nutrition facts and a few fun facts…

KALE NUTRITION FACTS
per 130 grams, 1 cup steamed
calories: 36
Vitamin A: 354% RDA
Vitamin K: 1328% RDA
Vitamin E: 6% RDA
Vitamin C: 89% RDA
calcium: 9% RDA
fiber: 3g
iron: 6% RDA
protein: 2g
carbs: 7g
fat: 1g
…bottom line, nice stats Kale.
Serving Suggestions:
Easy to steam in either the micro, 45 seconds. Or steam in a stove top steamer pan. Most people prefer to remove the thick veins of the leaf. But they are perfectly edible.
Complimenting flavors include: lemon, garlic, olive oil, citrus, apple cider or red wine vinegars, citrus, anything acidic usually works well.
Kale works great in stews, pasta dishes, stir fry's and veggie lasagna.
Fun Fact: Kale, as with Broccoli and other brassicas, contains sulforaphane, a chemical believed to have potent anti-cancer properties, particularly when chopped.
Kale actually tastes sweeter when frozen or exposed to a frost.