Karina Allrich of Karina's Kitchen website is the "Gluten-Free Goddess" of the blogosphere. Karina's alluring site is overflowing with recipes, images, stories and tips for living a gluten free life. Her food photography sparkles, gleams, glows and shines. I can almost smell the drizzle of maple syrup on her Pumpkin Waffles, her Roasted Acorn Squash Risotto glows a moist golden color, and her Roasted Hatch Chile Stew seems to steam right off my screen.

Meet Karina. Karina is an artist (both in the kitchen and on the canvas), vegetarian chef and an inspiring creative artisan of all things gluten-free. Karina files the rough edges off the clinical words gluten-free, allowing us to see her delicious food and not the dietary label. Wonderful. Karina is a graceful, gluten-free/veggie trailblazer. Veggie Girl Power, indeed.
Step into Karina's Kitchen. Karina's stories and recipe commentary bring you into her dreamy, humble, warm and welcoming gluten-free world. Pull up a chair, grab a hot mug of yerba mate and sit down in Karina's Kitchen for a while of something wonderful. Read my "Veggie Girl Power" interview with Karina…
Finders Keepers. There are a few qualities I look for in a blog, and Karina's Kitchen has them all: Magical, hunger-inducing images of 'real healthy food recipes'? Check. Creative and artistic flair? Check. A bit of humor? Check. A bit of heart? Check. Lovable writing and storytelling? Check. Practical tips? Check. Vegan-friendly? Check. It's all there!
She had me at Potato Leek Soup. I first found Karina's website while perusing foodgawker.com. Her Vegan Potato Leek Soup popped up and I was transported by the image. The soup was plated in a rustic shiny-turquoise bowl, its creamy potato goodness warming my screen. Yum. She had me at her soup. I've been a loyal reader ever since. Check out this soup..it glows!…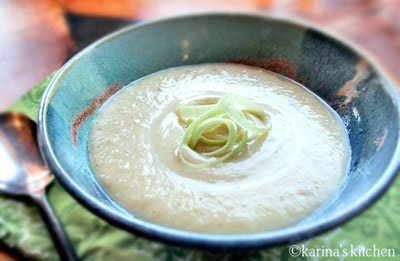 Now onto the interview…

About The "Veggie Girl Power" Interview. This series celebrates female trailblazers who inspire us! Featured Ladies were chosen for their unstoppable "Veggie Girl Power", aka a female with experience, wisdom, creativity, skills, heart, worldliness, passion, grace, drive, dedication and personality! Each question is 'filed' under one of these VGP characteristics.
Q1. Name and 'title'.
Karina Allrich of Karina's Kitchen: Gluten-Free Recipes
Q2. DRIVE: Yawn, sunrise, what is the first food/drink you reach for to start your "Veggie Girl Power" day?
Karina: I'm a yerba mate girl.
Q3. HEART: As a "Veggie Girl Power" trailblazer you inspire so many girls/women, who or what was your inspiration at the start of your journey to today?
Karina: Instinct. I never ate much meat, even as a child. In fact I would hide bits of chewed meat in my napkin. By thirteen I was a vegetarian.
Q4. EXPERIENCE: When people ask you why you 'went VEG' what is your usual answer?
Karina: I simply say, I feel better when I eat vegetarian. That is, until celiac disease put a serious dent in my vegetarian food choices and I had to give up gluten. I've been living without wheat, rye, barley or spelt for eight years now. Thank goddess for rice and quinoa! Not to mention, potatoes.
Q5. WORLDLINESS: Celebration dinner out, where do you go?
Karina: I like Real Food Daily in Los Angeles.
Q6. CREATIVITY: "You can judge a veggie girl by her beverage"…what are your favorite juice/smoothie recipes?

Karina: My current favorite smoothie features pomegranate juice, a frozen banana and blueberries. Sometimes with hemp milk.
Q7. DEDICATION: Are there any foods or food brands that you simply couldn't live without?
Karina: As a gluten-free dairy-free cook I rely on Bob's Red Mill flours and grains to make all my gluten-free breads and tortillas and desserts. I love sorghum flour. And millet, buckwheat and cornmeal. I also bake vegan, so I rely on Ener-G Egg Replacer in my muffin, cake, and cookie recipes. Oh- and Tinkyada rice pasta! It's the best gluten-free pasta.
Q8. WISDOM: What is a favorite life tip or quote of wisdom that you have shared with the world?
Karina: Life is short. Make today delicious.
Q9. SKILLS: And equally important, what is one of your yummiest recipes you have shared with the world?
Karina: I just developed a fabulous vegan breakfast brownie made with quinoa flakes. It has mini dark chocolate chips in it. The combo of quinoa and chocolate is rich and satisfying. Recipe here.
Q10. PASSION: What is the one message that you try to project to your fans and those you inspire?
Karina: Most of my readers are gluten-free. Many find me right after receiving a celiac diagnosis, and they need reassurance that cooking and baking gluten-free (and dairy-free, for many) is not only doable but delicious. That's one reason I'm passionate not only about the recipes I develop, but the presentation and photography. I want to inspire creativity in the kitchen. And in life!
Q11. PERSONALITY: Who would you award the "Veggie Girl Power" label to? And what have you learned from them?
Karina: I have long admired Susan of Fatfree Vegan Kitchen. We bonded over a vegetarian mulligatawny recipe years ago.
Q12. GRACE: How do you respond to negative comments from critics, in real life or on the web?
Karina: In truth I don't respond. I use my delete button. Though I have to say, in all honesty, it's a rare occurrence. I get a lot of love from people. My readers keep me going. They inspire me!
Bonus Question: Yes or no-do you think veg*n diets will ever be the majority and not the minority?

Karina: Truthfully, I do not. There will always be omnivores. And flexitarians. Some for health reasons- the Dalai Lama, for instance; he became sick on a vegan diet. Not everyone thrives on vegetable proteins. And soy allergies are on the rise (I am allergic to soy and beans/legumes). Awareness is on the rise, however. And availability. So that's good news.
Did You Know? You can find Karina on her blog, twitter and facebook. But I warn you, before you click, make sure you have a nice chunk of time to peruse her site! You'll be hooked!

Website: Karina's Veg*n Recipe Index.
Twitter: @KarinasKitchen
Facebook: Karinas Kitchen on facebook.
A few of Karina's recipes I've mentioned:
Roasted Hatch Chile Stew
Pumpkin Waffles
Vegan Potato Leek Soup
Roasted Acorn Squash Risotto