Mac and Cheese is an easy meal or side dish to crave. Tender, fluffy pasta, coated in a rich, cheezy sauce. Well, one day, ok ok, many days, I get lazy about making dinner. Yes, even food bloggers get cooking fatigue! And though I absolutely adore my usual cheezy sauce, sometimes I want something that literally takes seconds to make. Lazy Mac' to the rescue!
With Lazy Mac', you get a cheezy, creamy sauce that is totally dairy-free and vegan, but is just crazy, stupidly simple. Feeling lazy, but still want some homemade comfort food? This one is for you!…
Also check out the Instagram giveaway I am hosting this week..
Let's clarify. By lazy, I really mean BUSY. Because we all have those long to-do list days, weeks, years. No shame in 'laziness' in the kitchen. In fact, some of the coolest, most clever recipes are those super simple ones! Recipes so easy and flavorful that we can't help but make them again and again. I mean, PBJ anyone?
So. Lazy Mac. Will you love it?

The truth is, this recipe isn't perfect. The sauce is really more buttery and cheezy than silky. So if you just want a rich, velvety sauce, you might want to take a few more minutes and make this recipe – or the one in my cookbook, HHVK. But if you just want FAST, bold, cheezy, buttery flavor – give this a try. I am super curious to hear if you love this recipe as much as we do. Leave a comment below or tag me if you give it a try!
…Lazy Mac' just may turn out to be all you need in a quick Mac and Cheese recipe!

Two Ingredients. Nutritional yeast and vegan butter. The nooch adds the cheezy flavor and yellow color too. The vegan butter adds the richness and also salty flavor. Then you can add a non-dairy milk to taste to thicken and smooth out the sauce.
Lazy Mac' Tips:

* Hot Pasta. Make sure your pasta is super hot when adding the sauce ingredients! You want the heat from the pasta to 'cook' the sauce a bit. So drain your pasta and quickly add in the sauce ingredients while things are still hot and steamy.
* Buttery. Use a vegan butter that you love the flavor of. There are a few on the market these days. I always use original Earth Balance – sticks or the tub.
* Plain Milk. Use a plan or unsweetened non-dairy milk. Definitely do not use anything with a vanilla or sweet flavor. You want thing plain and creamy. Something with a rich consistency works best – no watery milks allowed! My fave brands for this recipe are Ripple unsweetened original or Eden unsweetened. Califia Farms unsweetened works well too.
* Pasta. You can really use any pasta you'd like. Whole wheat, gluten free… You can even use different shapes like shells or even penne. Use what you have!
* Add-ins. This recipe is perfect for add-ins. I love drizzling hot sauce over top to serve. Chopped greens or tempeh bacon is also yummy. I also love vegan sausage like Field Roast in this pasta.
* Side Dish. I love this recipe served on the side of a salad at dinner time. It really makes a perfect quick savory side dish!
* Sweet? So the savory flavor is pretty bold. And sometimes you may want a hint of sweetness to contrast that. I would advise adding 1-2 teaspoon agave syrup. Sounds weird, but it works. Or if you have it, a few tablespoons of a mashed sweet potato. And by mashed, I mean silky smooth, so that it blends well.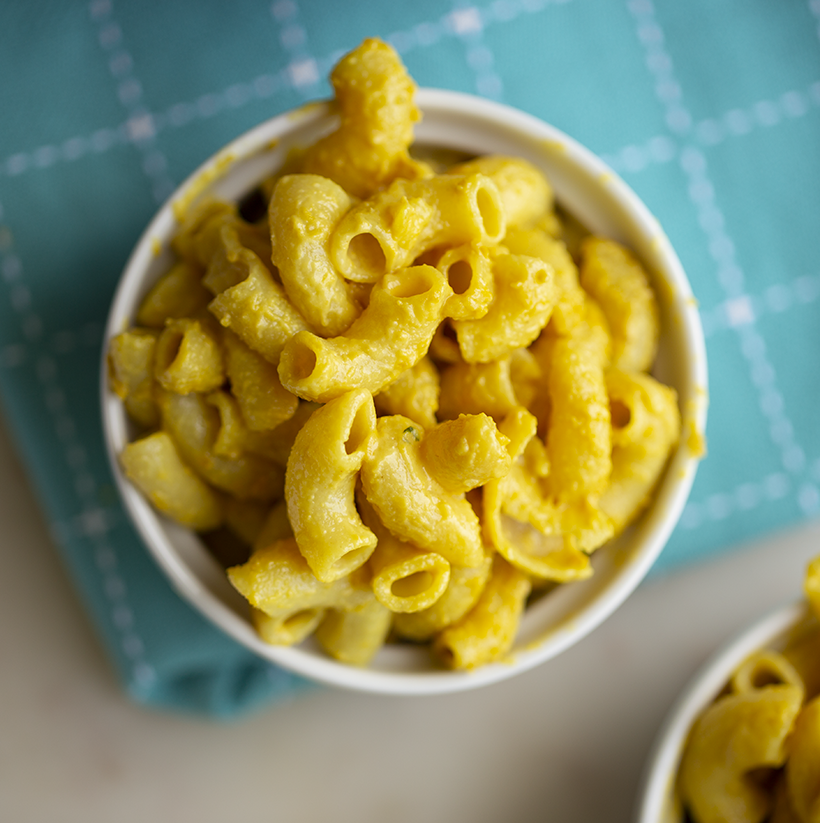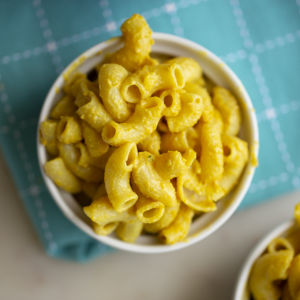 Lazy Mac' n' Cheese
This super simple vegan Mac and Cheese uses just two main ingredients for the sauce.
Print
Pin
Ingredients
2

cups

uncooked pasta – macar

2

tablespoon

vegan butter, softened – try Earth Balance

4

tablespoon

nutritional yeast – I like Kal brand

2-5

tablespoon

non-dairy milk, plain – room temp or slightly warmed
Instructions
Add pasta a a large pot of boiling water. Cook pasta, until tender – usually around 7-10 minutes for basic macaroni.

Drain water from cooked pasta. Keep pasta in same pot (or transfer to a medium bowl if preferred.)

Add in the vegan butter, nutritional yeast and start with two tablespoons of non-dairy milk.

Fold the sauce ingredients into the hot pasta. the heat from the pasta will melt the softened butter and warm the nooch into a creamier texture. Keep gently folding until the pasta is creamy.

Serve warm or store in the fridge until ready to serve. Tip: This pasta is actually even better the next day or as leftovers because the sauce smoothes out even more and soaks into the pasta.
nutrition estimate | per serving
Calories:
260
kcal
|
Carbohydrates:
47
g
|
Protein:
18
g
|
Fat:
7
g
|
Saturated Fat:
1
g
|
Polyunsaturated Fat:
1
g
|
Monounsaturated Fat:
2
g
|
Trans Fat:
1
g
|
Sodium:
1755
mg
|
Potassium:
458
mg
|
Fiber:
6
g
|
Sugar:
7
g
|
Vitamin A:
1206
IU
|
Vitamin C:
3
mg
|
Calcium:
56
mg
|
Iron:
4
mg
Those Giveaway deets.. Hop over to my Instagram account to enter to win a year's supply of Annie's Vegan Mac. Yup, that is 52 boxes. Plus, you can win a sample pack for a friend… View this post on Instagram
💛🧀 Instagram #giveaway for you guys! Enter below to win a year's supply of @annieshomegrown #vegan Mac!… 🔍Details: 1. Follow me, @kathypatalsky 2. Like this post. 3. Comment on this post by tagging one friend. (Tip: You can enter multiple times, but one friend tag per comment.) 🧀💯🧀💯🧀💯🧀💯 PRIZE: (1) winner will receive a year's supply of Annie's Vegan Mac (52 boxes to be exact) — plus the friend you tagged will receive a sample pack of Annie's amazing Vegan Mac products! 💛💛💛💛 ✏️RULES: 🇺🇸USA shipping only. Winner will be randomly selected on 10/10. Annie's has donated the prize for this giveaway. Good luck!🍀A post shared by kathy / healthyhappylife (@kathypatalsky) on Sep 26, 2018 at 11:33am PDT
Pin it for later..