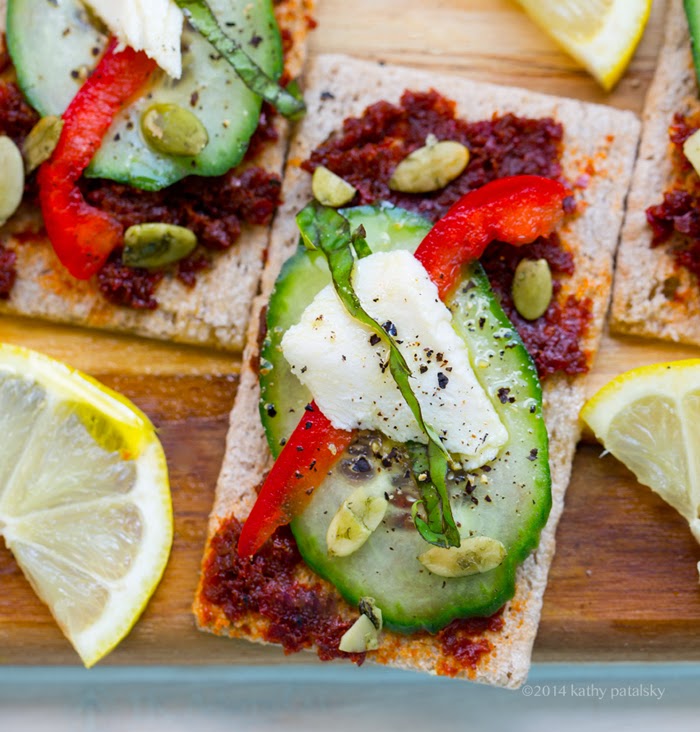 If you follow me on Instagram, or have been reading my blog for a while you have probably noticed that I am a bit obsessed with the restaurant brand Le Pain Quotidien. Today I want to share my favorite LePQ menu items, products and goodies and a favorite party cracker appetizer recipe.
My Fire & Ice Appetizer combines a slathering of warm and spicy tomato harissa spread with cool thinly sliced cucumbers, fresh basil, lemon, cracked black pepper, a drizzle of fine extra virgin olive oil, a nibble of rich vegan jack cheese and some nutty sprouted pumpkin seeds, all sitting on a bed of the most amazing light and airy 100% buckwheat cracker of all time. Serve this spicy gem and hang out at the snack table (along with everyone else) at your next party or gathering. These snackages taste DIVINE when paired with fizzy sparkling wine, kombucha or a fresh OJ-infused mimosa. Let the Le Pain Quotidien fun begin..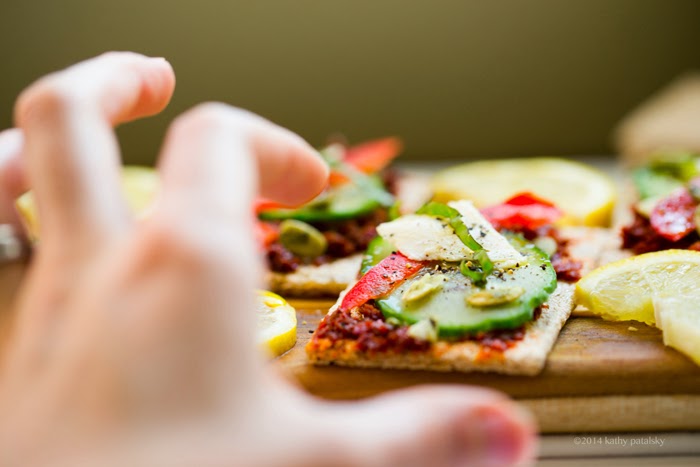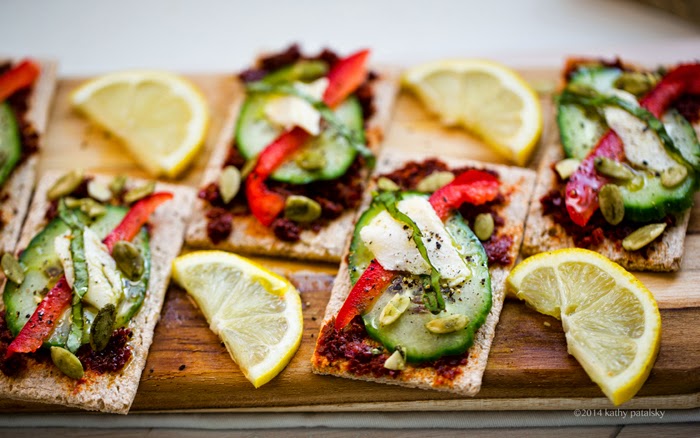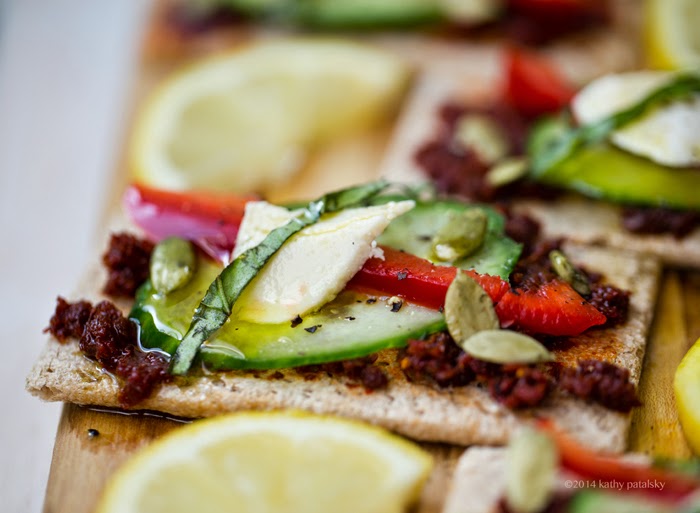 Psst. This is not a sponsored post. I just adore Le Pain Quotidien. Why, you ask? Mostly because when I first moved to New York City in 2006, it was one of the first restaurants that my husband and I fell in love with, the SoHo location to be exact. On cold snowy mornings or brisk fall days, we would bundle up to visit our fave cozy spot to nibble and sip soy lattes and cappuccinos. I personally loved it because though LPQ is not a 100% veg restaurant, I quickly noticed how every vegan item on the menu has a little carrot symbol next to it, to let diners know that it is vegan, plant-based or as they call it, "botanical." Love that.
My favorite menu items are: (menu items vary, seasonally and regionally)
* Love this entree: Seared Quinoa Cake (savory item for lunch or dinner)
* Best Oatmeal Ever! Any of the vegan oatmeals. I love the Omega Berry Oatmeal with flax seeds and berries swirled in to make a purple color.
* Fruit. Always. The fruit salad or bowl of berries.
* The soy lattes! I seriously do not drink much coffee anymore, but whenever I sit down to a Le Pain brunch I have to order a latte.
* Discover Tartines. Any of the vegan Tartines. They do not serve sandwiches, but tartines! Tartines are open-faced sandwiches that you can each like pizza or an open-faced bagel, or with a fork if you'd prefer. They are served on yummy fresh spelt bread and are amazing. I adore the one with avocado, chickpeas and a nice squeeze of lemon!
* Seasonal farro porridge. I am in LOVE with the seasonal farro porridge with cranberries and pecans. I get so excited when I see it back on the menu.
* Muffins. Most (almost all) of the muffins are vegan. Not the chia seed muffins though, FYI. I adore the blueberry muffins. The seasonal matcha green tea muffins are also a favorite.
* Soups! All the soups are vegan. I love every flavor. My favorites are the sweet potato (when they have it), mushroom and any of the creamy veggie soups. They also serve a delicious, protein-rich lentil soup.
* Breads! I love the spelt bread and the hazelnut flutes. The walnut bread is also super dreamy. And the fresh baguettes are light as air and perfect for pairing with soups, salads or slicing into rounds for crostini for bruschetta or other appetizers.
* Desserts! I am in love with the new hemp seed blondie. Vegan!
* They have a delicious hummus side dish as well. And the pesto sauce they make is amazing. Also, the spicy tahini sauce served with the black bean tartine is delicious.
* Salads! I love the tofu salad with miso dressing when I want a light, crunchy, protein-infused lunch. I also love the lentil and avocado salad – it is my favorite!
* Tofu Scramble. My husband's go-to brunch item is the warm and flavorful tofu scramble entree, it comes with a side salad and two slices of bread.
Some of my Instagrams..











Fave products: Harissa, EVOO, any of the jams, agave, salt and pepper grinders, any of the to-go bakery breads! You can shop online for select items.
Favorite locations? Well I am simply dying to visit the locations in Europe like Belgium (where the original location is!) and more! But from the places I have been:
New York City: The Soho (100 Grand st) and NoHo (65 Bleecker St) — SoHo was my first LePQ, so it will always be my favorite. But the Bleecker location has a bakery on site and in clear view! They have the best bread I have ever tasted! The freshly baked flutes blew me away.
Los Angeles: Beverly Hills (9630 S Santa Monica Boulevard), Melrose (8607 Melrose Avenue) and Brentwood (13050 San Vicente) locations are my faves.
Washington DC: I love the Georgetown and Clarendon locations.
Fun Story: One time I was in the SoHo location grabbing a coffee and muffin on a weekday morning. Out of the corner of my eye I spotted a man cheerfully rearranging the cookbooks on the product display. I looked at his face and realized it was indeed the man who wrote those cookbooks! It was Alain Coumont, founder and Chef of Le Pain Quotidein. I looked at the cashier and whispered, "It that HIM?" She nodded back with a smirk on her face becasue it was so hilarious that he was rearranging his own cookbooks to look just right. I wanted to say hi, but instead I just gawked for a minute and felt happy to have spotted him for a moment. I later tweeted about my foodie-celeb sighting of course 🙂
Past LPQ posts:
* Picnic in Central Park with LPQ
* Curried Tofu Tartine Review (seasonal)
* Hummus with pesto review
* Fire and Ice Panini recipewith LPQ harissa
* Ginger green tea muffin review
* Oatmeal on the go review
* Snow Day Brunch with Gena, Choosing Raw
That farro porridge I love..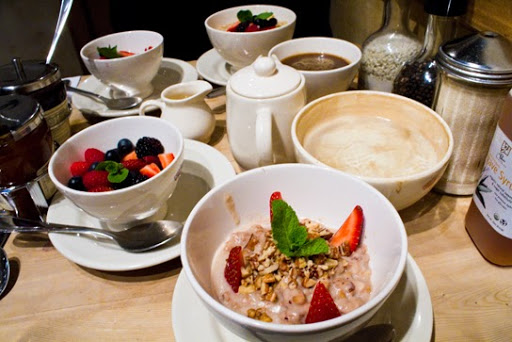 I guess you can say I am a LePQ expert and superfan. This appetizer was made using their brand of harissa, pepper, extra virgin olive oil and some crackers they sell at select stores.
Fire and Ice. Party snacks. Grab one before they disappear.
I use the Le Pain Q black pepper grinder. They sell it in their stores. And online.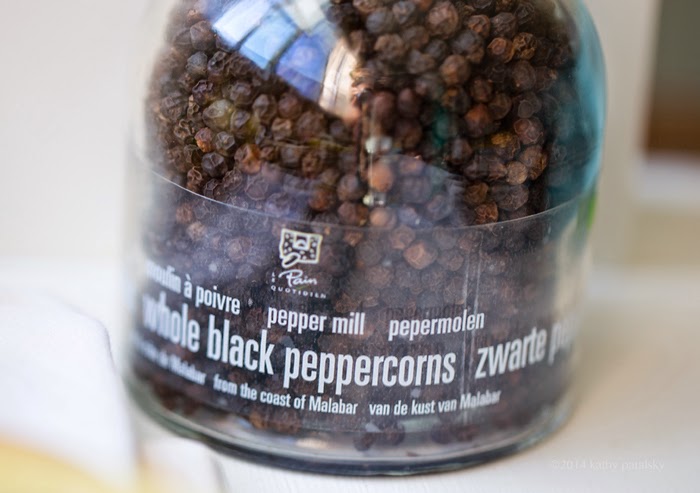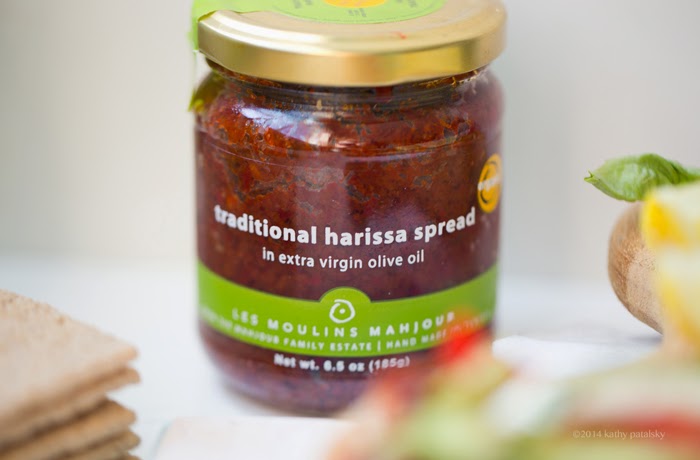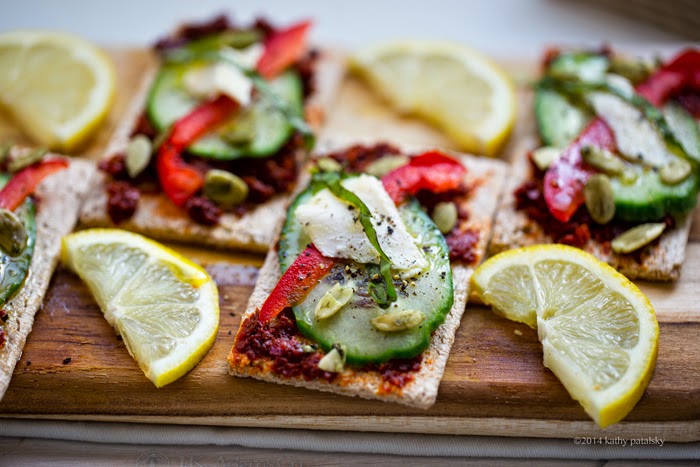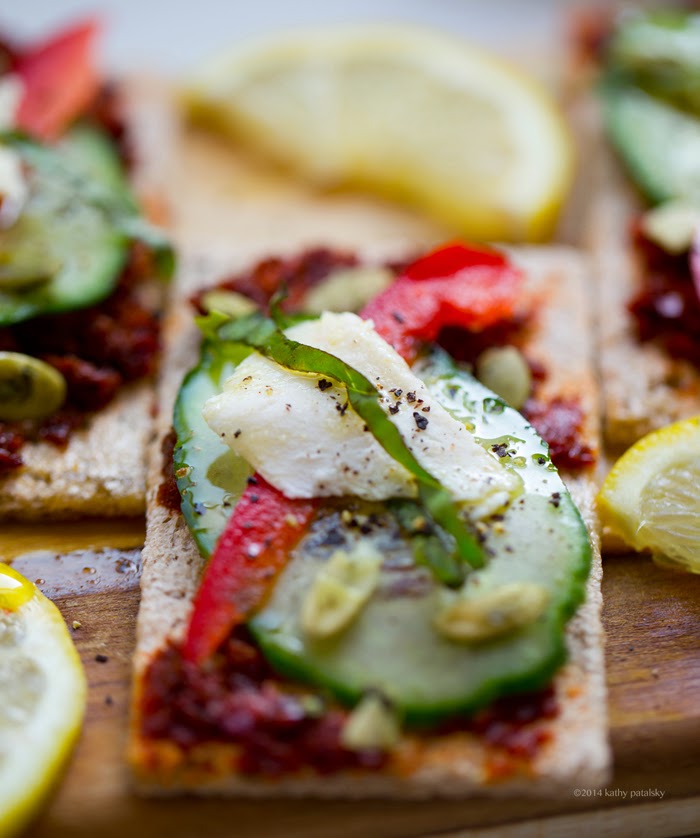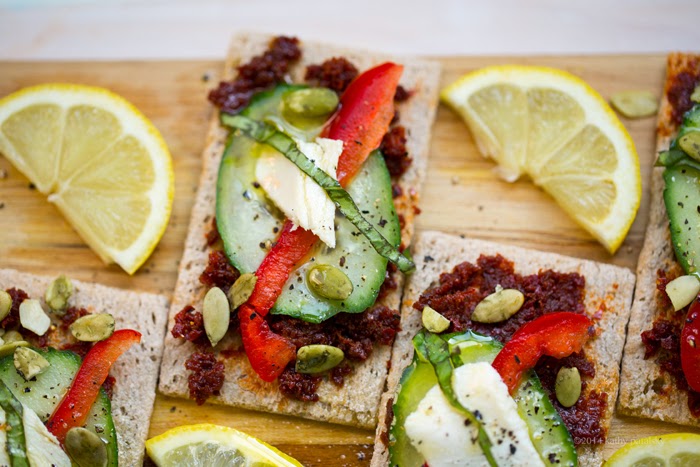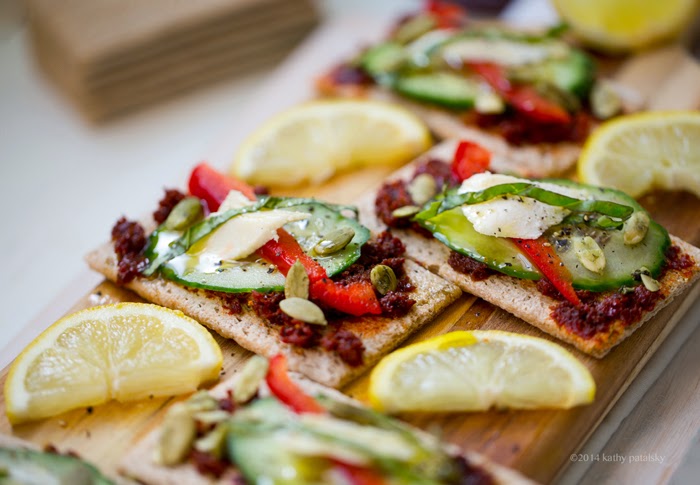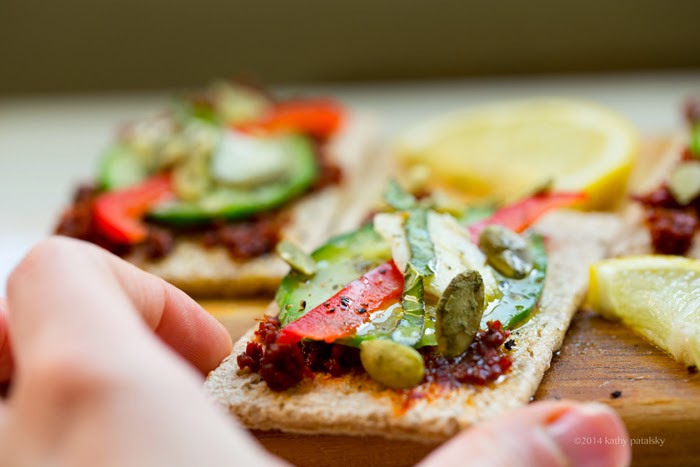 Fire and Ice Appetizer Crackers
By Kathy Patalsky
Published 07/01/2014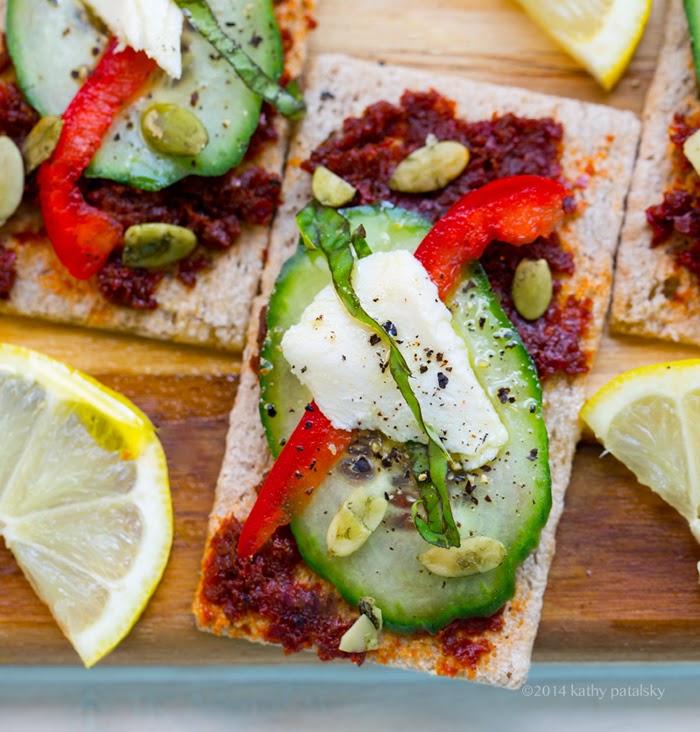 This spicy meets cool vegan appetizer cracker combines harissa, cucumbers, lemon, basil and more for a flavor sensation that you will want to nibble again and again. Vegan party snack winner.
Ingredients
10 buckwheat crisps, Riega brand – bought at LePQ (or substitute with another long cracker)
10 teaspoon harissa spread, Le Pain Quotidien brand
10 slices seedless cucumber, thinly sliced
1 sprig of fresh basil, sliced into strips
10 thin strips of red bell pepper, thinly sliced
10 small slices of vegan cheese, Daiya jack cheese used
1 lemon, ½ used for garnish slices and the other half for spritzing the crackers with
a few drizzles of good extra virgin olive oil + freshly cracked black pepper to serve (LePainQ brand used)
2 teaspoon sprouted pumpkin seeds
Instructions
Spread the harissa on each cracker.
Add the thinly sliced cucumber, followed by te red bell pepper slice, bit of vegan cheese and basil.
Add a spritz of lemon and drizzle of oil to each cracker. Freshly grind black pepper over top. Serve right away or place in the fridge until time to serve.
Yield: 10 crackers
Prep Time: 00 hrs. 15 mins.
Total time: 15 mins.
Tags: appetizer,easy,spicy,dining,snack,le pain quotidien,harissa, party,vegan
Side note: PLEASE vote for me! I am a Sambazon acai bowl finalist! My bowl is the Brazil bowl. It takes two seconds to vote via Facebook. My bowl looks like this, made with fresh BRAZIL nut butter: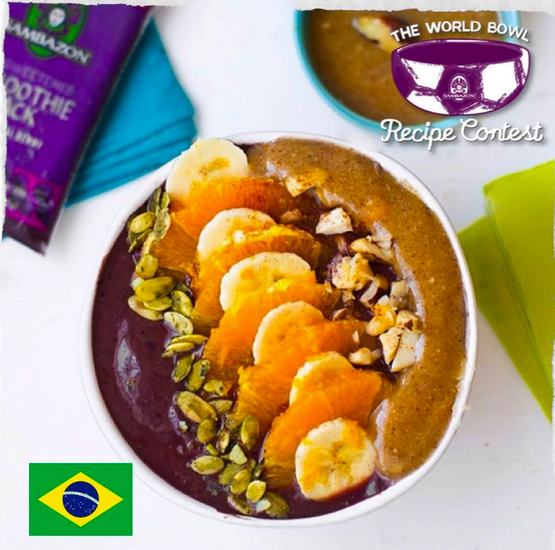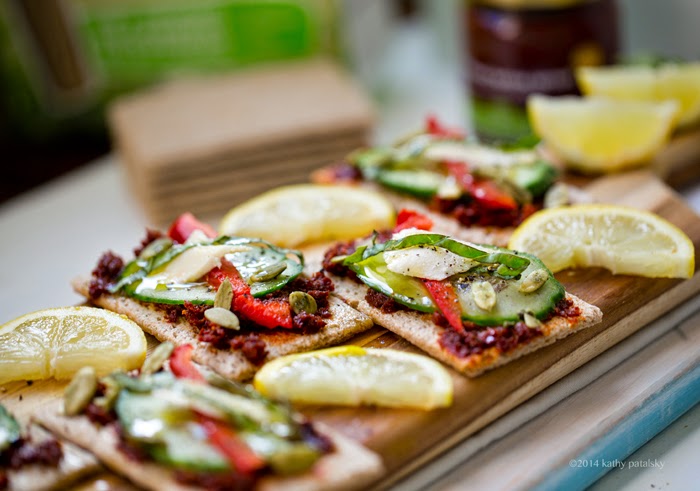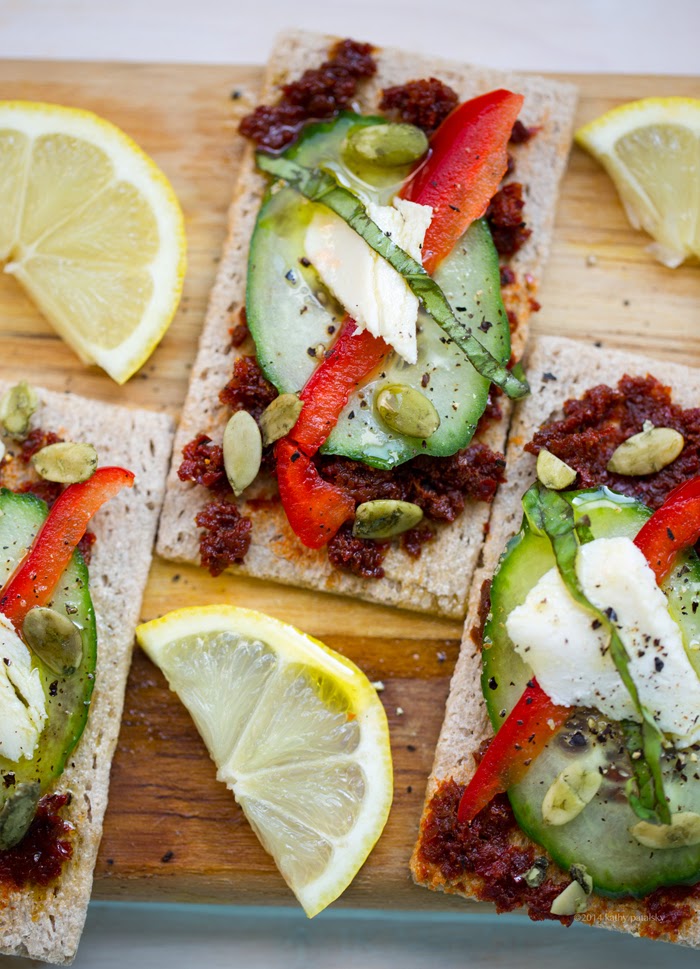 And this. A Sochi kitten sleeping..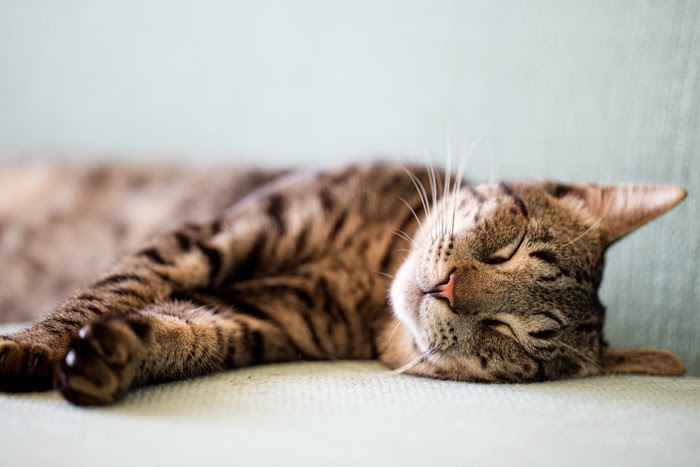 Sambazon Finalist. Don't forget to VOTE for me! Thank you so much in advance. vote via Facebook