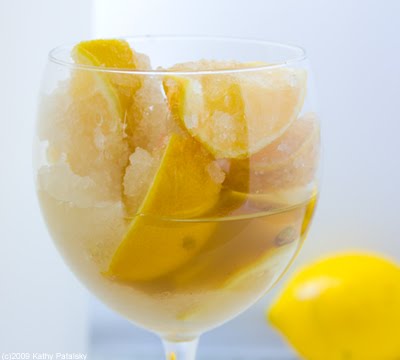 Good things come to those… As promised, here are the results of my lemon confit experiment. You may recall, two weeks ago when I posted my weekend experiment of lemon confit. I decided to go the 'old school' route and make the version that takes two weeks in the fridge before it is ready to use (despite the online availability of a quick-fix version of this recipe). I used Chef Eric Ripert's instructions and voila! Here are my results and a recipe…
Lemon Confit Results: In two weeks time the lemon, salt and sugar mixture sitting in the back of my fridge began to mush and smush into a syrupy shallow mixture of what almost looks like melted lemon sorbet. Good thing this isn't April Fool's Day because I could easily have someone with a big spoonful of salty 'sorbet' as dessert. No, no I kid, I kid. But I was delighted to see that after 2 weeks (16 days actually) the lemons had indeed changed in size, color, texture, smell and even flavor. Yay, my experiment worked. But now what do I do with it?…
The instructions of use for the finished confit are to: remove the flesh part of the lemons, rinse the peel and use only the peel/rind in your recipes. (Sidenote: a blog reader commented to me last post that this seemed wasteful. I suggested to her to make a nice epsom salt/lemon flesh bath scrub and soak, so no waste at all. And pretty, exfoliated soft skin.) But question number one: what recipes do I use this in? I had recalled in my previous post how I first tasted lemon confit drizzled on top of Chef Amanda Cohen's Spinach Soup from her restaurant Dirt Candy. Perfect use. And Chef Eric Ripert says he likes to melt butter with strips of the confit and use the lemon butter on his prepared fish entrees and even along side as a dipping sauce of sorts. Nice, but I'm not into real butter or fish, so I'd probably have to do a major variation of that preparation.
Taste Test. The big test of the lemon confit was to taste the rind – raw. I bit into a section and it burst with bright, subtly bitter, lemon flavor in my mouth. A bit 'pungent', as Ripert commented on the flavor. But very well-developed and almost complex. There is a hint of the sweetness from the sugar and a hint of saltiness from the salt. The lemon rind has almost developed into a lemon oil soaked zest. I'm pleased. I actually expected the rind to be a bit softer, but maybe with a few more days or weeks in the fridge it will develop further. (Most sources say you can use your confit right away and store for a few months in the fridge. One source said a year would even work.)
So how do I use these lovely lemon rinds?
Recipe One: Lemon-Dijon Salad Dressing
I used this recipe over a bed of fresh organic arugula greens at my Thanksgiving feast. It was a big hit. Here are the ingredients:
1-2 tablespoon lemon confit rinds, sliced thin or minced
1 tablespoon olive or macadamia nut oil
2 tablespoon fresh lemon juice
1 teaspoon maple syrup
1 tablespoon Dijon mustard
3 tablespoon apple cider juice or fresh orange juice
black pepper to taste
1 teaspoon chopped fresh parsley
Stir/shake well, allow to marinate in fridge for about an hour before serving.
You can modify the amounts of ingredients to suit your tastes, but this is the general flavor profile for this zesty-sweet dressing.
A few more recipes ideas:
Lemon Confit-Garlic Mashed Potatoes
Lemon Confit Peppered Tempeh
Lemon Confit tossed steamed spinach or kale
Lemon Confit braised tofu
Lemon Confit-"Buttered" Peas
Lemon Confit in a mixed beverage (alcoholic or non)
Lemon Confit Vanilla Mousse Pie
Lemon Confit Drizzle over Rosemary roasted mushrooms and seitan.
Lemon Confit White Wine Sauce
…just a few ideas off the top of my head. I'll post anything extraordinary that I come up with. It's a fun and easy experiment to do. I recommend it to any curious foodie!