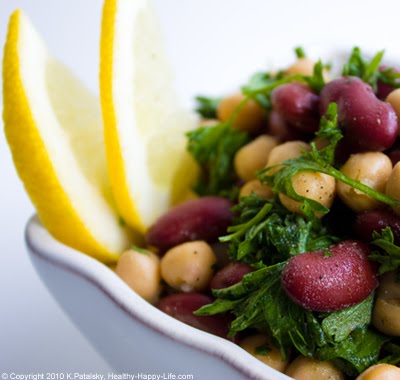 My Lemon Pepper Two Bean Salad is a super easy vegan recipe that packs plenty of protein, fiber and flavor in each bean-filled bite. The flavors: zesty lemon, fresh energizing parsley, a splash of sweet vinegar, warm black pepper and an optional hint of sweet maple syrup.
Crave the Bean. It's easy to crave beans. Maybe because beans are rich in nutrients like folate, protein, iron, fiber, manganese and more. Plus at under $1 a can, beans are an economical way to get vegan protein. This recipe is easy, zesty, healthy and full of flavor. Get it…

The Perfect Food. My favorite nutrition 101 professor in college always used to say "beans are the perfect food for women." Mostly because they are a low-fat, high protein, vegetarian way to get nutrients like iron and fiber. Plus, they are satisfying and full of flavor. And with so many bean varieties to choose from, you will never get bored by beans. And yes, beans are a 'perfect food' for men too.
Two Beans. I chose chickpeas, aka garbanzo beans and kidney beans for my salad. But you can use any two you'd like: chickpeas, kidney, cannellini, pinto, black, lima, navy or fava. Just be sure to choose unsalted beans, and organic beans are always preferred. One can of beans can cost anywhere from 75 cents to $3 a can.
Nutrition Facts. This recipe makes about 5 cups of bean salad. Each 1 cup serving contains about 200 calories, 9 grams of fiber and 9 grams of protein. There is about 4 grams of healthy fat per serving. This salad is rich in antioxidants like vitamin C from the healthy ingredients lemon and parsley. Plus you are getting plenty of living enzymes from the parsley and lemon.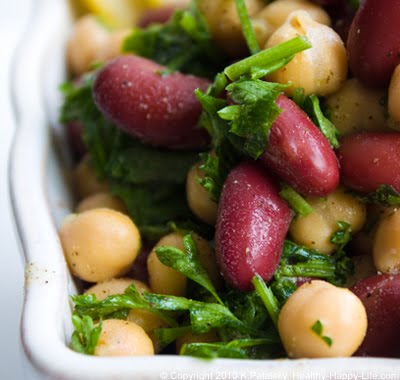 Lemon Pepper Two Bean Salad
vegan, makes about 5 cups
15 ounces garbanzo beans (1 can)
15 ounces kidney beans (1 can)
1 ½ cups parsley, finely chopped
1 large lemon, juiced
2 Tablespoons balsamic vinegar
*apple cider vinegar can also be used
1 tablespoon extra-virgin olive oil
1 ½ teaspoons black pepper
*I used a combo of fresh ground black pepper and fine black pepper
dash of salt (opt'l)
drizzle of grade B maple syrup (opt'l)
Directions:
1. Drain and rinse your canned beans. Rinse in ice cold water. Pat dry with a paper towel and pour into a large mixing bowl.
2. Juice your lemon and add juice to mixing bowl.
3. Chop your parsley and add to mixing bowl. Also add in vinegar, pepper and optional maple syrup and salt.
4. Toss salad well – with a folding motion. Try not to mash beans. Transfer to serving dish.
5. Cover, and place salad in the fridge to chill for at least 15 minutes. Longer is fine too.
6. Serve chilled on its own, or as a side dish.
NOTE: For a lower sodium version, remove the vinegar and salt and simply add in another ½ lemon, juiced. Also add in the optional maple syrup – you can also use agave syrup or a teaspoon of brown sugar. (The sweeteners bring out the natural bean flavor and also compliment the tart lemon juice quite well.)
UPDATE: I wrote something about "rice and beans" making a complete protein. After a bit of research, I removed this text. Even though I was taught this lesson in college, it appears that new research claims it to be a myth. Read DrWeil's commentary on the complete protein myth here.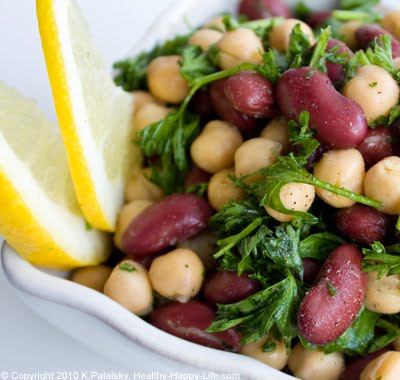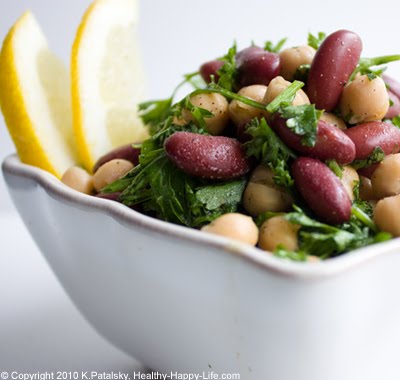 Nutrition Facts
per serving, about 5 servings per recipe
1 serving= about 1 cup
209 calories
Saturated fatty acids: 0.62g
Monounsaturated fatty acids: 2.57g
Polyunsaturated fatty acids: 0.97g
Total fat: 4.17g
Calories from fat: 37
Cholesterol: —
Carbohydrate: 34.20g
Total dietary fiber: 9.01g
Protein: 9.28g
vitamins/minerals:
Calcium: 85mg
Iron: 3.50mg
Magnesium: 58mg
Phosphorus: 165mg
Potassium: 462mg
Sodium: 633mg
Zinc: 1.50mg
Copper: 0.30mg
Manganese: 0.73mg
Selenium: 3.18μg
Vitamin C: 40.32mg
Thiamin: 0.14mg
Pantothenic acid: 0.44mg
Vitamin B6: 0.48mg
*calculated with MacGourmet Deluxe