I first heard about the exotic fruit, lychees, three years ago when planning my wedding. We wanted a signature wedding drink to be served at the reception, and the coordinator at the Mandarin Oriental Miami suggested a Lychee Blended beverage. With my obsession with smoothies, I was sold on the word 'blended'. However, the 'lychee' part fuzzied my brain a bit. What is a lychee? Well, needless to say, lychees have become much more mainstream in the past few years, but I am still finding people who have not tasted or even heard of them. Lychees are delicious in drinks and desserts. Use them in salads the same way you use canned mandarins. They are high in Vitamin C and only 6 calories per fruit. Still unsure? Well, let me just say that those "Lychee Blended's" were the hottest drink at the wedding. More popular than the champagne even! Lets learn more about lychees and their nutrition facts…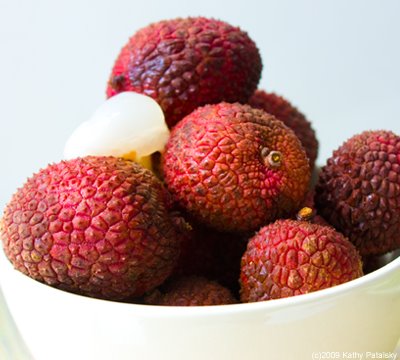 Lovely Lychees. Lychees are pretty. They have a rough, almost spiky rose-colored rind. They grow on exotic fruit trees. And inside the leather-like skin is a pure creamy white flesh, smooth and silky to the touch. Lychees fresh and canned have an almost grape like texture. You will want to remove all the outer rind and inside nut when eating them. Or do the easy and still delicious thing and buy canned lychees.
Origin of Lychees. Lychees are extensively grown in the native region of China, and also elsewhere in South-East Asia. You may not be able to find fresh lychees in all supermarkets, however Asian markets and specialty stores usually carry them.
Lychee Serving ideas. I love lychees in almost any beverage. My favorite are Lychee bellini's. Simply add crushed lychee pulp/juice to champagne. 3 parts champagne to 1 part lychee pulp. Add a whole lychee for garnish and rim the champagne glass with sugar. Yum. You can also serve lychees for dessert. Stick them in a vanilla custard pudding, a lychee upside-down cake or even the popular lychee rice pudding. Lychees, used sparingly can even add a hint of exotic sweetness and depth to a raw salad. And guess what, kids will love lychees chopped up in a fruit or veggie salad. Just use them as you would those canned mandarins!

Lychee Bellini Twecipe: 3parts champgne, 1part mashed Lychee Pulp/Juice from canned lychees. Rim glass with sugr. Garnish: whole lychee.
Nutrition in Lychees. Believe it or not, these sweet little gems do have a few nice nutrients in them. Nothing over the top, but nice indeed. Talk about a sweet treat from mother nature! Lychees are good sources of Vitamin c, copper, fiber, and Vitamin B6. They even have 2 grams of protein per cup. There are 6 calories in one lychee.
Here are the complete nutrition facts from nutritiondata.com:
Nutrition Facts: Lychees
serving: 1 cup
calories: 125
fat: 1g
protein: 2g
carbs: 31g
fiber: 2g
Vit C: 226% RDA
Vit B6: 10% RDA
copper: 14% RDA
Potassium: 9% RDA
Magnesium: 5% RDA
Manganese: 5% RDA
Folate: 7% RDA