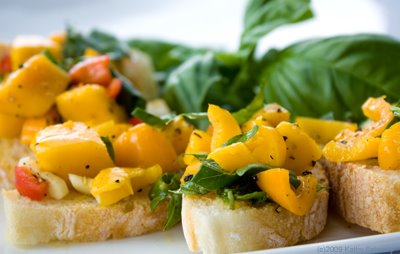 Now everyone can love bruschetta, even the tomato-phobic foodies out there! (And yes, tomato phobia does exist.) Yellow Mango Pepper Bruschetta is a tomato-free bruschetta that combines the sweet flavor of fresh diced mangoes with the zesty crunch of yellow baby bell peppers. Sweet basil, chopped garlic and wine vinegar bring the tangy-sweet flavors together.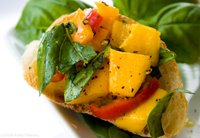 Daytime Bruschetta. This light fruit-accented bruschetta is perfect for an afternoon snack or brunch side dish. Pair this Mango Pepper Bruschetta with a classic Sunshine Bruschetta and give your guests a delicious bruschetta spread.
Healthy bite. Mangoes are high in Vitamin A and C. Peppers are also high in Vitamin C. Plenty of antioxidants in this recipe. Plus heart-healthy garlic. This bright yellow dish deserves the spotlight.
Click ahead for the recipe…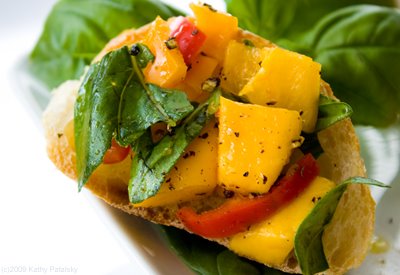 Yellow Pepper Mango Bruschetta, tomato-free
makes about 10 rounds
1 large ciabatta bread
4 yellow baby bell peppers, chopped
1 red baby bell pepper, chopped
1 mango, cubed (about 1 cup)
⅓ cup fresh basil, chopped
2 cloves fresh garlic, chopped
3 tablespoon red wine vinegar
2 tablespoon olive oil
1 teaspoon agave syrup or honey
8 grinds fresh black pepper
Add all ingredients to bowl. Toss well.
Slice ciabatta bread into ½ inch thick rounds. Toast lightly, or keep raw.
Assemble:
Spoon 1 tablespoon of mixture onto each slice of bread.
Garnish with fresh basil. For extra sweet slices, drizzle with agave or honey.
Grind fresh black pepper on top.
Serve immediately.