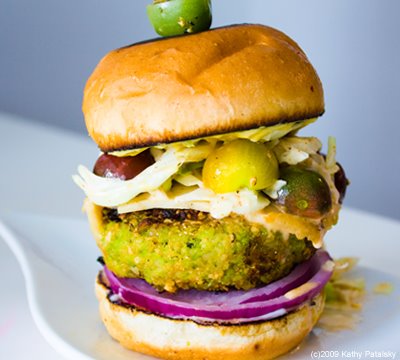 Confession, I'm bored with black bean veggie burgers. And tofu burgers don't really excite my palate. How do I get a veggie burger that combines the healthy protein and nutrients of soy with the moist tender texture of a bean burger? With a furrowed brow I head into the kitchen to solve my bean burger dilemma. In a quicker then expected time my recipe came together. The result: my Mean Green Edamame Soy Burgers with a Spicy Slaw. Delicious! Thick green soy bean and fried rice burgers are moist and full of Asian flavor. Add some spicy-sweet crunchy slaw and I am in veggie burger heaven. Who says a vegan burger can't be over-the-top fantastic? Click ahead for the full burger recipe and make all your friends green with envy…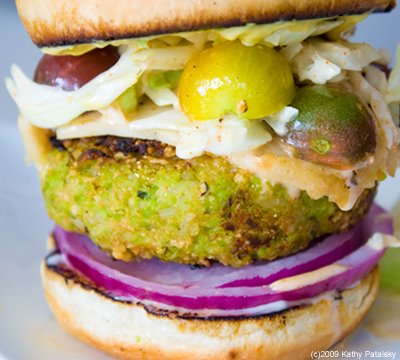 Mean and Green. This healthy soy burger combines a healthy edamame rice burger with a zesty spicy slaw salad. Add in a few tangy marinated heirloom tomatoes and a dab of Dijon and your burger is served! Don't forget the thick slice of red onion. You can use any type of bun you'd like. This burger is hearty enough for a grill or perfect for a stove-top saute pan. It only takes a few minutes to brown on both sides. This is a must try for all the greenies, veggies, vegans and edamame lovers out there. Take these patties to your next BBQ party and all your carnivore friends will be green with envy!!!
Edamame patty before cooking: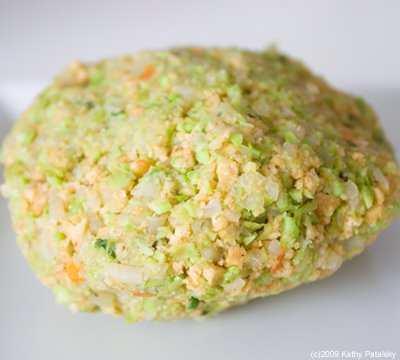 Spicy Slaw in Burger: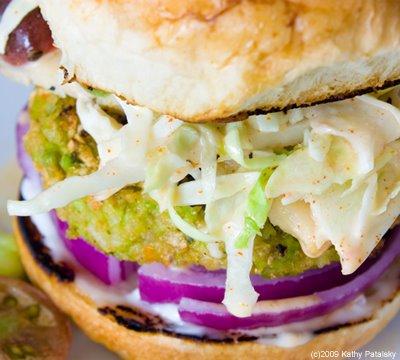 Heirloom Tomatoes: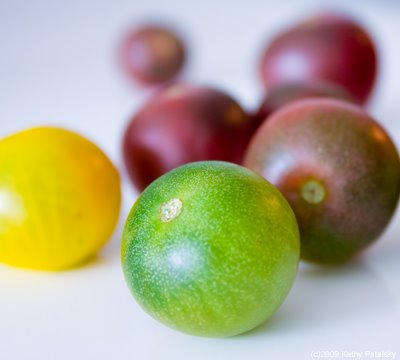 Mean Green Edamame Soy Burger
Makes 3 burgers
Burger:
1 cups cooked edamame beans
1 cup Asian fried rice/veggies, cooked
*Brand option: Trader Joe's 'Fried' Vegetable Rice-frozen section.
½ tsp. lemon pepper
1 ½ tablespoon soy sauce
1 teaspoon mustard powder
1 tablespoon agave syrup
2 tablespoon orange juice
1 cup sesame rice crackers
*brand option: Trader Joe's Savory Mini Thins
Tomatoes:
1 cup mini or full size green and purple heirloom tomatoes
2 tablespoon olive oil
1 tablespoon apple cider vinegar
1 tablespoon dry white wine
pinch of pepper
Spicy Slaw:
2 cups shredded white cabbage
2 tablespoon Vegenaise
½ teaspoon cayenne powder
2 tablespoon agave syrup
½ medium orange, peeled and sliced
1 tablespoon apple cider vinegar
2 tablespoon cashews, roasted/salted
Additional:
olive oil for brushing
handful of Italian flat parsley
3 white or wheat burger buns
3 thick circle slices red onion
3 teaspoon spicy Dijon mustard
3 teaspoon Vegenaise
3 slices vegan Monterey Jack cheese
*I like Follow Your Heart brand
Directions:
Cook edamame soy beans.
Cook rice/veggies.
*steam in microwave or use dutch oven on stove top.
In a large mixing bowl, toss edamame, rice, 1 teaspoon lemon pepper.
Let marinate while you prep tomatoes.
Slice mini tomatoes in half-or large tomatoes into slices.
Toss tomatoes in a bowl with olive oil, vinegar, wine and pepper.
Let tomatoes sit.
Now prepare the slaw by combining all slaw ingredients in a bowl. Toss well. Cool in fridge until needed.
To make the burgers, first drain rice/bean mixture of excess soy sauce/liquid.
Pour drained bean/rice mixture into food processor.
Add mustard powder, agave syrup and orange juice.
Blend on high until smooth and thick.
Transfer mixture to large bowl.
Add sesame rice crackers to food processor (no need to wash the container of burger residue)
Blend into fine crumbs.
Fold rice cracker crumbs into burger mixture.
Using hands, form into 3 burger sized patties.
optional: chill in fridge for ten minutes.
Cook burger for 1-2 minutes on each side in an olive-oil greased pan or grill.
Add cheese slice and allow to melt over low heat for an additional minute.
Cheese melt tip: Add an ice cube to the pan or grill-cover and allow ice steam to melt cheese.
Warm oil-brushed buns in toaster or over hot grill.
Next, assemble burgers.
Layer:
Bottom layer burger-spread on 1 teaspoon vegenaise.
Add a pinch of flat Italian parsley, chopped.
Add onion slice.
Add 2-3 tablespoon spicy slaw.
Add burger with cheese.
Place mini tomatoes (or tomato slice) on top of cheese. Spread 1 teaspoon Dijon mustard on top bun. Place top bun on tomatoes.
Secure with a mini-tomato-stuck bamboo skewer.
Wrap in foil to serve later, or serve now!
Slice in half.
Enjoy!
Serve with spicy sweet potato fries for maximum meal bliss.