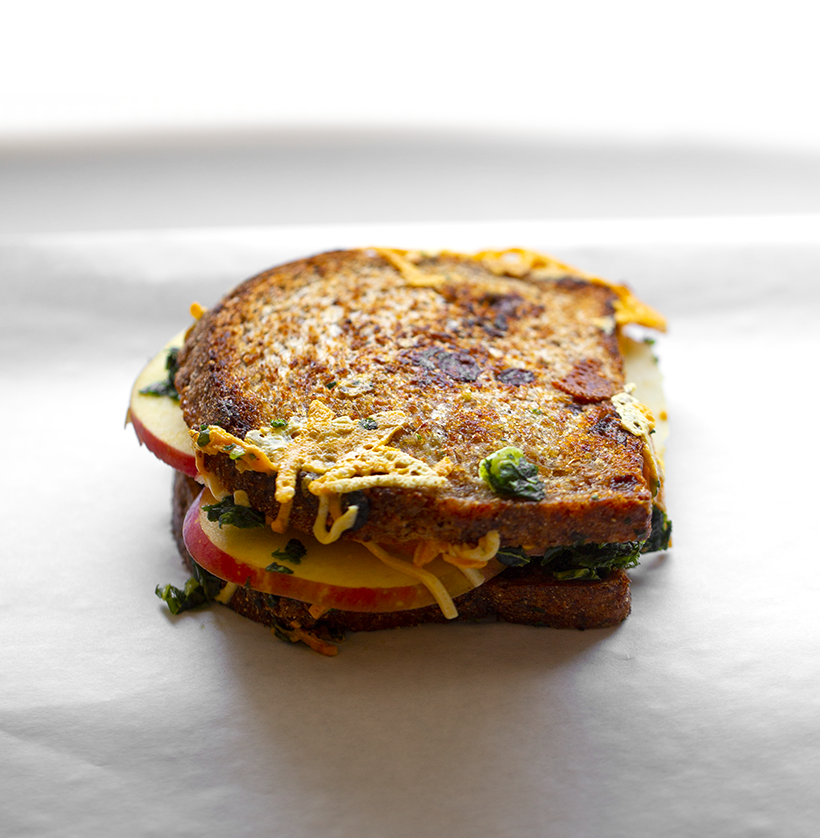 My Melted Cheese Apple Panini on cinnamon-raisin bread is the perfect panini sandwich to cozy-up your day. The flavors: creamy white Daiya cheese, thinly sliced green apples, a slice of red onion and a hint of red pepper – all on whole grain sweet raisin sliced bread. Panini press – and the flavors melt into each other like magic. Get my recipe…
Post pics updated: 2018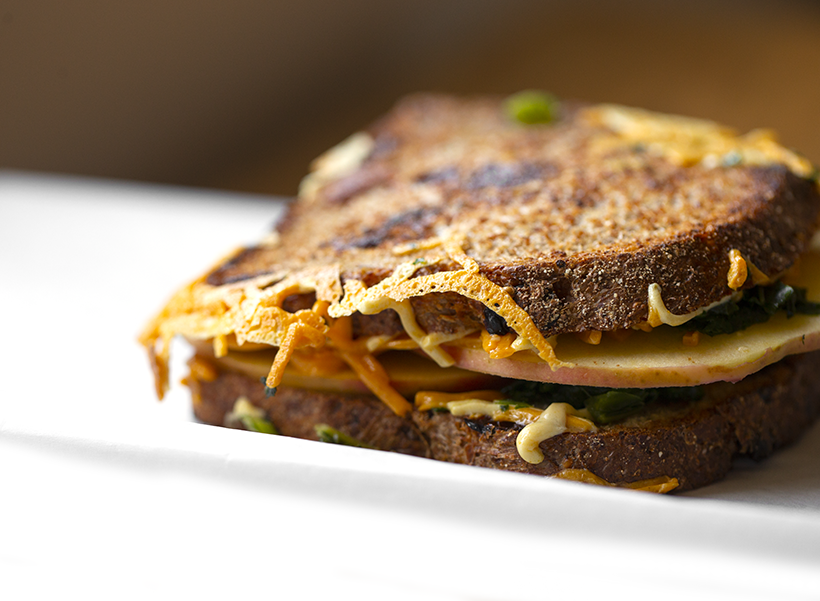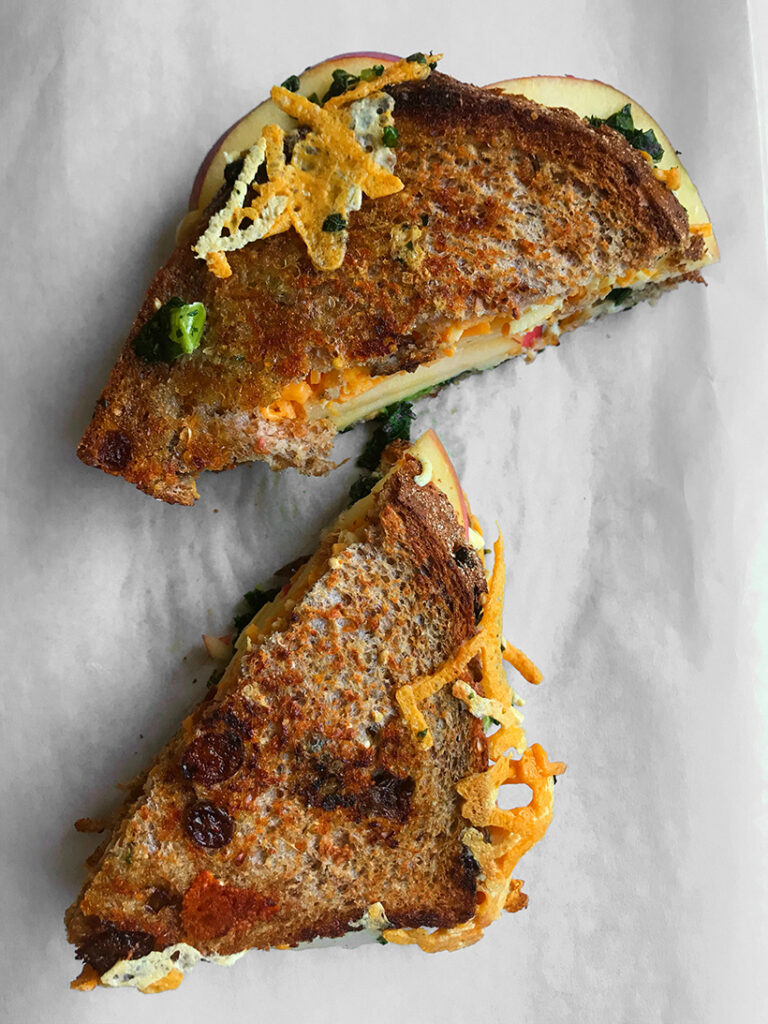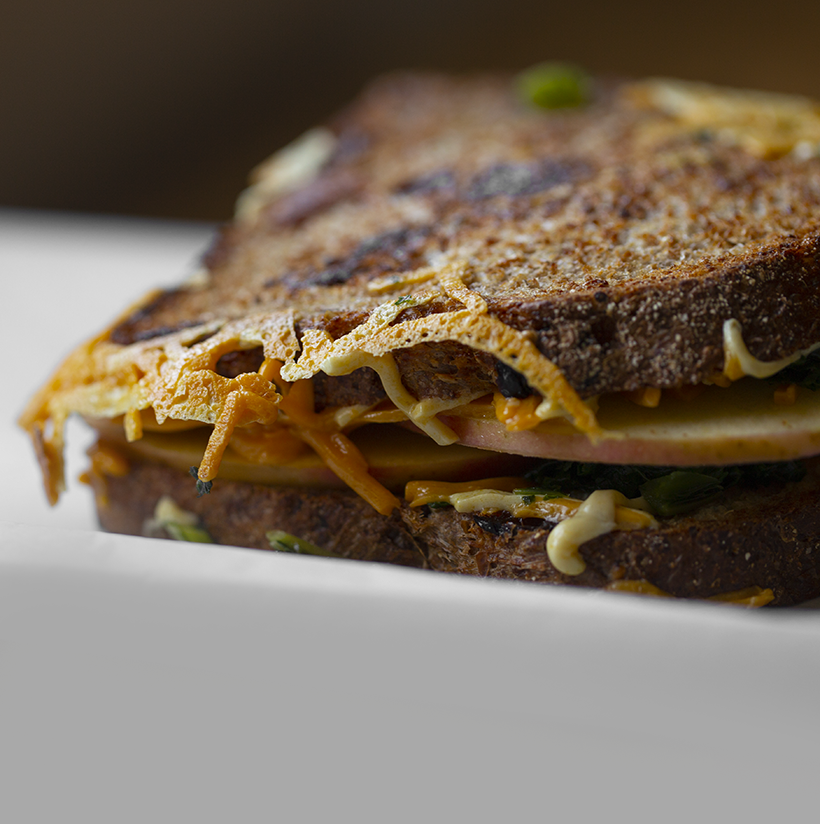 Pre-Grill…

Mutsu Apple Slices, EVOO, Red Pepper…

Green Apples. I am an apple lover. Each week I head to the Farmer's Market in Union Square and come back with more apples than I know what to do with. I love the giant yellow-green Mutsu apples the best. I slice them into salads, cube them into sangria, crunch on them whole and slather them in almond or peanut butter. Or, I slice them wide and thin for a super duper panini sandwich. Apples and cheese is quite the romantic combo…
And yes, Daiya vegan cheese melts magically…

Raisin Bread Inspired. Last week I was reading one of my favorite blogs Cup of Jo, and she had posted a melted cheese sandwich on raisin bread. I was inspired! I actually re-made my cheese/apple/onion sandwiches on raisin bread and fell in love. Jo got the idea from the She Eats Bears blog. So great ideas seem to spread like wildfire on the internet. Paninis using raisin bread…genius!
Grilled Cheese and Apple Sandwich on Cinnamon Raisin Bread
By Kathy PatalskyPublished 05/25/2010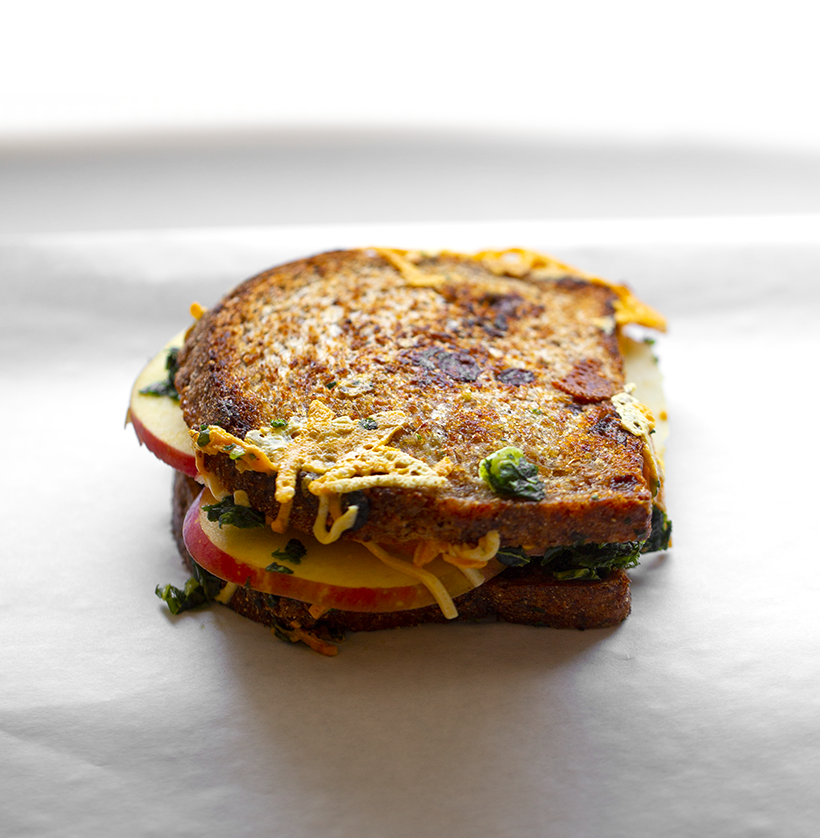 This savory and sweet, fall grilled cheese sandwich pairs vegan cheese with sweet fall apples, all on hearty cinnamon-raisin bread.
Ingredients
2 slices of cinnamon-raisin bread
1-2 vegan cheese slices or ⅓ cup shreds
2-4 thin apple slices
2 teaspoon vegan butter
2-3 slices red onion, optional
extra virgin olive oil, for the pan
spinach or other leafy greens — optional
Instructions
Spread vegan butter on bread – about one teaspoon per slice. The buttered sides will face outward – and hit the pan.
Warm a skillet over high heat. Add olive oil. Note: You could also skip the skillet and just use a panini press, as I did when I first made this back in 2010. Both versions are delicious!
Place one piece of bread – butter side down – in the skillet. Also place the apple (and optional onion slices) in the skillet for about a minute, just to warm and soften them a bit, before loading them in the sandwich.
Add the cheese and apple (and optional spinach and onion) over top. Cover the pan with a lid and wait for the cheese to melt just enough to become soft and sticky. If you need help melting the cheese, try adding a small ice cube to the pan before covering with lid. Lift the lid and add the top slice of bread. Tip: Position the apple slices so that they are in between a thin layer of cheese. This helps the bread to 'stick' to the cheese on both sides.
With oth bread slices in the pan, flip the sandwich. Allow to cook on the other side for 2-3 minutes, or until nice and toasty. Both sides of the bread should be browned and the cheese melted when your sandwich is done.
turn off heat and let the sandwich cool in the pan for a few minutes before slicing and serving.
Yield: 1 sandwichPrep Time: 00 hrs. 05 mins. Cook time: 00 hrs. 07 mins. Total time: 12 mins.
Nutrition
Tags: sandwich,grilled cheese,vegan,apple,fall,cinnamon raisin bread,lunch,easy, kids,recipe,cheese,fall,
Pin for later..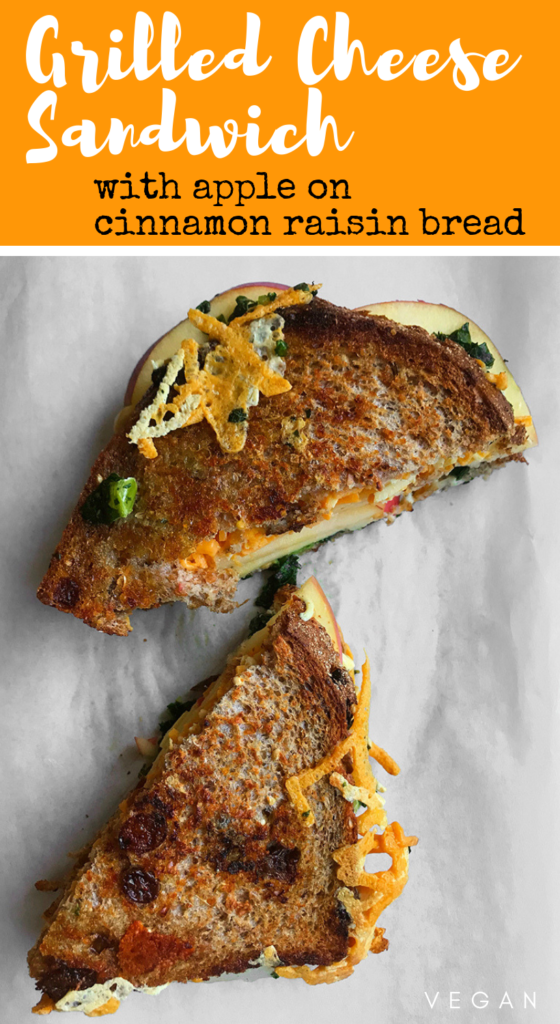 Note: You can use a panini press or a basic saute pan – or if you're really fancy, you can use a BBQ and give the burgers something to ogle at.