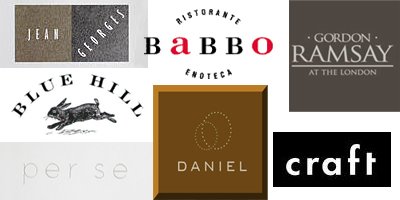 I love reading menus. Especially menus crafted by Michelin Star winning chefs. Their menus are speckled, top to bottom, with seasonal inspirations and mind-bending flavor combinations.
Menu Trends: Ingredients and Techniques.
Chefs like Eric Ripert and Jean Georges are always on the cutting edge of ingredient trends. And who says that the same ingredient highlights can't be used in vegan dishes.

Menu Report: I scanned the menus of Eric Ripert, Mario Batali, Daniel Boulud, Tom Colicchio, Jean Georges, Thomas Keller, Gordon Ramsey and Dan Barber and was drooling at the exotic ingredients and flavors. Here are just a few of the trends I spotted:
Roasted Figs
Creamy Parsnips
Tamarind
Watercress
Kumquats
Candied anything
Poppy Seeds
Earl Grey Tea Desserts
Sunchokes
Exotic Peppercorns (Green and Pink)
Retro Soda flavored sorbet
Flavored Caramel
Cauliflower
Pomegranate
Lime-Salt
Exotic Grains (beluga lentils, couscous and quinoa)
Click ahead to read stand-out or trend ingredients found on these chefs current menus….
As Moby, the musician, pointed out once in an interview, without vegan ingredients, most non-vegan food would be boring.
Need some interesting flavor inspiration? Just take a few tips from these Michelin star winning top chefs. I highlighted my favorite ingredient finds.
Here's what I found on their menus:
Coconut Broth, Pine Cone Syrup, Earl Grey Cream, Fennel and Candied Black Walnut Pesto, Concord Grape Soda, Spiced Prunes and Kumquats.
-Tom Colicchio's Tom's Tuesday Dinner at Craft in NYC. Chef: Tom
Kumquat-Date Napolean, Watercress, Shaved Fennel, Sicilian Pistachios, Pine Nut Gremolata, Green Peppercorn, Syrah Sauce, Daikon Sauerkraut, Cara Cara Orange, Bulgar and Apricot, Sunchokes, Mache, Lime-Rum Gelee.
-Daniel Boulud, Daniel in NYC, Chef de Cuisine: Eddy Leroux
Parsnips, Poppy Seeds, Figs, Fennel Honey, Saffron Panna Cotta, Quince, Pink Peppercorn, Concord Grapes.
-Mario Batali, Babbo in NYC, Executive Chef: Frank Langello
Piquilo Pepper Glaze, Romanesco Cauliflower, Crispy Capers, English Walnut, Violet Artichokes, Wilted Dandelion Greens, Toasted Pumpkin Seed Oil, Poppy Seed Caramel, Red Watercress, Bartlett Pear, Matsu Apples, Maui Pineapple, Lime Salt, Grapefruit Curd, Bosc Pears, Licorice Ice Cream.
-Thomas Keller's Per Se in NYC. Chef de Cuisine: Jonathan Benno
Water Chestnuts and Pea Tendrils, Gingered Baby Bok Choy, Spiced Bamboo Broth, Wood Ear Mushroom, Israeli Couscous Tabbouleh, Black Garlic, Persian Lemon Sauce, Pomegranate Pearls, Mint Malted Rum Milk Chocolate, Black Olive Oil, Shiitake Mushrooms, Red Wine Caramel, Roasted Fig, Parsnip Custard.
-Eric Ripert, La Bernardin in NYC. Chef: Eric.

Caramelized Cauliflower, Caper-Raisin Emulsion, Pea Shoots, Lemongrass, Toasted Pecans, Porcini Marmelade, Pickled Chilies, Quince-Madeira Condiment, Broccoli Raab, Dried Sour Cherries, Roasted Beet Marmalade, White Port Gelee, White Sesame, Lavender, Candied Tamarind, Cracked Jordan Almonds, Vanilla Soda, Lemon-Thyme Sorbet.
-Jean Georges in NYC.

Candied Ginger, Jicama, Chestnut, Parsnip Cream, Tahitian Vanilla, Anjou pear, Roasted Sunchokes, Braised Endive, Black Trompette, Olive Oil Gelato, Pistacio Sponge, Passion Fruit, Preserved Walnuts, Crispy Amarath, Marcona Almonds, Buddha's Hand, Fennel Hearts, White Port Sauce, Coconut Foam, Pearl Barley Sorbet, Basil Sorbet.
–Gordon Ramsay at The London in NYC. Chef de Cuisine: Josh Emett
Honeycrisp apples, Beluga Lentils, Root Vegetables, Warm Hazelnut Vinaigrette, Smoked Lady Apples, Panther Soybeans, Quince, Curried Chickpeas, Shiitake Mushrooms, Creamy Parsnips, Saffron Cream, Honey Vinegar, Black Pepper Ice Cream.
-Dan Barber, Blue Hill in NYC. Chef: Dan