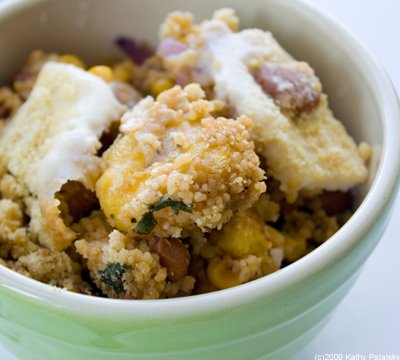 Dinnertime! When you are looking for a super-simple comfort-food style meal, look no further than my one pot wonder dish: Mexican Couscous Power Bowl. As Rachel Ray would say, it's a "Go-to" meal for sure! You can keep almost all the ingredients in your pantry and prepare it in a snap. It's packed with fiber, protein, nutrients and zesty Mexican flavor! Ingredients include: pinto Beans, corn, green chilies, cilantro, whole wheat couscous, garlic and citrus juices. Still not sold? One word: plantains! Yum-me. So click ahead for this Catina-inspired dish to fight your busy-day blues…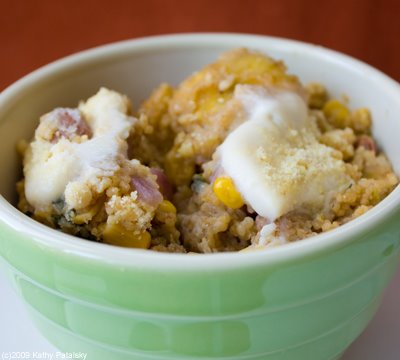 Mexican Couscous. You've all heard of Mexican rice. Well how about trying Mexican couscous? I use whole wheat couscous for the extra fiber and nutrients, plus it has a warm nutty flavor that stands up to the other hearty ingredients in this dish.
Plantains. I'm a little obsessed with plantains. I love them. Sweet and gooey with a crisp caramelized edge surrounding each sinful slice. I don't understand why more Mexican restaurants don't utilize plantains of their menus. They are super cheap and super delicious. The plantains side dish at Dos Caminos restaurant NYC: divine. So yes, this dish has plantains built in. No they are not deep-fried or even hard-core sauteed. But that sweet creamy plantain flavor soaks into the entire dish and gives this couscous a flavor not usually associated with 'couscous'.

Cheese Please. You don't have to add the cheese. But it would be a shame not to! I add Follow Your Heart Monterey Jack vegan cheese to this dish and even a sprinkle of vegan Parmesan to add some top layer texture. Parm on a Mexican dish? Yes, it works.

Power Bowl. I call this a 'power bowl' because it really is packed with good stuff! The pinto beans provide a nice dose of fiber and protein. And the whole wheat couscous as well. The corn, cilantro and plantains each have their own nutrient contributions as well. And the olive oil adds a nice dose of healthy fats to seal the deal. I like to pair this dish with a fresh mango and avocado salad to add some fresh antioxidants and raw food enzymes to my meal. Lets dig in!!!
Mexican Couscous Power Bowl
vegan, serves 4+
1.5 cups dry whole wheat couscous
2.5 cups veggie broth
1 can whole corn, drained
1 can diced green chilies
1 ripe plantain, peeled and sliced thick (½″)
1 can vegetarian pinto beans, drained
1 cup chopped fresh cilantro
1 small red onion, diced
1 small orange, peeled, de-seeded and diced
5 cloves garlic, rough chopped
1 lime, juiced
1 teaspoon salt
1 teaspoon black pepper
3 tablespoon olive oil
1 tablespoon agave syrup
1 tablespoon veggie buttery spread
3 tablespoon Mexican Spice Blend powder
2 bay leaves
4-6 slices of Vegan Monterey Jack cheese
3 tablespoon Vegan Parmesan cheese
optional: 1 jalapeno, diced
Also optional to increase heat: Add ¼-1 teaspoon cayenne powder.
side ideas: corn tortillas, vegan sour cream, guacamole, salsa, Gave-Rika dressing, Avocado-Mango Raw Salad.
Directions:
1) Add the olive oil, plantain, agave syrup and onion to a large pot.
Saute on high until edges of plantains are nicely browned.
2) Add in the diced chilies, garlic, salt, pepper and optional jalapeno.
Saute for a few minutes on high.
3) Add in the corn, beans, buttery spread, bay leaves and Mexican Spice blend.
Toss well over med-high heat for a few minutes.
4) Add in the veggie broth, diced orange, lime juice and cilantro.
Bring to a boil. Stir gently.
5) Add whole wheat couscous to boiling water.
Reduce heat to low. Cover pot with lid. You may want to remove bay leaves now or after the next step.
6) Let simmer covered on low for 2-3 minutes.
Uncover and toss mixture. Couscous should have plumped and cooked by now. If the mixture seems a bit too dry, add more veggie broth. If the mixture is too wet and not fluffy yet, add another handful of couscous, toss and re-cover lid.
Fold in 3 slices of the Monterey Jack cheese.
7) When the mixture has begun to fluff up nicely, remove from heat. Top with 3-5 slices of vegan cheese and a bit of parm cheese. Cover with lid and allow heat to melt cheese as it sits for a few minutes.
8) Serve in a bowl. Garnish with fresh cilantro, Parmesan cheese and the optional Gave-Rika dressing. Plate with a Avocado Mango Raw Salad on the side. (Recipes below)
Optional Gave-Rika 'dressing'
¼ cup agave syrup
1 tablespoon paprika
1 tablespoon Vegenaise
4 tablespoon olive oil
2 tablespoon cilantro, chopped fine
Whisk all ingredients together and allow to sit in fridge until ready for use.
Side Salad: Avocado Mango Raw Salad
1 avocado
1 orange, diced
1 mango, chopped
1 tablespoon olive oil
2 tablespoon Apple Cider Vinegar
1 teaspoon pepper
Directions: Toss well, serve.