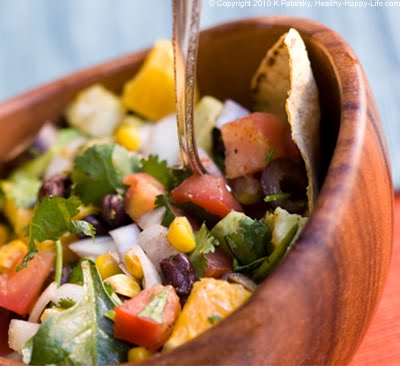 For recipe number one of my Salad Tour Recipe Series, we travel to California for a Cali-Mex-inspired Mexican Fiesta Salad with Zesty Lime-Agave Dressing. Vegan ingredients like avocados and citrus mingle with sweet corn and black beans. Tons of fragrant cilantro blended in. Jalapeno and chipotle spices, optional…
I've combined my favorite Cali-Mex-inspired flavors to create this vegan spin on a fiesta salad. Get my recipe and lots of step-by-step photos…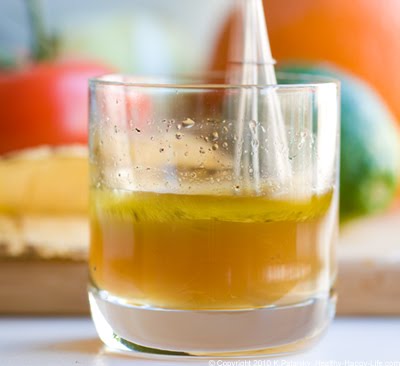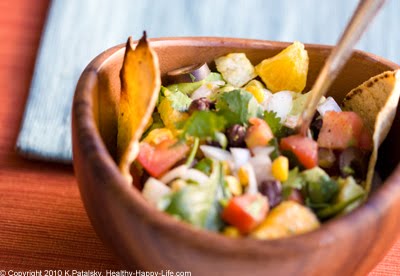 Did I Mention, I Love Mexican Food? My long lost Italian ancestors would probably dump a bucket of pasta sauce on my head for saying this, but if I had to eat one variety of food for the rest of my life, I'd choose Mexican food. The avocados, citrus, lime, cilantro, corn, black beans, tomato rice, spicy chilies, pico de gallo, salsa verde with tomatillos, plantains, nopales, tamales and mushroom fajitas all leave me smiling in glee and craving a big fiesta feast. Growing up in Northern California, I had my fair share of delicious, authentic Mexican food. And even today, I am inspired by my childhood memories of those flashy or fantastic hole-in-the-wall Cali-Mex joints.
Cilantro Tip. One of my favorite tips regarding Mexican cooking is to first off, always use fresh cilantro. The second part of this tip: use the entire plant (stems and leaves). Even though you may be used to using only the leaves and soft stems of other herbs like parsley and dill, use the stems of cilantro. Finely chop everything: leaves and stems. Cilantro stems are crisp and juicy and add a celery-like crunch to you Mex recipes. My favorite burrito stand in California would literally fill ⅓ of their veggie burrito with a plentiful scoop of fresh chopped cilantro (stems and leaves). So good.
Fresh Cilantro: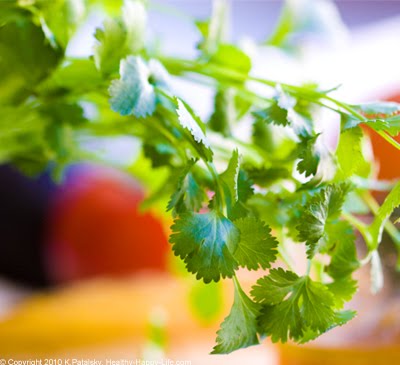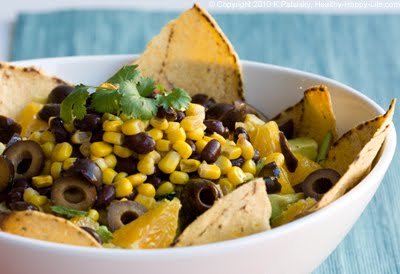 Let's get right to it!…
Mexican Fiesta Salad
vegan, serves 2 as and entree, 3+ as a side salad
1 onion, diced
1 vine-ripened tomato, diced
4 corn tortillas, toasted in oven
¼ cup sliced olives
1 avocado, diced
1 orange, diced
½ cup of chopped cilantro
4 cups baby spinach
1 cup fresh or canned corn, unsalted
1 cup black beans
fresh black pepper grinder
garnish: fresh cilantro
Optional:1 teaspoon chipotle spice, 1 jalapeno, diced and de-seeded
Zesty Lime-Agave Dressing
1 juicy lime (or 2 less-juicy limes)
1 tablespoon agave syrup, dark grade
1 tablespoon EVOO
3 tablespoon Apple Cider Vinegar
black pepper
Directions:
1. Gather your ingredients and a large serving bowl.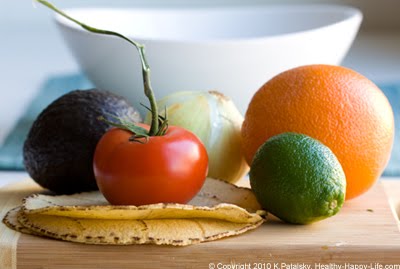 2. Whisk together your Lime-Agave Dressing, set aside.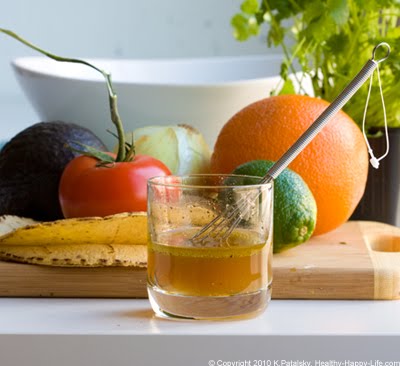 3. Dice you onion and dice your tomato, put both in a small bowl. Finely chop the cilantro and fold into the tomato and onion mixture. Grind fresh black pepper on top. Set aside. Note: If you would like a spicier salad, mix in 1 diced jalapeno and 1 teaspoon chipotle spice to this mixture.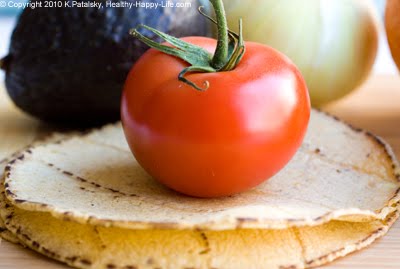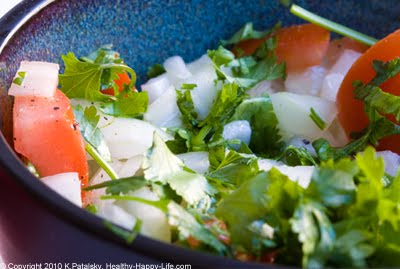 4. Peel your orange and dice. Place in another small bowl. Dice your avocado and put into same bowl as oranges. Toss a bit so orange juice coats avocado. This prevents browning. Black pepper on top, set aside.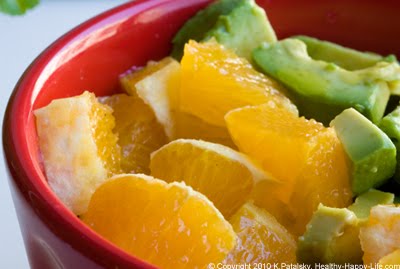 5. Open your can of black beans and corn. (You can also use fresh corn) Place one cup of beans in a small bowl. Heat in microwave (or stovetop in pan) until warm. About 90 seconds in microwave. Take 1 cup of corn and mix it with the warm-hot black beans. Set bowl aside.
6. Turn on oven – warm for toasting. Opt'l: brush each tortilla with EVOO and sea salt.
7. Toast your corn tortillas in the oven or a toaster – until crisp. Set aside.
8. Slice the olives, set aside.
Prep is Done, Salad Layering Begins: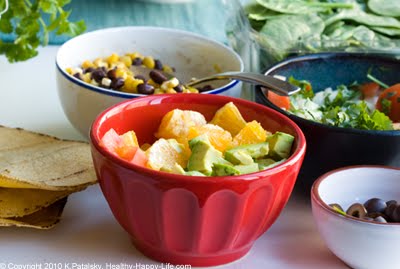 9. Now we can start to craft the layered salad! First, place the baby spinach in your large serving bowl. Mix the greens with ¾ of your dressing. Set aside the remaining dressing for later.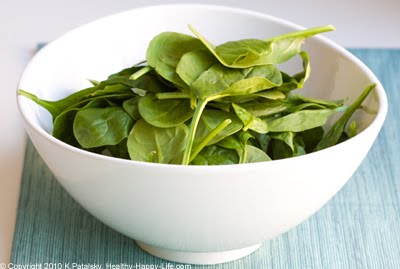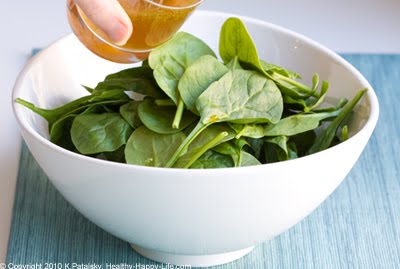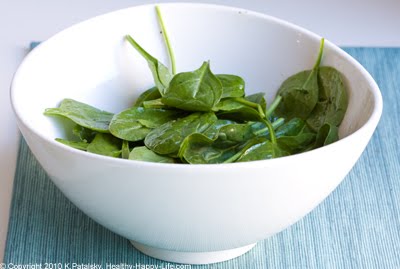 10. Over top the spinach. add the tomato/onion/cilantro mixture.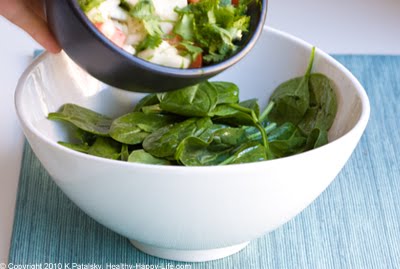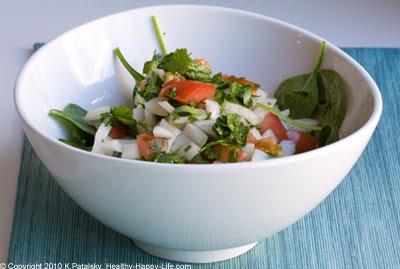 11. Next add the orange/avocado mixture to the edges of the salad bowl – create a border along the sides of avocado and citrus.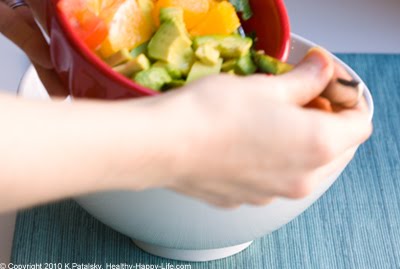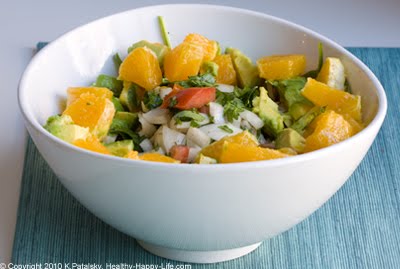 12. Tear your tortillas into triangles and squish along the border of the bowl to create a wall of crisp tortillas.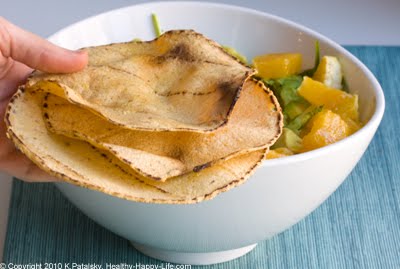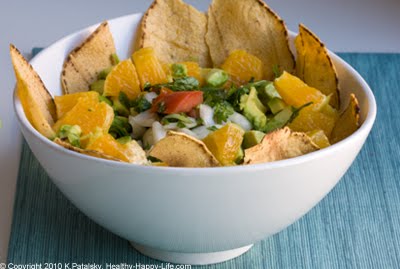 13. Add the beans/corn mixture to the center of the dish in a large pile.
15. Lastly, add the remaining drizzle of dressing over top.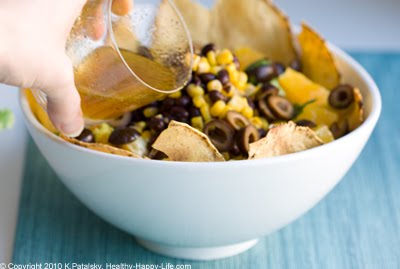 16. Serve!
More Recipe ideas: this salad would make a delicious burrito filling! Add lime-agave marinated tofu for some extra protein. More photos are below…