Weekend baking recipe for you today! Perfect for brunch or a spring-y tea time.
Treasure Chest. A few weeks ago a giant box plopped on my doorstep. I opened the box and the most fragrant, energizing, joyful citrus aroma lifted into the room as I gazed at a giant treasure chest of gorgeous, sunshine gold Dandy® Meyer lemons. I was so excited to experiment with Meyer lemon recipes. I made Meyer lemonade, Meyer lemon salad dressings and more. And this sassy-sweet poppyseed cake.
Get my vegan, gluten-free Meyer Lemon Poppyseed Cake with Coconut Glaze recipe and have your last chance to enter my $200 vegan baking giveaway! (ends soon)
Big bowl of golden sunshine..

Thank You. Before I dive into the lemon-cakeness, I want to thank you guys for all the love and feedback I received from my latest post about "crappy days" (or weeks or years) and how to deal with them, and turn them into something beautiful. I always feel so vulnerable when I press that "publish" button on a personal post, but the reward is reading your feedback from it. Or seeing that it helped or touched even a few people out there online. And if you haven't read the post yet, I hope you do! In the post I share some tough things I have gone through lately and tips and activities that have genuinely helped me. Oh, and my fave Friends clip that always makes me laugh. Oh Ross.. 10 Ways to Feel Better, When You Feel Like Crap
And one of those tips was about cooking. And add in lemon aromatherapy — this recipe is kinda perfect for lifting your spirits and brightening your day! Seriously, this cake smells amazzzzinggggg.
Love this lemon cake for a spring snack or zesty-sweet dessert. Picnic approved and tea party-perfect..
Before being glazed…
Add the velvet-y coconut glaze..
Just Dandy. I am so happy to collab with another amazing produce company on this final FREE Vegan Decadent Desserts Ebook post and giveaway (enter below). Duda Fresh, aka Dandy®, produces a wide variety of gorgeous citrus like red and white grapefruit (I looooove white grapefruit!), clementines and of course lemons and Meyer lemons. Plus I love their organic celery, cabbage, corn, romaine and more. Thank you to all three companies who have worked with me on this project. I am so grateful to have blog sponsors that produce my fave things ever: fruits and veggies!
Who wants a free decadent desserts e-book? Let me help you decide this one.. If you love chocolate truffles, creamy berry ice cream, glazed lemon cake, strawberry crisp, tarts, chocolate fudgsicles and more, this e-book will be a treat for you and your family.
This free Vegan Decadent Desserts E-book is brought to you by my collaboration with three of my favorite produce brands: California Giant, Natural Delights Medjool Dates and Duda Farm Fresh, aka Dandy.
If you download our free e-book, you are eligible to enter my $200 vegan baking giveaway..
The Giveaway Prize ($200 value): Williams-Sonoma Goldtouch® Nonstick 6-Piece Essentials Bakeware Set, my Healthy Happy Vegan Kitchen cookbook, Chloe's Vegan Desserts cookbook (one of my personal fave vegan baking cookbooks) and also a bunch of fresh produce goodies from California Giant, Natural Delights Medjool Dates and Duda Farm Fresh. Giveaway ends 5/17.
Enter giveaway at the bottom of this post.

Check out a preview of some of the recipes in Vegan Decadent Desserts..
..get these recipes in the ebook: Get it here!
Don't miss out on the other desserts in this vegan baking series:
* Simple Strawberry Crisp for spring
* Easy Peanut Butter Cookies made using three main ingredients!
disclosure: this post was sponsored by Dandy® but all opinions are my own.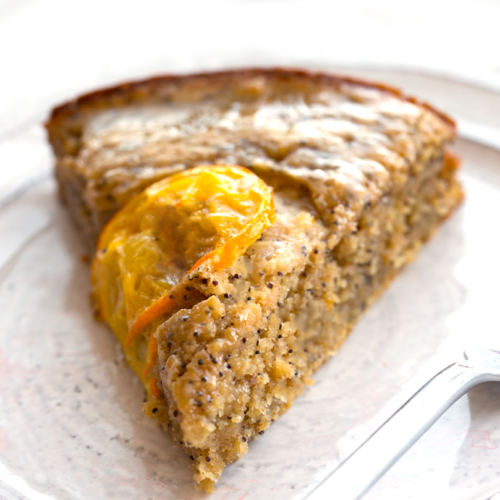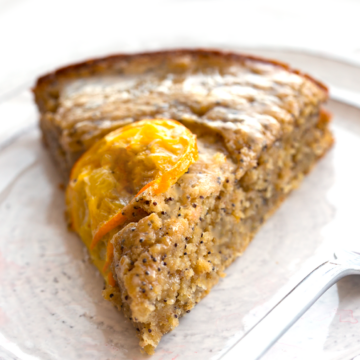 Meyer Lemon Poppyseed Cake with Coconut Glaze
This zesty-sweet, vegan, gluten-free Meyer lemon poppyseed cake is perfect as a spring dessert or tea time snack! Serve at brunch or alongside some vanilla bean ice cream. Delicious served warm or chilled.
Print
Pin
Ingredients
Dry:
3 cups oat flour

2 tablespoon poppy seeds

2 tablespoon ground flax seeds

2 teaspoon baking powder

½ teaspoon sea salt
Wet:
⅔ cup non-dairy milk, room temp or warmed

⅔ cup coconut sugar

⅓ cup vegan butter, melted**(Earth Balance or similar — coconut oil could be subbed, but will change consistency and flavor a bit)

¾ cup fresh Dandy® Meyer Lemon juice + ½ teaspoon zest

1 large banana or ¾ cup apple sauce (or another fave vegan egg replacer)
Coconut Glaze:
¼ cup virgin coconut oil, melted

¾ cup organic confectioners sugar

1-2 teaspoon warm water

optional: ⅛ teaspoon vanilla or coconut extract

tip: made a double batch of glaze for extra decadence!

Cake Garnish: 4-5 thin slices of Dandy® Meyer lemons, seeds removed
Instructions
Preheat oven to 350 degrees. Grease a 9" round cake pan with coconut oil or vegan butter.

Combine all the dry ingredients in a large mixing bowl.

Combine all the wet ingredients in a blender and blend until smooth.

Pour the wet mixture into the dry and stir with a large whisk to combine.

Pour the cake batter into the pan and add the lemon slices on top. Bake for about 35 minutes at 350 degrees. Use the toothpick to test that the cake is done – or watch for the edges to slightly brown.

For the glaze, combine the warm water and sugar until a paste forms. Then fold in the melted oil to make a think glaze.

Allow the cake to cool for at least 20 minutes then pour the glaze over top. If you want the glaze to be thicker on top, pour it when the cake has completely cooled. Serve warm or chilled. Store leftovers in fridge or freezer.