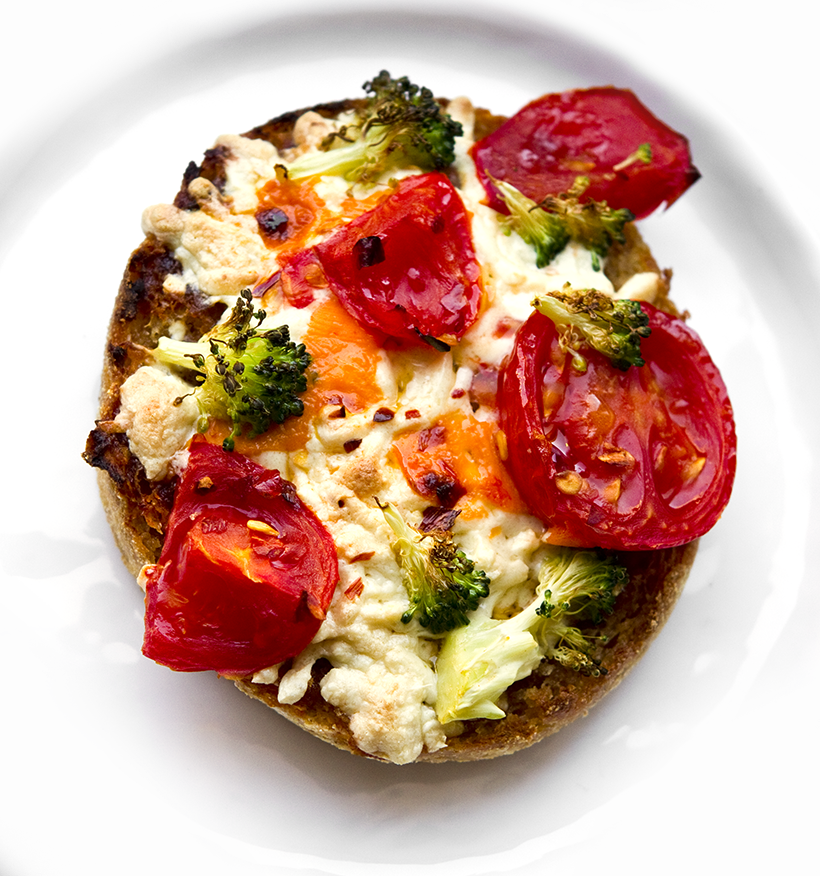 These Mini BBQ Veggie Vegan Pizzas are oh-so-retro, at least to me that is. One tender-toasty bite and flashbacks of after-school snacking come rushing back. But I gave my 1990's recipe a very vegan upgrade.
Light Bite. Satisfy a growling tummy with these steaming hot, bubbly-cheese, veggie-topped pizzas! Indulge the hungry teenager inside of you..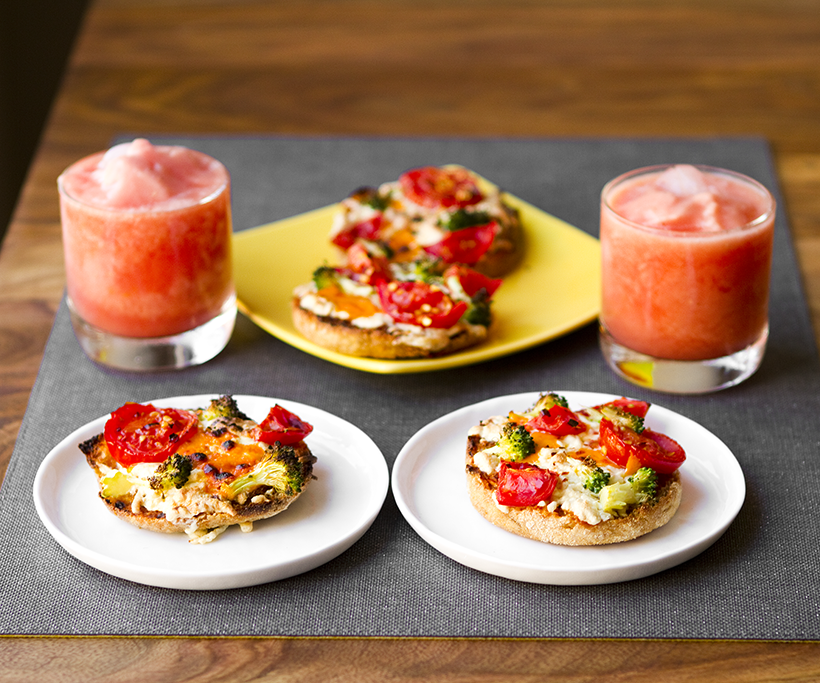 Tasty Simplicity a la Pizza. When you bite into each handheld pizza you will first be hit by the toasty crunch of the browned rims of the muffin, edges of the bubbly cheese and savory roasted veggies. The infused spicy sweet BBQ aroma will begin to liven your taste buds and suddenly the toasty bite will turn to velvet – as you crunch into the BBQ sauce slathered, vegan cheese filled nooks and crannies of the moist English muffin. Totally yummy.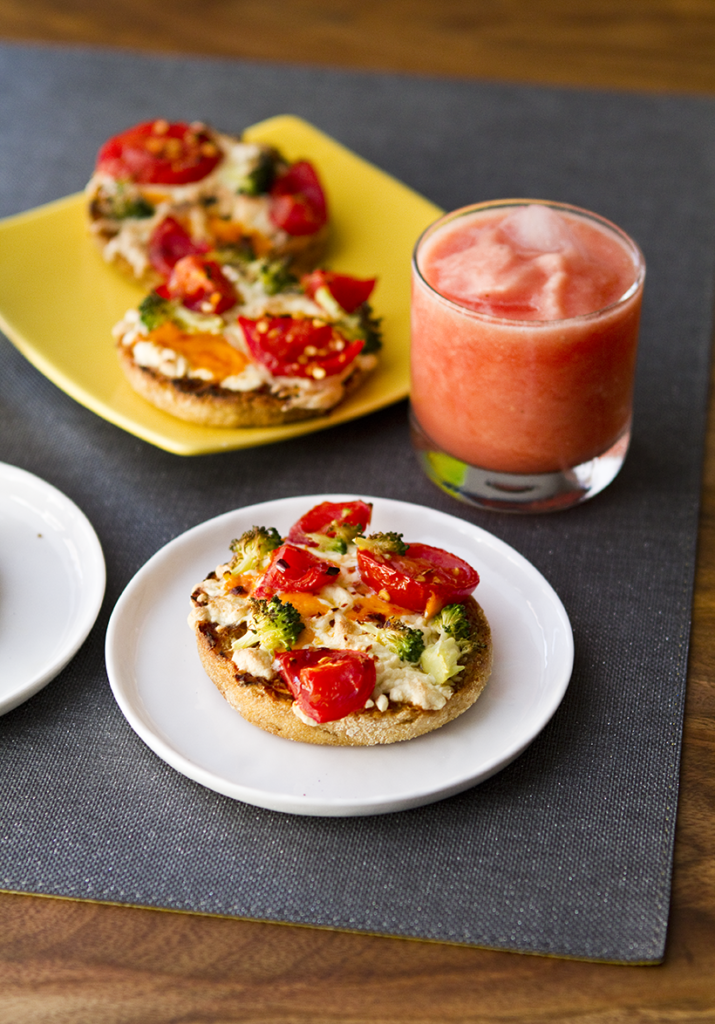 Flashback to the early 90's. I'm in Jr high. Home from school, I pop in the kitchen and troll through the cupboards for some munchies…
Hmm, Garfield fruit snacks? A bowl of Pops cereal? A classic PB&J? A fizzy Calistoga fruit juice bottled bevie and avocado, sprouts and mustard on California sourdough sandwich? Tropicana and some Pringles? A grilled cheddar cheese sandwich? Chex Mix?
Or maybe my fave: an easy English muffin mini pizza. I always made sure we kept the ingredients on hand. Easy prep. Easy clean-up. And oodles of toasty-delicious flavor – paired with my Algebra homework and maybe a few episodes of Growing Pains or Saved by the Bell. Anyone else having flashbacks now?
The bad part about this snack story is that while the whole grain English muffin wasn't so bad – the sugary pizza sauce, and dairy-filled cheese I'd use for my mini pizzas won't cut it today. Vegan upgrade..
Instead of pizza sauce, I decided to use a small swirl of hot and spicy BBQ sauce on the muffin and stick to whole tomatoes on top. I love that spicy sweet kick from the BBQ sauce. I also sprinkle a few red pepper flakes on top to deepen the kick of heat.
For the veggies, I just speckled on a few florets of broccoli, tomatoes and bits of basil. I'd actually serve these bites with a hefty side salad if this was a lunchtime snack. Because really, the more veggies with pizza the better.
You can use whatever toppings you'd like. But give my BBQ sauce change-up a try and see what you think. I recently found a brand at Whole Foods that I adore. It's called Outta the Park. Their 'hot and spicy' version is vegan. Or if you are ambitious, make your own BBQ sauce – very tasty.
A few other toppings that would infuse some health into each bite..
* hemp seeds
* spinach
* fresh pineapple
* mushrooms
* vegan "pepperoni" or grain "sausage"
..I'm sure you can think of many more toppings .. what are your faves?
Oh, and I paired this lunch snack with a Watermelon Frosty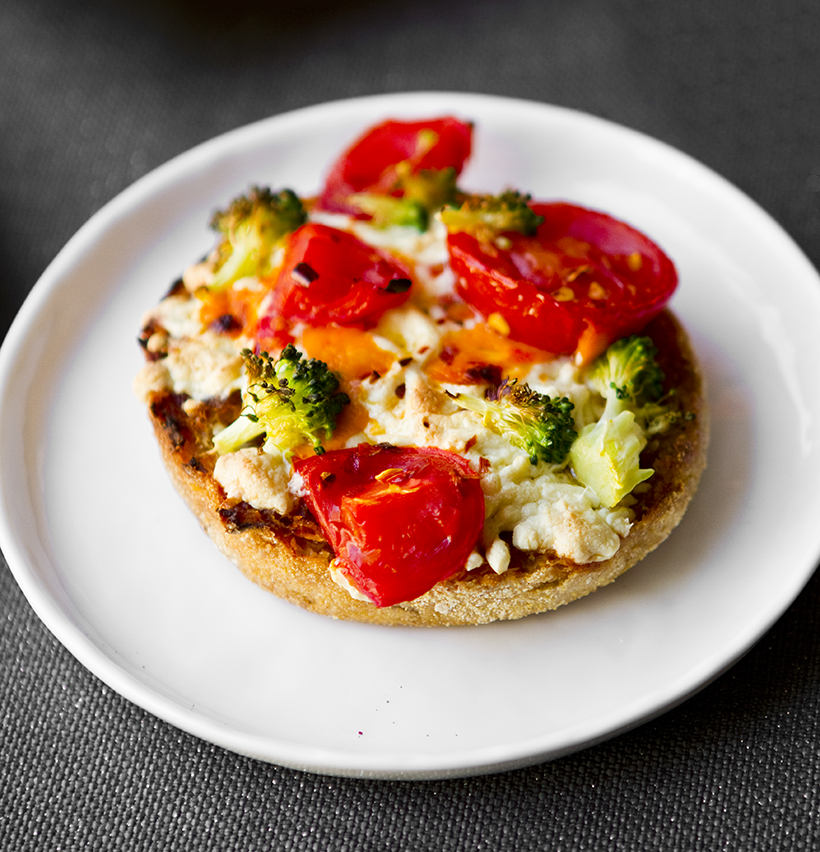 Mini BBQ Veggie Vegan Pizzas
By Kathy PatalskyPublished 10/05/2011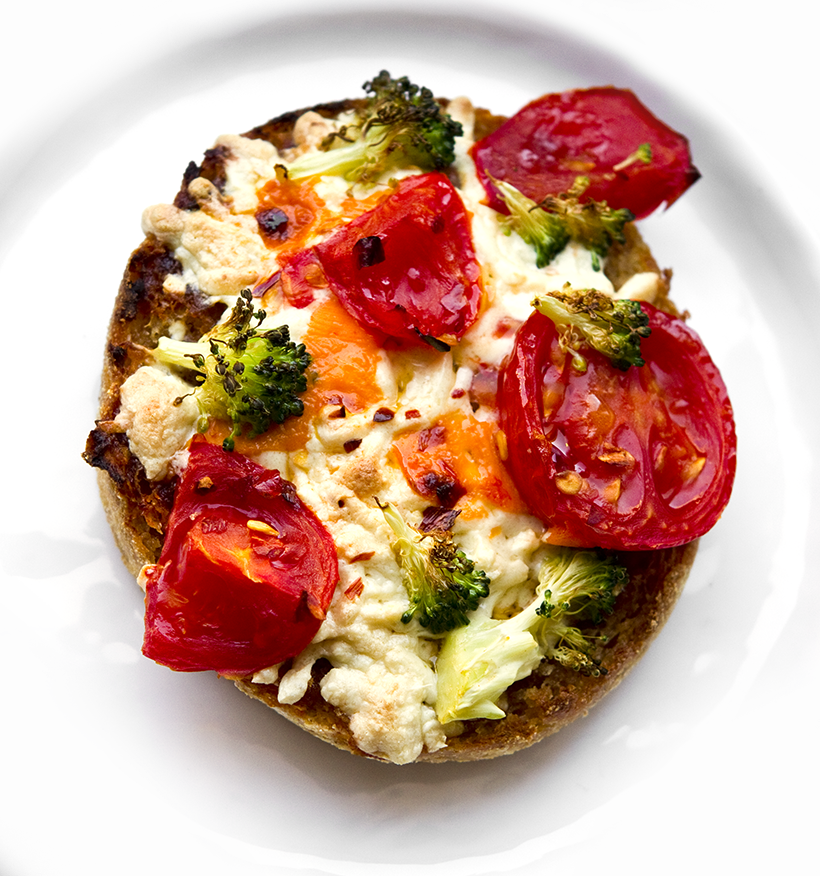 Easy and fast, these mini pizzas using BBQ sauce as the pizza sauce base are a light bite that your whole family will love. Vegan cheese on top.
Ingredients
2 English muffins, halved into 4 pieces
2-4 tablespoon BBQ sauce
4 tablespoon vegan shredded cheese
handful of veggies for toppings (broccoli, tomatoes used)
pinch of red pepper flakes
4 teaspoon extra virgin olive oil
garnish with fresh basil leaves
Instructions
Turn your oven to broil (this can also be done in a toaster oven).
Slice your muffins in half. Lay on a baking sheet.
Add the BBQ sauce in a thin even layer to each muffin – open faced. Add a pinch of Mozzarella and cheddar cheese to each muffin. You can add some fresh basil hidden beneath the cheese layer if you'd like. Add the veggies – tomatoes, broccoli. Pinch of red pepper flakes. Splash of EVOO on each muffin.
Place on the top rack of the oven for about 5-10 minutes – or until the cheese begins to bubble and brown. Cool a few minutes before serving to allow cheese to set.
Yield: 4 mini pizzasPrep Time: 00 hrs. 10 mins. Cook time: 00 hrs. 10 mins. Total time: 20 mins. Tags: pizza,vegan,kids,easy,entree