*disclosure: The post is sponsored by Good Foods

Today's recipe features my speedy, satisfying, (veggie-filled) spin on a traditional quesadilla. Fuss-free and super flavorful, these Mushroom Queso-dillas are a crowd-pleaser! And every toasty triangle can be topped with my secret, flavor-boosting ingredient: Good Foods Chunky Guacamole. Ahead, I show you how to easily whip up this recipe, in minutes! Feed a crowd or party-of-one.
Plus, a product 'sneak peek!" Did somebody say vegan Tzatziki??..
What is it about the triangle shape that is so irresistible?? Pizza, chips, pie, quesadillas…

Yup, I did say "veggie-filled." Besides loads of rich cheezy flavor and luscious guac, you get leafy greens and savory skillet mushrooms. NOM.

I like to use flour tortillas because they toast up in a skillet so nicely, but corn tortillas can also be used.

Mushrooms, guac, queso, spinach, lime.

I like to think of fall as the snacking season. Things get super busy with the holidays, schools in session, less daylight hours and loads of cozy shows and events on TV. So in between being out and about, busy as a bee, we end up craving cozy time indoors, watching our fave movies, binge watching TV shows and snacking on yummy things. But trust me, you don't want to get stuck in an unhealthy snacking routine because eventually, you might find that you feel less than fabulous and end up craving whole foods, plant-loaded meals and anything you can get your hands on to give yourself a nice boost of nutrition. So having go-to healthy and satisfying (delicious) recipes on hand this time of year is a must! Enter today's recipe.
Plant-Based Cooking. If my blog has taught you anything over the years, I truly hope that it has taught you these three things:
1. More plants is a great thing. Plants are loaded with a diverse array of nutrients and phytochemicals. Even if you are not vegan, eating more plants is a great idea.
2. Plants are flavorful! From sweet potatoes, avocados, mushrooms, citrus, berries, greens, spices, sauces and so much more, plants not only come in a rainbow of colors, but a rainbow of flavors.
3. Easy + Fast! Plant-based meals can be easy + fast!! Boom and boom. I have loads of fast and easy meals here on the blog and in my cookbooks. I am so glad that so many of you are using them to easily create yummy meals and snacks for yourself at home! (Maybe I should do a round-up of all my fave super fast + easy recipes???..)
…and today's recipe really showcases all three of these points!
My Mushroom Queso-dillas with Good Foods Chunky Guacamole are speedy for a few reasons. Number one being the lack of actual cheese. Look, I LOVE vegan cheese. But I also love vegan Queso. And hummus. Both taste great on a tortilla! And a quesadilla can be made even without actual cheese shreds. Seriously, give it a try!
What Should I Use for My "QUESO" in my Queso-dilla???

My three suggestions:

1. DIY or store-bought vegan Queso or cheese spread. Queso recipe. Pub Cheese. The trick is to use something with some body to it, so it really stays put on your tortilla, and helps the other veggies stick too.
2. Good Foods Queso, which is what I used. (Ok, this is a bit of a tease because it isn't in most stores yet, but when you find it, try it because it is delicious and perfect in this recipe. It has the consistency of a hummus and works great for this recipe! Tip: Ask your grocery store manager to start carrying it!)
3. Homemade or store-bought hummus – garlicky flavors work well. Or even red bell pepper. Hummus is sold in just about every grocery store, in a variety of flavors, so this is a really practical ingredient to try. I love a good hummus-dilla. You can even DIY hummus.
The other time-saving ingredient I used today: Good Foods Chunky Guacamole.
Good Foods Chunky Guacamole. I love this Chunky Guacamole product because you can really see and taste the robust chunks of tomato and avocado in every bite. That chunky texture really gives it an authentic homemade taste and look. Perfect for parties when you are making a million different recipes and want some amazing guacamole on the table in seconds.
Good Foods Fan. A while back, in this post, I shared the Good Foods brand with you guys. I told you how taste-testing store-bought guacamole is something I do not take lightly because I am 100% a guacamole-snob. Well Good Foods greatly impressed my palate. And there are times when you just want guac on demand, and Good Foods satisfies. From simple ingredients to rich, homemade texture and flavor, Good Foods is your go-to guac!
Ingredients gone simple: Hass avocados, tomatoes, garlic, onions with fresh lime juice.
Good Foods Guacamole is:
– Hand Scooped. By Humans.
– Powered by Omega Fats.
– No Artificial Ingredients. Ever.
– No Sugar Added.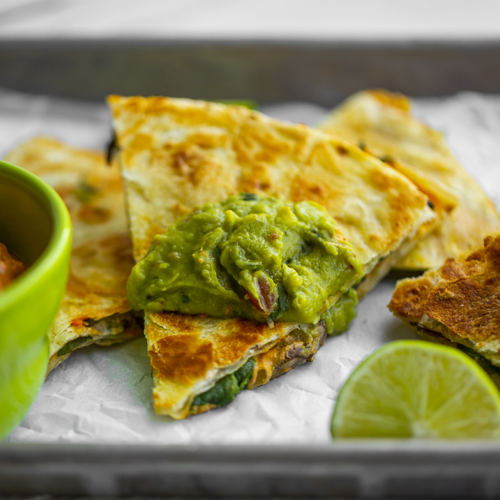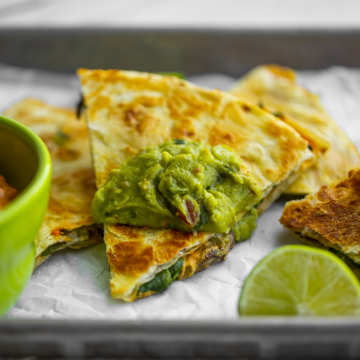 Mushroom Queso-dillas with Chunky Guacamole
These easy stuffed queso-dillas are loaded with skillet mushrooms, cheezy flavor and guacamole on top.
Print
Pin
Ingredients
MAIN
2

medium flour tortillas

3

tablespoon

vegan Queso (or try hummus or your fave cheese spread – see above for ideas)

2-4

tablespoon

Good Foods Chunky Guacamole

handful of baby spinach
SKILLET MUSHROOMS
1 ½

cups

cups mushrooms

,

sliced

2

teaspoon

extra virgin olive oil

salt and pepper to taste
TO SERVE
limes

,

sliced into wedges

hot sauce

, more Chunky Guac
Instructions
First, whip up your skillet mushrooms. Warm a skillet over high heat. Add in the olive oil and mushrooms. Turn heat to medium and cover pan with lid and allow to cook until tender. Uncover skillet and turn heat back to high to really sizzle the mushrooms and burn off any excess moisture. Add salt and pepper to taste – a few pinches should do it. Pour mushrooms into a side bowl and wipe any grit from pan.

Warm up pan again over high heat. Coat the bottom of the pan with a light layer of olive oil.

Spread your queso, hummus or cheese spread onto one side of a tortilla – have a generous layer. Lay it flat, spread side up, in the pan. Add in the mushrooms, they will nicely stick to the spread. Then add a light layer of spinach over top. Optional: Dollop a few spoonfuls of guacamole inside the tortilla for double guac flavor! (optional) Place the second tortilla over top the filling. Cover pan with lid and allow the heat to warm the filling through. Uncover pan and flip the tortilla – it should be nicely browned on the bottom. Allow 1-2 more minutes to toast the other side of the tortilla.

Transfer the queso-dilla to a cutting board to slice into triangles. Allow a few minutes to rest and cool a bit before serving. Serve with a generous dollop of Good Foods Chunky Guacamole on the top or side.
nutrition estimate | per serving
Calories:
173
kcal
|
Carbohydrates:
13
g
|
Protein:
7
g
|
Fat:
11
g
|
Saturated Fat:
4
g
|
Polyunsaturated Fat:
1
g
|
Monounsaturated Fat:
4
g
|
Cholesterol:
15
mg
|
Sodium:
248
mg
|
Potassium:
239
mg
|
Fiber:
2
g
|
Sugar:
2
g
|
Vitamin A:
165
IU
|
Vitamin C:
2
mg
|
Calcium:
138
mg
|
Iron:
1
mg
As promised, a sneak preview product!..

Good Foods Plant-Based Dips. So I was lucky enough to be able to taste test the new line of Good foods plant-based dips. I have tried pretty much every "vegan dip" in the dip section of Whole Foods and I am rarely blown away by flavor and texture. Well these dips are amazing! I especially loved the Taztziki and the Creamy Cilantro flavors. Wow. The Creamy cilantro is the PERFECT accompaniment to tacos, quesadillas, vegan nachos or any Mexican-style entree. The Queso and Buffalo dips are also fantastic and have a dreamy texture and bold flavor. And the coolest part about these dips is that they are made using ingredients like cauliflower and almonds. But do not let that fool you. These dips are super rich and bold and will easily add punch to a variety of appetizers, snacks and recipes.
So since these are brand new products, you probably won't find them just yet. But you can certainly get to know the Good Foods brand via their amazing pre-made guacamole products, in store now.
Tzatziki: Creamy and flavorful – perfect for a Greek salad or Gyro. Dip cucumbers and carrot sticks in this dip for a simple snack.
Buffalo: Bold and chunky with a spicy flavor. Basically delicious on any veggie, sandwich, chip or wrap!
Creamy Cilantro: This might actually be my favorite. It was SO good paired with these queso-dillas. Perfect on any Mexican dish – tacos, nachos, burritos..
Queso: Thicker than most queso's but rich in cheezy flavor – perfect texture for dipping or adding to a wrap or tacos. (Or for Queso-dillas of course!)
Avo-Pesto: Super fragrant with basil flavor, totally dippable. Would be yummy on pizza, garlic bread, avocado toast or even tossed with pasta!
Which dip do you want to try?

These plant-based dips are fun and inspiring!..

So I hope you can whip up this queso-dilla and let me know what you think! Happy snacking season everyone.
Pin it for later:


disclosure: This post is sponsored by Good Foods – but all opinions are my own.