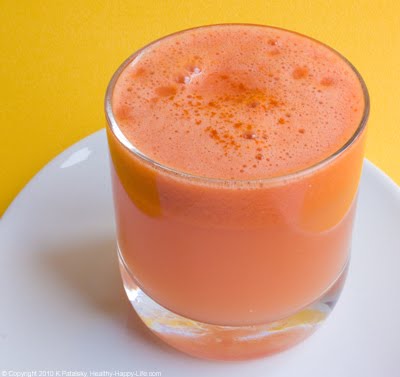 My AM Sunrise Juice is my morning glass of bliss. Fresh and fruity, sweet and zippy. Orange and pink swirls of citrus and carrot reflect the sunrise sky and inspire me to make my day beautiful, healthy and full of life. Nothing gets me 'glowing' in the morning like this juice! OK, OK enough of the sappiness, but it's true: fresh pressed juice awakens me in an invigorating way that not even the strongest espresso could rival. Get my recipe…
Juicing Series. I'm more than half-way through my Juicing for Health Series, and all the hesitations I had about doing a juicing series in the dead of winter, are gone.
I originally chose to do this series because one of my 2010 New Year's resolutions was to "juice everyday". Sadly, I had been miserably failing at that attempt. Does anyone ever keep their resolutions right off the bat?? So, I hoped that this series would re-inspire me to juice – and it did! I have been juicing every day through this series and loving every second of it. Juicing is addictive. And we all need a few healthy addictions in life. Juice every day for one week: and you'll be hooked.
The Reality of Juicing: Maybe you'll dread cleaning the juicer every day (even thoughclean-up only takes me about 2-4 minutes). And maybe you'll hate doing all that wash n chop food prep. And maybe you'll have to make a few extra shopping trips to have all those super fresh ingredients on hand. But, those extra tasks will seem trivial in the end. You'll crave the taste of fresh juice and you'll be addicted to the feeling you get after you drink it. Your coffee buzz will seem like a mild electric shock instead of a happy buzz. Your juice buzz will feel like a warm jacuzzi of energy, all-day-long.
Morning Juice. Every morning, I wake up thirsty for something that will make me glow as bright as the big ball of sun that beckoned me bedside, from my windowsill. Sometimes I reach for fresh fruit like a papaya, kiwi or citrus. Sometimes I crave something heartier like steel cut oats with a side of tempeh facon. And sometimes, I'll admit that I'm too busy to prepare something proper, and end up chugging a Venti soy Starbucks beverage half way through my morning. But I always pay for it in the end by crashing into a ball of steam by the end of the day. But when I find the time to juice a fresh tall glass of juice in the AM, I am always rewarded. That clean, revitalizing energy carries me though the day on a cloud. No crash and burn for me.
And this is the juice I crave most often…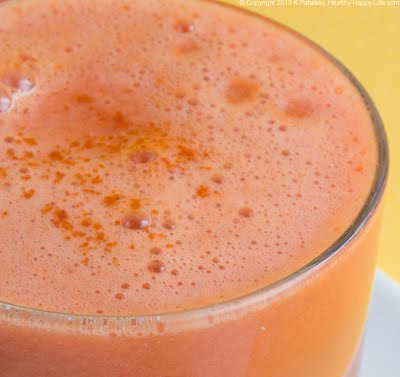 Morning Flavors. Grapefruit. Not orange, grapefruit. On my first trip to Florida, a trip with my High School Jazz Choir to Disney's Magic Music Days in Orlando, I found myself in a large resort-style cafeteria watching tourists left and right gulp down stacks of white toast and pancakes, sugary cereals and not so fresh fruit. Junk food at each counter. Except for the grapefruit. There were beautiful grapefruit halves on display and I grabbed two each morning. Even back then, I wouldn't compromise wellness for a big bowl of sugary cereal. I ate two grapefruit halves, some bad coffee or tea and a bagel or whole wheat toast on the side-I forget. But those Florida grapefruits were unforgettable bliss.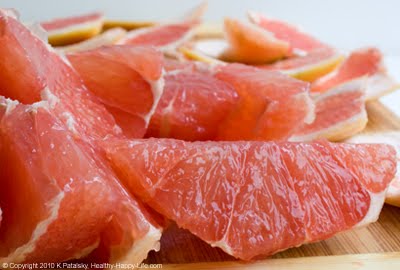 My love of grapefruit leads me to crave it in the morning. It wakes me up. I like the slight bitterness combined with a tart sweetness. I love OJ, but grapefruit is my AM citrus of choice. So I combine a few more flavors like carrot, apple and ginger – and I'm set.
I like to peel my grapefruit like this before juicing (keep as much "good stuff" as you can):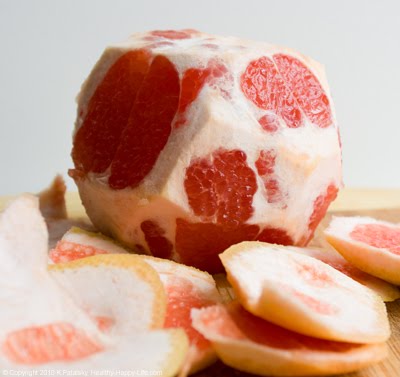 Nutrients. This juice is a nutrition dream. It contains Vitamins A and C, and in plentiful amounts. There are about 225 calories in this recipe and it contains over 100% RDA of both vita A and C (from the carrots and grapefruit mostly).
Carrot Note: Do not use baby carrots. Use those nice bunches of carrots – organic is best. Read about the baby carrot chlorine and white blushing story here.
Greens: Optional. Yes, you can easily add a few giant leaves of chard, or some fresh spinach to this drink. It still tastes fabulous, even if the sunrise colors disappear into green.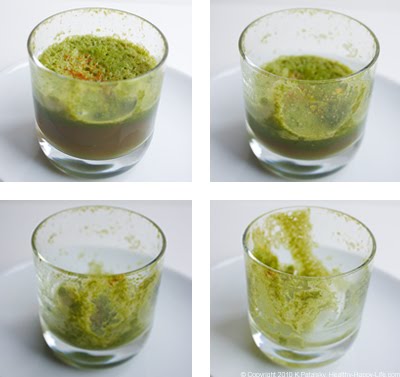 Sunrise Juice
vegan, serves 1-2
1 small-medium pink grapefruit, peeled
1 small apple
*I used an organic Pink Lady apple
3-4 small organic carrots (length of a pencil, thickness of a dime)
*Fresh carrots, not baby carrots
1 teaspoon fresh ginger, peeled
½ small lemon, peeled, de-seeded
Directions:
1. Juice all ingredients in your juicer. Drink. Smile.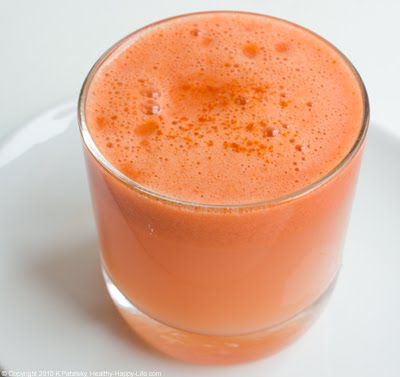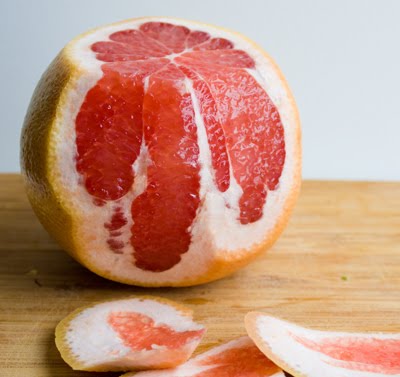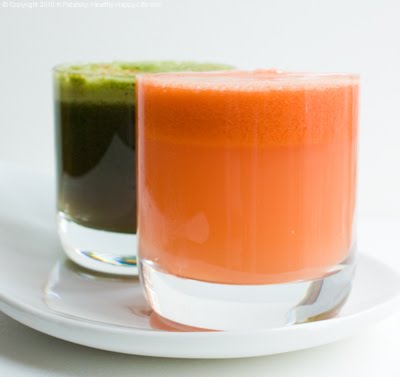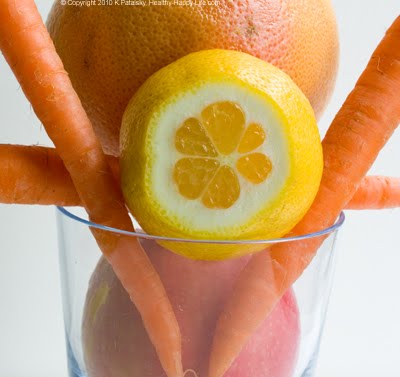 Ready to Peruse Juicers on Amazon? My Juicer Picks: