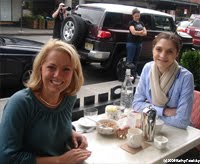 My misty Saturday morning breakfast with Food Network's Melissa d'Arabian was quite a treat. It was a perfect cool fall morning in meatpacking NYC: crisp air fresh off an early morning drizzle, damp cobblestone streets, the clinking sound of restaurant coffee cups, a bright cloudy sky and the sound of muted laughter echoing from inside the Standard Grill dining room. And I was lucky enough to sit down for a light breakfast with Melissa, despite her incredibly busy weekend schedule. Melissa is in town for this year's Food Network NYC Wine and Food Festival. So what is Melissa like in person? And how did this awesome meet-up inspire me? Find out and more pics…

Team Melissa. I became a fan of Melissa's after watching her reality TV journey to win the title of the Next Food Network Star. I was lucky enough to connect with Melissa online, and thus began a friendly dialogue based on our shared foodie passions and curiosities. So when I found out Melissa was in town and actually found a break in her extremely busy festival schedule to meet me in person, I was thrilled, delighted and honored.

Melissa is a bundle of energy. Bright blue eyes, shiny blond hair. Adorable, sincere and friendly as can be. Yet also sharp minded, bold and quick. A warm hug greeting as we quickly swooped through the lobby, a huge smile on her face, and I knew I was in for an awesome breakfast. Melissa's lively spirit is undeniable and hard to miss, even in a crowded hotel restaurant on a busy Saturday morning. The uncontrollable light that exudes from this woman is mind blowing. Her on-screen energy and creativity is actually more powerful in person – if you can even imagine that. The Next Food Network Star…indeed.
Breakfast at Standard Grill. Melissa craved hot coffee, granola, fresh berries and yogurt. I had a foamy soy latte and a bright pink papaya bowl with lime and vanilla accents, similar to the recipe I often make myself at home. (I have to try the vanilla syrup drizzle at home. Cravable.) We sat outside. Soggy cool air, fresh off an early-morning drizzle. Damp streets and a bright gray 10 AM sky. The Standard Hotel was awake and alive: there were guests chatting over breakfast or out the front door of the modern lobby. In a doorway a blond-pony-tailed little girl giggles with her dad, a bride in her white lace wedding dress wanders down the cobblestone being photographed in her gown. And just a few streets over, another festival day in meatpacking was arriving as venue booths and events were being set up. The eager foodie crowds began to emerge from all corners of the city. But in the calm before the busy day storm, Melissa and I sat down for a carefree chat.
In Person Beats Out Internet. I skipped away from our meeting feeling as if I had spent a jovial hour chatting with an old friend. In any industry, face-to-face is better than a computer screen (high def or not!). It's easy to hide behind the coldness of a keyboard, and the instant gratification of a Twitter tweet or cell phone text message. But even "HD technology" or the latest version of the iPhone couldn't mimic the in-person trust that is built from eye contact, a silent smile or a spontaneous outburst of laughter. This wasn't an interview or a formal affair, it was just two girls chatting about shared passions, interests and curiosities. It was, as Melissa describes, an 'organic connection'. This connection was one that left me feeling inspired in thought and renewed in spirit.

I won't divulge what we talked about, like I said this wasn't an interview. But I will say this: Melissa is a star to watch. You may be wondering why a vegan food blogger like me is so fond of Melissa and her "non-vegan" brand. It's Simple: Melissa is an open-minded, curious and creative chef with heaping spoonfuls of warm-hearted energy. All my favorite qualities in a person and chef. And refreshingly, Melissa is curious about vegan cooking and wellness lifestyle topics. She admits she is in no way a vegetarian, but has been pleasantly surprised by her vegan cooking experiments. She said while she may not crave vegan food for taste alone, she definitely craved the way that it made her feel after eating it, or even the next day. What an awesome statement that is. It is so true. (And I'll bet Melissa's vegan eats are indeed cravable.) So if you haven't already fallen in love with Melissa on her Food Network show Ten Dollar Dinners, I suggest you tune in to season two-set to premiere in January 2010.
Oh, and I think I have her convinced to at least try a few of my favorite foodie things: Coconut Water, Vegenaise and a dinner at Pure Food and Wine or One Lucky Duck takeaway – I told her, with a smile, "the vegan Mallomar will change you life."
More Photos:
The Standard Hotel Entrance (notice the bride wandering about):

Melissa and I:

The Standard Grill:

Melissa and I: