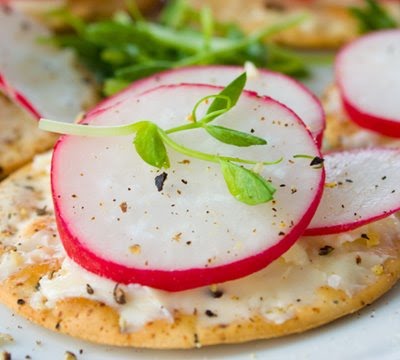 Maybe you don't have time to go "waltzing romantically through the farmer's market" all day long (as Chef Dennis Leary quips), but at least you can plan a quick trip to grab a few of your spring harvest faves. I get pretty giddy when the sunny weather rolls in and the Union Square Farmer's Market (aka Greenmarket) rolls out the red (or green) carpet for amazing spring produce from dedicated local farmers. Here are my top five favorite spring produce items (recipes too)…
Kathy's Five Fave Produce Picks for Spring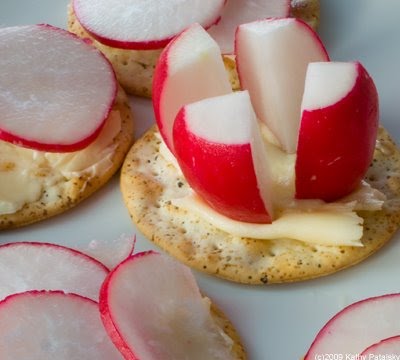 5. Radishes
I love radishes year-round, but there's something irresistible about those enormous piles of crunchy, zesty, juicy fresh radishes that pop up at Farmer's Markets in spring. Grab a bunch and savor the flavor. Some even say that radishes help ease acid-reflux and indigestion.
Recipe: Radishes and "Butter"
Radishes and Hummus and Pea Shoot Sandwich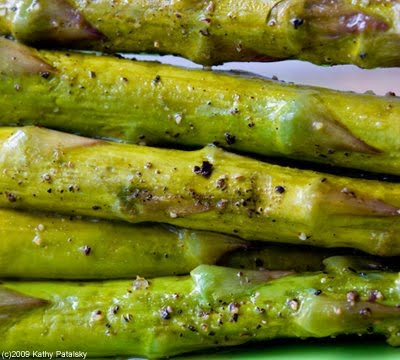 4. Asparagus
Another year-round veggie that peaks in spring. Crisp asparagus tips are one of my faves. I love them served simply with lots of lemon juice, EVOO, thick sea salt and pepper.
Superfood: Asparagus
Recipe: Sunny Asparagus Tapenade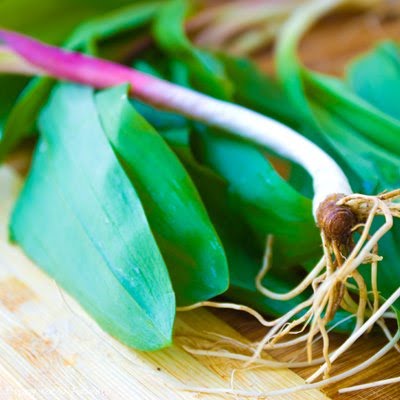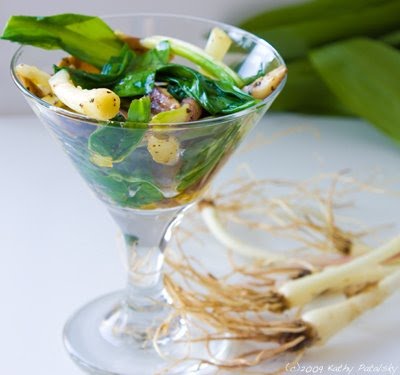 3. Ramps and Mushrooms
Foodies go simply mad for ramps. And I never knew why until I tried them for the first time last spring. I was in love. I saute them with mushrooms for a truffle-esque dish. So savory and delicious – ramps add a unique flavor to just about any cooked dish: tofu scramble, stir-fry, veggie saute, roasted veggies, spring quiche, ramps in pesto pasta and many more. Oh and did I mention that ramps grow along side mushrooms for a very limited time per year – wild ramp hunting is better than a Easter egg hunt in spring.
My Ramps Photo Essay
Ramps Tasting
Mushrooms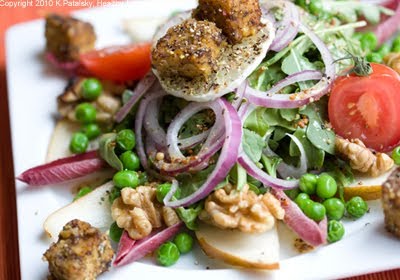 2. Peas
Ah peas, a fabulous source of sweet delicate protein and when tossed with a light pat of vegan butter and pepper – they are a perfect treat to sprinkle over top salads, pasta or simply eat them on their own with a big spoon. I adore spring peas. Try fresh peas instead of frozen this spring, and you'll be forever changed.
Recipe: "Buttered" Peas
Napa Salad with Peas and Tempeh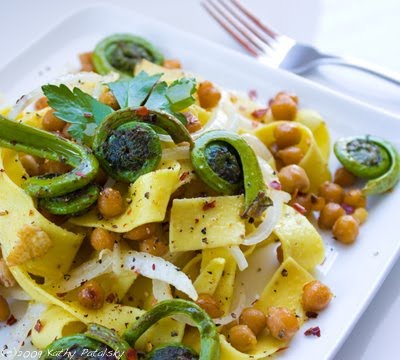 1. Fiddlehead Ferns
Drum roll please. My absolute favorite exotic and cravable veggie in springtime is the fiddlehead fern. I first tried them at Craft restaurant in NYC. And then spotted them at Whole Foods so I could make them at home. Spiral shaped like the shell of a snail, they are moist and tender to bite – when properly cooked. Fiddlehead ferns may frighten veggie-phobes, but give them a try and I promise you'll be delightfully surprised. I love fiddleheads in pasta. Lemon, EVOO, pepper, simple flavor accents bring out the natural flavor of fiddleheads.
Recipe: Fiddleheads and Chickpea Spicy Pasta.
You may also like my NYC Greenmarket Photo Tour to put you in a produce mood!