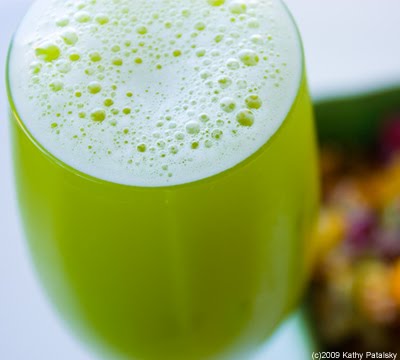 Crisp, refreshing, tart and tangy green juice pairs perfectly with a sweet and sassy mix of gourmet dried fruit, raw almonds and exotic seeds. Delicious, and oh so healthy.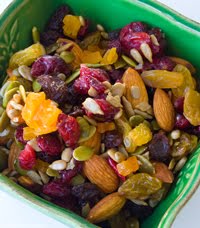 Got Energy? Craving a healthy energizing snack that you can eat at home, work, school or even on the go? Try my perfect energizing pair: "My Glass is Greener…" green juice paired with Russ and Daughters "Ambrosia" trail mix. Ambrosia is a special Russ and Daughters trail mix that Martha Stewart asked them to make for one of her holiday parties. They've been making it ever since. And it doesn't get any more refreshing than my favorite green juice recipe. Energy…included!…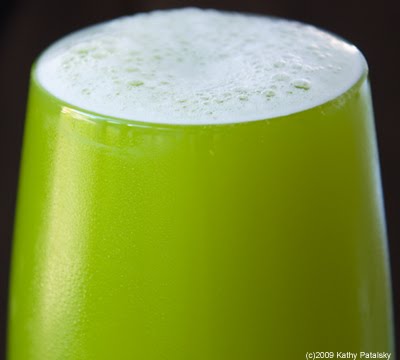 The Glass isn't Green. This is my green juice in a clear glass. Yes the green pops into a refreshing juicy green color making the glass appear as a green opaque color. But the green comes from the many nutrient-rich green ingredients including spinach, wheat grass, parsley, green apple and mint. Nothing too heavy, no muddy flavors. Just fresh juicy ingredients with complimenting flavors. Green juice never tasted so pure.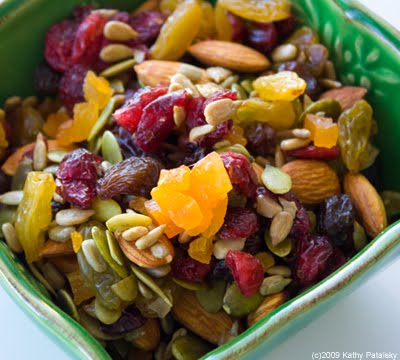 Martha's Ambrosia. You're in luck if are dying to try a few of Russ and Daughters delicious fruit and nut mixes. (However, the ambrosia mix is only available in-store or in the special Martha's Faves gift package.) Or you could call their store and beg to have it shipped…they are pretty nice in there and would probably hook you up. Martha's Ambrosia mix is spot-on. (No surprise.) Check out the wide selection of goodies you can buy online–shipped to your doorstep. And if you are in NYC, Russ and Daughters is a must visit!Russ online Store. Martha's Ambrosia Mix is available in the "Martha's Faves" package. (Not vegan)
Now onto my green juice recipe…
"My Glass is Greener…" Fresh Juice
vegan, serves 1-2
*at-home juicer required
1 cup fresh pineapple, chopped
2 cups spinach, washed and still damp
¼ cup parsley, washed and still damp
½ lemon
1 medium green apple
1 tablespoon ginger, peeled and chopped
optional:
2 tablespoon mint leaves
½ grapefruit, peeled and de-seeded.
'Lighter Version' mix with 1 cup ice cold coconut water.
Directions:
1. Juice the lemon and set aside. I'm not a fan of juicing the seeds because they can be quite bitter. Just bite one and you'll probably agree.
2. Slice green apple into juicer-able chunks. Seeds can be juiced here.
3. Turn on juicer, juice all the greens first. Then juice the fruit. By juicing the more fibrous ingredients first, you'll be sure that they won't get stuck in the machine, and rather juiced through by the high-liquid ingredients that come after it. It's basic order-or-operations juicer-style. Dry first, liquid after. You can even alternate dry, wet, dry, wet. I go: spinach, wheat grass, some apple, parsley, some pineapple, ginger, rest of apple, rest of pineapple, lemon juice. (I'll add grapefruit if I'm in a sweet-tart mood and mint, if I'm in a minty mood)
4. Add your lemon juice to the juicer last to juice it through, or simply pour in your lemon juice. If you are going for the 'lighter version' add your 1 cup of coconut water.
5. Pour and drink right away, or pour into a seal able container for later consumption.