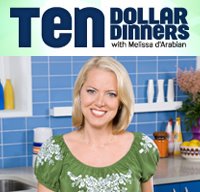 It's a tad after 1 PM on Sunday afternoon, and I just finished watching Ten Dollar Dinners with Food Network Star winner Melissa d'Arabian. Dinners, or was it lunch? She ended the show by calling her meal a delicious lunch, so that kinda threw me off. But that was the least of my worries with the show. However, also not on my list of 'show worries' was Melissa herself. Melissa as a Food network host was lovely. A breath of fresh air. Her been-there, done-that wisdom was apparent, but the youthful sparkle in her eyes never faded. I loved her stories about her days in Paris and her Mother-in-Law's secret pie dough recipe sharing. But back to my cringe-worthy moments…
Melissa's First Menu: Perfectly-Priced Parisian. Her $10 menu included an Applesauce Granita with a yogurt-maple sauce. Her entree was a Bacon-Potato Torte with a Parisian Salad on the side. A few big 'health-factor' problems with this menu. In the first three minutes of the show Melissa had already used plentiful amounts of bacon, butter and heavy cream. Super high in saturated fat-containing animal products. And she wasn't done yet.
Click ahead for more of my review, including why (in the end) the Food Network execs will be pleased. And see just how many grams of saturated fat are in Melissa's torte. You will be shocked!….
Butter, Bacon, Heavy Cream, Egg Yolk, White Flour, White Potatoes, Salt and Cheese. These were the nutrition-defiant ingredients in Melissa's entree recipe. Sigh, at least she's making my review write-itself easy!
Melissa: My Review. Before I bash her torte, I want to make it clear that I loved Melissa as a host. I also loved the show format. Smooth as butter. (Pun intended). The kitchen, the colors (lots of deep blues), the art (floral and modern blue accents) the friendliness and the speed. All great. And when you can achieve show format success , you can easily make the food a bit healthier, as you gather viewer comments like mine.

Why I am Harsh on Melissa's Health-Appeal. If this were Paula Deen's show or Guy Fieri's 'Triple D' show I wouldn't be as critical because those shows base themselves on indulgent cooking. But since Melissa's audience is aimed at families and moms, the food has got to be kid-friendly and HEALTHY! Please Melissa, more fruits, veggies, antioxidants, fresh foods and healthy stuff. Now onto my food review…
The Potato Bacon Torte. Within the first three minutes Melissa had already added two sticks of butter for her white flour pie crust, a nice helping of full-fat bacon (4 strips), and a generous drizzle of simmering heavy cream (⅔ cup). All these ingredients were part of her torte. And later she added in white potatoes, Gruyere cheese and that was it. Not exactly a healthy main course. In fact every ingredient was white in color (no antioxidants), with the exception of the glistening brown crispy bacon bits. Not white, but equally nutrition-defiant by being high in saturated fat. Oh and she brushed her torte with an egg yolk wash-more cholesterol. So, thumbs down on the torte. The torte looked beautiful but I have a few easy healthier substitutions Melissa could've used:
*use sweet potatoes instead of white. Much healthier-rich in fiber, Vitamin A, potassium and other nutrients.
*Remove the bacon and add in more herbs and spices for flavor. Or even saute some smoky seitan bits-lots of flavor!
*Forget the butter crust and do a simple olive oil based pastry crust. Yes it will be less flaky and pastry-like, but MUCH healthier.
*Use whole wheat, spelt or even half and half whole wheat crust instead of 100% white flour. Check out my healthier crusts in my Tofu Pot Pie or Breakfast Brunch Quiche recipes.
*Instead of traditional cheese use vegan cheese. Yes, it tastes good!
*Instead of heavy cream use full fat plain soy milk. or heck, even vegan soy creamer, which has less saturated fat.
Makeover that Torte! I just may try a healthy-makeover version or Melissa's torte recipe, and post later this week….so look out for that.
Salad Review. Nice. I liked the simple mixed greens with the house made Parisian Dijon dressing. I liked her secret of adding a tinge of soy sauce to the dressing. Soy sauce is not just for Asian meals. The mixed baby greens were healthy, but why not add in a few other fruit and veggie ingredients to brighten things up. Tomatoes, radishes (which the French love, if you want to keep to the French theme), sliced pears, carrots, green apples, peppers..you know I could go on and on. More fruits and veggies for the salad. But overall it still gets a thumbs up for being vegan and high in leafy greens nutrients.
Applesauce Granita. Interesting. I don't think this really sounded that yummy. But then again, I've certainly posted a few delicious recipes that sounded a bit odd. So I'll trust her on the taste-factor. It also threw me off when her entree had more fat and calories in it than the dessert, but that's just me. And I'm not a huge fan of applesauce as a main ingredient, not much there but mushed up, preserved apple shreds. The yogurt-maple-cinnamon sauce sounded great. You could easily use soy yogurt and make this vegan. I just may try this dessert in a recipe makeover post-using vegan ingredients. Keep a heads-up for that one, and that torte makeover I mentioned above. I'll still give this recipe a thumbs up for the healthiness factor. I loved the use of real maple syrup. Even though it is very expensive-which doesn't mesh well with her wallet-friendly show design.
Last Word: The Food Network Execs will be Pleased to Know… The Food Network will be happy to know that I will watch again. And again. I liked the show. Melissa has so much knowledge to share and her stories are genuine. However, if she continues with the high saturated fat containing meals I will be very disappointed and it may turn me off as a long term viewer.
Oh, and that torte…
Nutrition Facts Shocker-welcome back to reality. I calculated the total fat and calories in the entire torte dish and here are the results:
Melissa's Potato-Bacon Torte
Ingredients:
* 4 strips bacon
* 3 sprigs fresh thyme
* ⅔ cup heavy cream
* 2 Pie Crusts, recipe follows
* 3 medium baking potatoes, peeled
* Salt and freshly ground black pepper
* ¼ cup grated Gruyere cheese
* 1 egg yolk, whisked with a splash of water
Pie Crust:
* 1 cup butter (2 sticks), cubed and chilled
* 2 ¼ cups all-purpose flour
* 1 teaspoon salt
* 8 to 10 tablespoons ice water
*Note, since Melissa didn't use all her pie crust dough, I even minuses about ⅛ of her crust recipe from the nutritional facts below.
Per Torte:
Total Calories: 4101
Total Fat: 277 g
saturated fat: 162 g
Per Slice (8 slices in torte):
calories: 512
fat: 35g
saturated fat: 20g
That's 20 grams of saturated fat per slice. Not something I'd like to feed my family.
Note: Melissa's recipe says it makes 4 servings plus leftovers. I gave Melissa the benefit of the doubt by saying there were 8 servings in the torte.
*I calculated these values by using Melissa's online recipe and inputting the ingredients into my FitDay.com nutrition facts program.
So overall, Melissa I adore you, but your recipes could use some skimming of unnecessary saturated fat and excess high fat animal products.