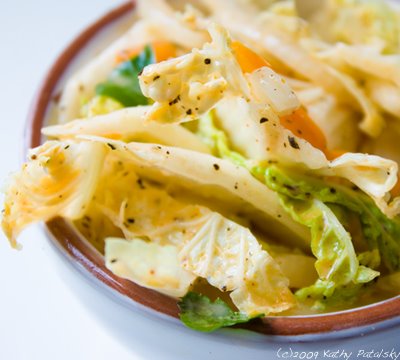 This isn't your grandma's cabbage slaw. One of my favorite uses for Napa Cabbage is to chop it up into a raw vegan slaw. Light flavors of ginger and citrus give this dense tender cabbage variety a bright zesty flavor. Instead of going heavy on dark soy sauce or a heavy helping of vegan cream, this slaw recipe stays light and palate cleansing. It makes a perfect side dish for a sunny day meal…
Light Ginger Citrus Napa Slaw
vegan, serves 4
3-4 cups Napa Cabbage, chopped into thin 2 inch strips
1 small yellow bell pepper, diced
¼ cup red wine vinegar
2 teaspoon olive oil
2 teaspoon black pepper
½ cup orange slices or mandarin segments
1 tablespoon lemon juice
3 tablespoon Vegenaise
1-2 tablespoon fresh ginger, grated
2 teaspoon agave syrup
1 teaspoon paprika
dash of salt as needed
optional add-in: ½ cup chopped flat parsley
Directions:
Add cabbage, bell pepper and citrus slices to large bowl.
Add vinegar, oil, vegenaise and agave syrup.
Toss well.
Add in salt, pepper, ginger, paprika and lemon juice.
Toss well again.
Chill until ready to serve.
A few hours in the fridge will assist in marinating the cabbage.
*for a creamier slaw simply add more vegenaise.
Serve as a side dish or salad.

More optional add in ideas: cayenne, garlic, sliced almonds, pea shoots, sliced fennel, cold snow peas, bean sprouts, toasted sesame seeds.