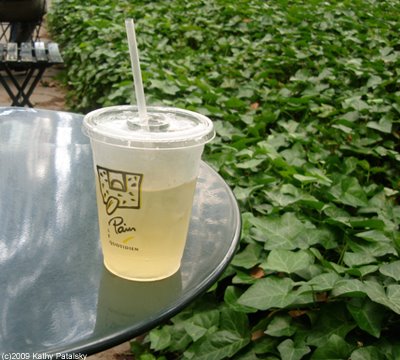 I take a 24 hour blog break, and all heck breaks loose! Nothing life-changing, but memorable and disturbing, yes. And in the end, I have a few lessons learned to share with all of you. There are four parts to my tale:
Part One: Hit 'n Run Bike Attack in SoHo.
Part Two: Shang and Slaw.
Part Three: NFNS Auditions at CBS Studios.
Part Four: Bryant Park and Iced Chamomile Tea.
This is a must-read blog entry-if you like a good "in the life of Kathy" story. And bonus! It just might make your Friday seem beyond-awesome compared to mine!…
Part One. Hit 'n Run in SoHo.
I recall hearing about the View host,Elisabeth hasselbeck's encounter with a NYC biker a few months back. A speeding biker hit her and he kept peddling onward. She was pregnant at the time. Talk about an awful situation. Public service announcement cliche coming up: I never thought it would happen to me! But really, bike hits on city streets are no joke. There I was at the end of a long day of busy errands in SoHo, I stepped from the curb to cross Houston street when all the sudden a speeding bike came zooming at me (he blew the light and the 'car' traffic symbols) he swerved, but his bike handlebar went plowing into my left wrist. His bike swayed a bit, but he was going so fast he just kept zooming on! No stopping. Not even a simple "Are you OK?" Jerk. Sorry, but really. If you don't stop when you hit someone, you are in my opinion-a jerk.
This was almost as bad as the time a woman plowed her Trader Joe's shopping cart right into the back of my ankle, breaking the skin. I had blood dripping down my leg and a wound that took two weeks to heal. And it hurt. She also said a quick 'sorry' and ran away. Maybe I am just accident prone, but I don't think so. The bike hit was just as painful, but luckily didn't break the skin-or bones! I immediately got a big swollen red lump on my arm. Still hurts today. Boo.
Lesson Learned: If you drive a bike in NYC please watch for pedestrians. And if you do hit someone, at least stop and ask if they are OK. It's the nice thing to do. Pedestrians-beware of bikers, sometimes they blow the light.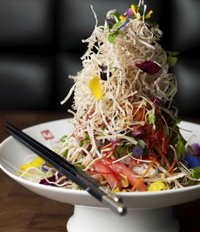 Part Two. Shang Restaurant.
Part two of my story is fabulous. Despite the freak accident earlier in the day, I had plans to go out to the new restaurant in the Thompson LES Hotel: Shang. All over the media, I had seen this photo of their Singapore Slaw salad that looked divine. (image shown from Shang website) I had to order it. It comes out about 1 ½ feet tall-piled high with slawed carrots, daikon, cabbage, exotic nuts, ginger, and many more greens and veggies-all doused in a delicious salted plum dressing. All vegan. I triple checked from the waitress and kitchen staff. The waiter tosses the dressing into the salad at your table. Probably so you don't go making a mes of the tall slaw tower. It was heavenly. The menu says it is made for 2-3 people, but I could've eaten just that for my entire meal! So good. I also got a side of jasmine rice and the huge veggie dumplings. Everything there was fab. Go go go if you are in the city and want good Chinese food. It's better than Tao or Buddha Bar, in my opinion.
Lesson Learned: Even when smacked in the wrist by a bike, good vegan food, wonderful company and a glass of champagne heals all!
Part Three. NFNS Auditions.
So this was supposed to be the happy highlight of my Friday. Nope. I had been planning on attending the New York open casting call for The Next Food Network Star reality TV show for about a month now. I'd love to be the first vegan on-air FN star. And I love the Food Network in general, so I was excited to make an impression. I'm blogging this season of the reality show, which ends with the finale this Sunday. Unfortunately, this was the worst audition experience I have ever had. The auditions were scheduled from 10am-4pm. I finally arrived at CBS studios at around 11am. Long line by that time. I was a little late because I got caught in two total downpours on the way to the line. Forgot my umbrella. My True Religion jeans and light silk flowered shirt were soaked. Not good. Note that I hadn't eaten of drank anything in about 13 hours now. I didn't have time for breakfast and I didn't bring anything to eat or drink. Really dumb of me since I am usually very prepared with snacks wherever I go. Also dumb because I am one of those people who has to eat every few hours or I start going nuts. Low blood sugar does not go well with my body-or mind. I felt like Bobby Flay in episode 6, I wanted to scream "People would be tackeling people for a shrimp!" Well, no shrimp for me, but a vegan muffin-God yes! 1 PM. I had been standing in the long line for about two hours now. The sun picked up by now, so it was hot!
Finally my group of ten people got moved into the air-conditioned inside of CBS. However when we got to the holding room the floor and chairs were packed with people. This was not going to be a quick audition. This was going to be a while. Totally famished and dehydrated, I plopped myself on the floor. My number was 215. They just called 140. And they were bringing in about ten people every half hour-at the least. Yup. That meant I had at least 3 more hours on the floor. No food. Luckily I had two dollar bills and got a pineapple-peach-mango Dole juice from a vending machine. Not a coconut water, but it tasted like liquid gold at the time. It helped-a little. The sheet we all received upon entering the building said: "you many be here five minutes, you may be here five hours" Five more hours?! This next food network star has to eat!!! There were a few smart auditioners who brought full picnic spreads of food, gallons of water, books, computers and other goodies. Why oh why didn't I bring snacks?!
So there I was sitting cross-legged on the floor amongst chefs and foodies all making culinary small talk. Most were friendly, very nice. But there was this one guy sitting right across from me who talked non-stop. Normally I don't mind energetic super talkers, but some of his brash comments really peeved me. He started bashing The Neely's (FN star husband wife couple who host Down Home with the Neely's) for having a 'fake relationship'. I started to get queasy. It was going on 2:30 pm now. I hadn't eaten and barely drank anything in about 17 hours. My blood sugar was in the gutter. I estimated 3 more hours until my number was called. Four hours until I get out of there and eat something. I couldn't do it. I had to leave. So I did. This next Food Network star will be sending in her application-online.
Lesson Learned: When auditioning at an Open Call session, always bring lots of liquids, snacks and books. And come with friends, or a favorite-music-loaded ipod to put you in a zen happy place.
Part Four. Bryant Park.
Finally getting out of the room made me feel immediately better. Even though I was definitely famished. One lesson I already knew was to respect my body and listen to it. It told me to go get food before you lose it. I hopped in a cab. He got lost. I got out. I then chose to walk in the boiling sun a few blocks to my destination. I eventually made it to my sanctuary in the city: Bryant Park. Calm green cafe tables surrounded by luscious green ivy and trees. I ordered a chamomile tea and vegan blueberry muffin from Le Pain Quotidian across the street and lounged in the park, trying to revive myself. And honestly, as bad as I felt leaving the audition, I knew I did the right thing. I knew I messed up by not bringing snacks. As I sat in Bryant park dabbing the sweat from my forehead and chugging my icy cold tea, I felt-OK. I got home, took a shower and zenned out for a while by flopping on my bed and perusing the foodie blogosphere. I read this blog entry by Tony Bourdain that made me feel a little better. Yeah, he is beyond mean to Sandra Lee, but I agree her kwanza Cake recipe segment is devastating to watch. I just love Tony because his his over dramatization of the Julie and Julia premiere event made me feel a lot less over dramatic about my past days drama. A little blog reading always chills me out. I hope it does for you too. 🙂
Lesson Learned: Always listen to your body. Always.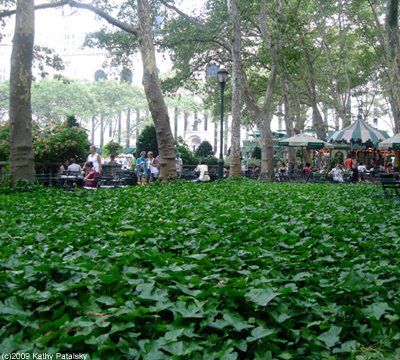 So that's my crazy past 24 hours. I hope that my online application can still get the Food Network producers attention-however I know there is always next season when I can bring lots and lots of vegan snacks to the audition hall.

Onto the weekend, hope yours (and mine) turns out to be fabulously. We deserve it!…
Here's more Bryant Park pics to zen you out…