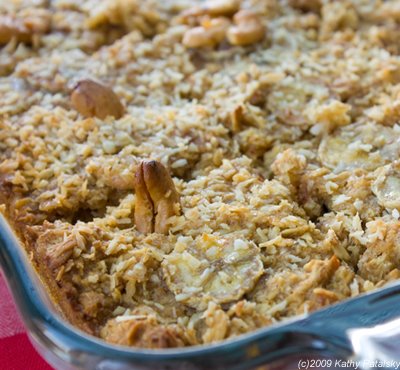 Breakfast for adults means a hot coffee, chai or cappuccino. A fruit salad, savory breakfast sandwich, homestyle potatoes, protein shake, or a blissful muffin. But kids (of all ages) like things a lot simpler than a big breakfast spread. Heck, even a bowl of oatmeal, nut butter and fresh fruit can seem to lack the simplicity that kids crave. Well how about the healthy-yummy taste of oatmeal, fruit and nuts baked into a fun square? Yes!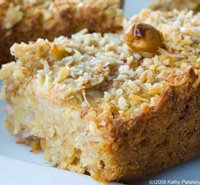 Tropical Tiki Oatmeal, Squares! These kid-approved Oatmeal Bake Tiki Squares turn oatmeal into a warm chewy muffin-like treat that any kid, and OK, any adult will love. Tiki Squares combine the tropical flavors of coconut, banana and cashew nuts. Bake them once, eat them all week. And let the kids help out in the kitchen-this is a super easy recipe. Warm Oatmeal Tiki Squares anyone?….
A Square Meal in a Square. These fluffy scrumptious squares have it all. (And guess what, they are a lot healthier than those pop-up toaster squares.) My Tiki Squares have oatmeal, soy, almond, coconut or hemp milk, fiber-rich cashews, potassium rch bananas and even some healthy flaxseed four mixed into these maple and agave-sweetened squares. Toasted-on-top coconut flakes give these squares a fun tropical tiki feel. Yummy, healthy and both kid and adult approved. You can bake them once and eat them all week. Easy as dropping something into the toaster!
Oatmeal Bake Tiki Squares
vegan, makes 12 large squares
2 cups non-dairy milk beverage (soy, coconut, hemp, almond)
*do not use a low-fat or lite milk option
4 cups toasted rolled oats
¼ cup maple syrup
½ cup agave syrup
3 tablespoon unsweetened coconut flakes (fine)
1 tablespoon baking powder
1 teaspoon salt
1 ½ teaspoon cinnamon
1 teaspoon vanilla
2 large organic bananas, sliced thin
½ cup cashew nuts, whole or crushed
2 tablespoon almond butter, salted
3 tablespoon coconut oil
(canola oil OK if you do not have coconut oil)
1 cup flaxseed meal
½ cup applesauce
Topping:
3 tablespoon coconut flakes, handful cashews, a few banana slices and 1 tablespoon maple syrup.
Directions:
Combine these ingredients in a large bowl: toasted rolled oats, flaxseed meal, baking powder, salt, cinnamon.
Stir in milk, maple syrup, agave syrup, vanilla, coconut oil, applesauce and almond butter.
Fold in cashews, bananas and coconut flakes.
Pour mixture into a greased casserole pan.
Top with coconut flakes, a few banana slices and dot with cashews.
Drizzle with maple syrup.
Bake at 350 for 40 minutes or until the center of the bake is firm.
Top should be browned.
Allow to cool for a half hour.
Cut into large squares.
Serve with fresh fruit .
Get Creative with this Recipe:
You can even get creative with this recipe by using different versions of fresh fruit, nuts, and seasonings.
Try macadamia nuts and dried papaya.
Dried cherries and almonds.
Peanut butter and pears.
Apples and walnuts.
Raspberries and coconut.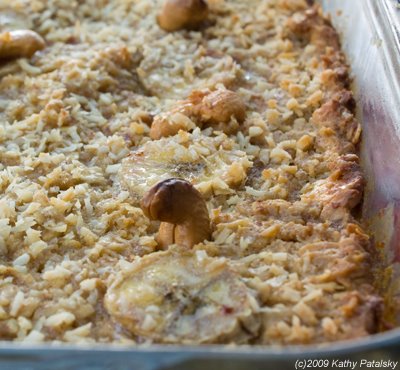 More delicious Oatmeal Bake photos…