Rainy Thursday. My mom was on her way over for a visit. I had a half hour to spare before she arrived, so what do I do? Make muffins! I love making fresh muffins when I have guests stop by. It's a great excuse to experiment with a new recipe. Plus, my friends and family love being official taste-tester's for my new, yet-to-be-posted recipes. Muffins only take about 15 minutes to prep. And what's cozier than a steamy, hot-from-the-oven vegan muffin? And I love it when my non-vegan guests say, "Wait, so these are vegan? Yum!"

Vegan Orange Glow Muffins. I love these perky muffins, rave reviews from the taste-test. I call them "Orange Glow" Muffins because they glow a soft orange color. After you eat one your will feel all warm, fuzzy and energized on the inside. They have a sweet-spicy kick from these flavors: chai tea, cayenne, fresh ginger, citrus and cinnamon. I even included a secret 'orange' ingredient that you might not expect. Get my recipe…
Healthy "Orange" Glow Muffins. You know how people will say they see your 'healthy glow'? It's often associated with eating a healthy, vegan, plant-based diet. Well these muffins have their own healthy orange glow. Spicy cayenne, ginger and cinnamon will perk up your taste buds and stimulate your body. These muffins are also high in Vitamin A and fiber from my secret ingredient: a 1/2 can of orange glow butternut squash that is added in. Plus the squash helps these muffins stay moist without overdoing the oil content. A nice helping of oats also adds fiber. Another healthy ingredient: walnuts. One ounce of walnuts contains 50% manganese, 8% folate, and 25% copper. Walnuts also contain OMEGA-3 fatty acids, similar to those in salmon and other fish oils, so walnuts are great for vegetarians. Don't forget the citrus! The orange cubes, juice, zest and dried peel give a fresh citrus flavor-perfect pairing with your morning tea. Not to mention a nice dose of vitamin c…
To read more about Perk-Your-Body-Up foods, like ginger and cayenne, click here for my post.
Now get my recipe below!…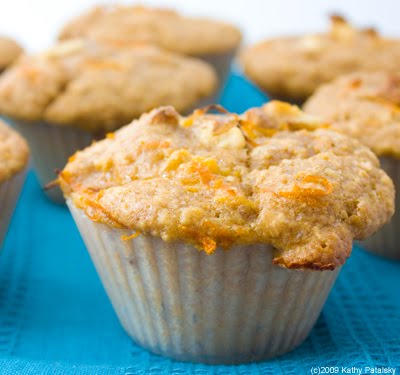 Orange Glow Muffins
vegan, makes one dozen
1 1/2 cups flour
1/2 cup oats
1/2 cup maple syrup
1 tsp salt
1 Tbsp baking powder
1 cup butternut squash or sweet potato puree (fresh or canned) — or mashed banana
1 1/2 Tbsp veggie oil
1/2 cup seedless orange, peeled and diced
1/3 cup orange juice
1 cup crushed raw walnuts
1/2 cup soy milk
2 tsp fresh grated ginger root
1/2 tsp fresh orange zest
1 tsp dried orange peel
1/2 tsp cinnamon
1/8 tsp cayenne
Top Garnish:
fresh orange zest, walnut bits and a dash of raw sugar.
Directions:
1. Pre-heat oven to 375 degrees. Prep: zest your large orange. Set aside.
2. Combine all dry ingredients in a large mixing bowl: muffin mix (or dry ingredient subs in notes section), orange peel, cayenne, cinnamon. Mix well.
3. Add liquids: oil, soy milk, butternut squash, orange juice, chai tea. Stir until well blended, but do not over-stir your muffin mix. You want it to stay light and fluffy.
4. Grate in your fresh ginger, fold into mix.
5. Fold in walnuts, peeled/diced orange cubes, and fresh orange zest. Be sure to try and remove all the orange seeds from the orange cubes, orange seeds have a very bitter taste.
6. Fill your muffin cups. Add a garnish of fresh orange zest, walnut bits and a sprinkle of raw sugar to the top of each muffin.
7. Bake at 375 degrees for 15-20 minutes, or until top is browned and has a nice crisp shiny top. Allow to cool for 15 minutes before removing from tin.
8. Serve with Chai or Earl Grey Tea. Delicious!
* Spice Appeal: Less spicy, remove cayenne. More spicy, add more cayenne and/or fresh ginger.