Who wants some instant sunshine for the week ahead? I have the recipe for you!..
Monday. I started my day off with this smoothie and that felt really nourishing and sunny. Today's recipe tastes like a piña cola meets creamsicle – creamy and frosty, yet light, bright and tropical. Nice way to wake up! Looking back on the past few days, my weekend involved some chill time, some ocean air time, some tennis time, lots of kitchen time, some lazy time and a lot of check-ins to the Katy Perry #KPWWW live stream. I was kinda addicted to checking in on it! Did you watch?? Modern day Truman Show. I am so fascinated by live streams! How cool would it be if I just live streamed my kitchen 24/7, ha!
And I have been sipping this Orange Pineapple Sunshine Smoothie all week long. I usually stick to my favorite purple or green smoothies, but the past week I have just been craving this blend. It feels like a tropical vacation in a glass.
I love this blend of ingredients because they are very anti inflammatory in nature. Keep reading to find out why and get the recipe!..
A Few of the anti inflammatory + just 'good whole foods' ingredients:

* Turmeric – turmeric is such a wonderful, naturally healing food. Turmeric actually comes from a root and looks a lot like ginger root, but the inside is bright orange in color. My favorite turmeric for smoothies is by Ojio. I find that it has the very brightest color and sweet, lovely flavor that meshes so well with fruit. My fave turmeric on Amazon (affiliate link)
* Cayenne – I lean towards spicy foods for 'healing' powers simply by one fact – I can feel it when I ingest them. When I have a cold or feel a virus creeping on, I load up on garlic and spicy broth and lemon and cayenne and it just makes me feel better. So I do like to sneak cayenne into my smoothies sometimes. And cayenne, from chili peppers, may have anti inflammatory benefits too..
"…chili peppers contain natural compounds called capsaicinoids. These are what give the spicy fruit its anti-inflammatory properties." – healthline
* Pineapple – Pineapple contains bromelain which is an enzyme that can help everything from digestion to wound healing. "Bromelain appears to have anti-inflammatory properties." – Cleveland Clinic Pineapple is also rich in vitamin C and fiber and bonus it tastes amazing and tropical!
* Baobab – I love adding this to my citrus smoothies because baobab has a naturally citrus flavor. It is super rich in vitamin C and fiber and I just love it. Check out my fave baobab on Amazon. (affiliate link)
"With an ORAC value of 24,000 u mol TE/100g , baobab powder has 20x antioxidants of green tea and more than blueberries and pomegranates combined." – aduna's website
But sometimes "anti inflammatory" foods do not have to be superfoods and special spices – they can literally be whole foods you eat every day like leafy greens and nuts and even tomatoes. Check out what Harvard has to say about a few every day anti inflammatory foods.
And just to focus on this smoothie as a whole it is such a natural sunbeam in your day. It boosts your intake of fruit for the day, hydrates, leaves you feeling warmed and uplifted and nourished and it just tastes SO GOOD. Kinda like a creamsicle meets piña colada. So, with that, let's just dive into the recipe…

When Do I Drink This? I have been using it as a breakfast smoothie or a late afternoon, post-workout smoothie. I love the flavors for the morning and I can easily boost it with protein and anything else you'd like because the flavors are so easy to tweak.
Some other recipe of mine that include turmeric:

– Turmeric White Bean Burgers
– 2014 Golden Wellness Smoothie
Let the sunshine in!…

ps. If you make + post any of my recipes be sure to tag me online so I see it and can say thank you!
Insta: @KathyPatalsky #365vegansmoothies #healthyhappyvegankitchen #findingvegan
Twitter: @lunchboxbunch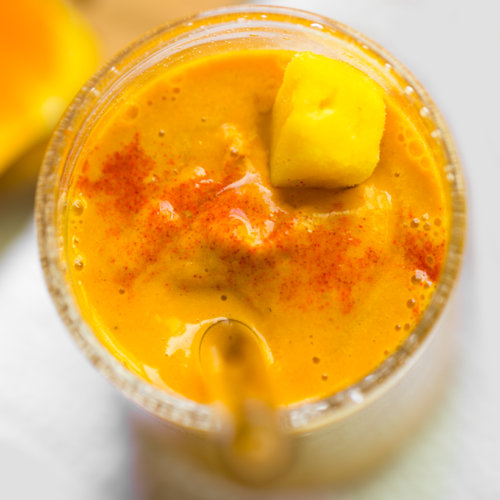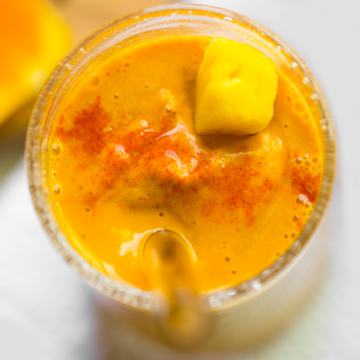 Orange Pineapple Sunshine Smoothie
This frosty citrus and pineapple flavored vegan smoothie tastes like a piña colada meets a creamsicle. Rich in fiber and vitamin C – healthy and delicious.
Print
Pin
Ingredients
1 cup almond milk, plain

1 small orange, peeled + pinch of the zest

1 frozen banana

1 – 1 ¼ cups frozen pineapple

1 tablespoon baobab (optional)

½ – 1 teaspoon turmeric

1-3 Brazil nuts or a scoop of hemp seeds or walnuts (optional)

⅛ teaspoon cayenne

a few ice cubes (optional)

1 scoop plain protein powder, vegan (optional) 
Instructions
Add all the ingredients to a blender and blend until smooth.