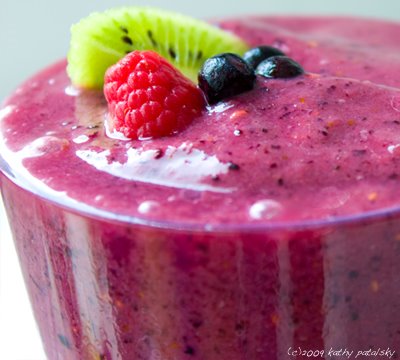 I try to make a healthy, delicious and creative beverage every morning. Whether it's a Goji Soy Chai, or a Fresh Pineapple Enzyme Smoothie. I am always shopping for new ingredients to blend, juice or swirl into my morning beverage, juice or smoothie. Today I made an Organic Raspberry Kiwi Acai Smoothie. Beautiful fresh organic kiwis were my inspiration. I adore Kiwi's in the morning! They have a clean sweet zesty flavor and are high in Vitamin C. See what else I added in this yummy recipe, more photos and nutrition benefits ahead…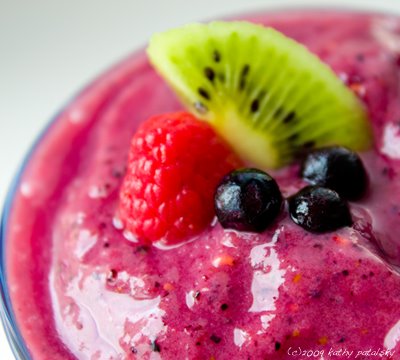 Organic Fruit Flavors. I added organic frozen raspberries, fresh acai juice, a bit of soy, banana, coconut water ice cubes and a hint of fresh grated ginger.
I Love Kiwis! It's the sweet, tart and tangy kiwi flavors that really give this smoothie its unique fruity flavor. For this smoothie you can either use a New Zealand green kiwi, and remember to peel the skin. Or you can use a New Zealand yellow kiwi. Zespri is the brand that I can always find in stores and love. And guess what, if you use the yellow kiwi with the fuzz-free skin, you don't really have to peel it! Just pop it in your blender whole! However, it may darken the color of the smoothie slightly. Yum!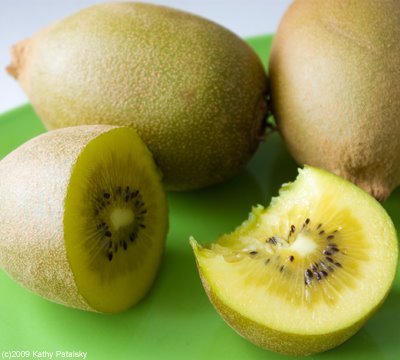 Nutrient Dense Smoothie. This smoothie is incredibly nutrient packed! Talk about healthy. Kiwi's are one of the most nutrient dense fruits around. They are super high in vitamin C, K, E, potassium, fiber, calcium, copper and even folate. Add in antioxidant and fiber rich raspberries, potassium-rich bananas and the all-around super berry acai and you are in healthy smoothie bliss.
Raspberry Kiwi Acai Smoothie
vegan, serves 1-2
⅔ cup frozen organic raspberries
2-3 Zespri green or golden kiwis, peeled and chopped
*Golden kiwis do not have to be peeled! But the skin may alter the color a bit.
¾ cup organic acai juice
⅓ cup organic soy milk
6 coconut water ice cubes
dash sea salt
1 tablespoon fresh ginger, grated
½ ripe organic banana
¼ cup organic wild blueberries
Directions:
Blend all ingredients except kiwi and banana and 2 ice cubes.
When smoothie is smooth, add in additional ice cubes and fresh fruit.
Blend lightly and serve.
Garnish with fresh kiwi fruit slices, and other fresh fruit leftovers.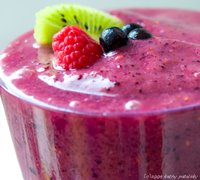 Nutrition Benefits:
This smoothie is high in antioxidants-especially Vitamin C, fiber, and potassium. The ginger gives a nice kick and the soy milk adds a nice serving of soy protein. The acai juice adds omega fatty acids as well!