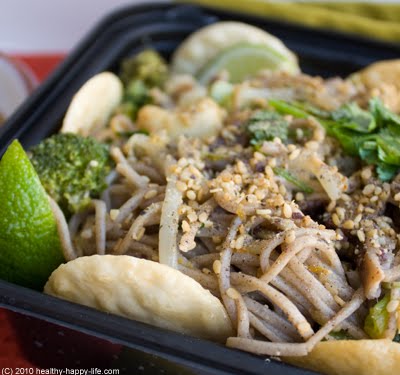 This recipe for Pad Thai with Spicy Peanut Sauce is anything but traditional, and that's a good thing! Yes, I've kept my Pad Thai flavor profile pretty traditional with essences of soy, lime, peanut, scallion, sesame and cilantro. But I've 'veganized it' by removing the animal products like fish sauce, egg and shrimp/meat add-ins. I've added in healthy ingredients like soba noodles and plenty of fresh veggies. Glimmers of green broccoli, slivers of shiitake mushrooms and plenty of crunchy mung bean sprouts are speckled throughout this satisfying twist on a traditional recipe.
It's like takeout, only better. A lot better. And surprisingly easy. Make-ahead and leftover friendly. Go-to dinner approved. You'll be slurping down noodles faster than you can say "Do you have cash for a tip?" Put down that takeout menu my friends…

Blog Takeout. Inspiration Flashback. Long before the world of blogging even existed, I was just a kid swirling my #2 pencil around on a piece of paper, sketching out my dreams. One of my favorite fantasies was to own my own restaurant. I'd spend hours sprawled out on my bedroom floor designing logos, mocking up architecture for the building and finalizing a name and menu.
Of my creations, there was "Sunbox Cafe" "Thick and Crusty Sandwiches" and my favorite, "Greenbox Fast Food" my spin on a "Jack in the Box" style drive-thru serving veggie burgers, strawberry soyshakes and nothing but hand cut sweet potato fries. Recycled containers and discounts for reusable containers and to-go bags, in full swing. In my vision, the drive-thru window was always accompanied by a large sloping grassy hill where families could step outside their cars and have a mini drive-thru picnic. A blue sky up top and cool green grass between your toes. Song birds in the air and an ocean breeze on your face. Cartwheeling kids giggling on the scene. My kind of place. These were my wild and crazy dreams as a kid.
Nowadays I don't own my own restaurant. (Maybe someday, investors wanted! lol) But I do write this blog. And my blog recipes are a sort of takeout food via virtual reality. You can order up the special blog recipe of the day and have it served to you in your very own kitchen, with plenty of assembly required, however. Order up!

Customers, Taste-Testers and Special Requests. Before I post a new recipe, it is always my family who is on the front lines of taste-testing. Holidays are the best because I get a wide variety of feedback. My favorite is always the opinion of the three-year-old. "Yuck!" or "Yummy! More, more!" are my favorite direct quotes of review. Honesty never fails the little ones. But once in a while I get a special request, and this past week it was from my mom. She loved (and was dying to taste test) my New Year's Eve soba noodle recipe. Lucky mum and dad, I had plans to visit them this week, so I brought them a nice "takeout" style sampling of soba noodles. But I was eager to try a new recipe, so I tried this Pad Thai twist on soba noodles, with a decadent Spicy Peanut sauce on the side. The taste test was met with great approval, thus I will now pass the recipe on to you…
Soba Noodle Pad Thai: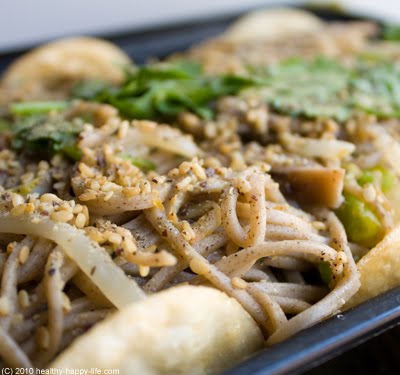 Spicy Peanut Sauce: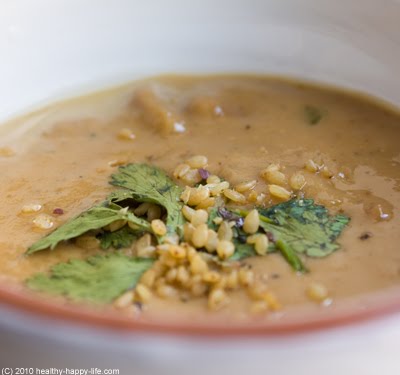 Pad Thai Soba Noodles with Spicy Peanut Sauce
vegan
1 package Soba Noodles, 8.8 ounces
*I used Eden brand Wild Yam Soba Noodles
Boiling Broth:
5 cups water
¼ cup soy sauce
1 packet of vegan "Japanese Soup" mix
*I used San-J brand vegan White Miso with tofu soup
2 tablespoon Ume Plum Vinegar
1 teaspoon hot chili oil
1 teaspoon orange zest
a big squeeze of orange juice
3 tablespoon maple syrup (grade b is my fave)
1 tablespoon sesame seeds, with sea salt and seaweed
dash of wasabi powder
dashes of pepper
Last Minute Boil Add-in's:
1 ½ cups fresh broccoli florets
2 cups shiitake mushrooms, sliced
1 ½ cups bean sprouts
Cold Toss-In Ingredients:
1 ½ cups bean sprouts
1 tablespoon sesame oil
1 lime, juiced
2 tablespoon fresh orange juice
½ cup orange bits, peeled and diced
¼ cup peanuts or raw cashews
¼ cup sesame seeds
¼ cup cilantro or parsley, chopped fine
½ cup scallions, chopped thin
½ teaspoon fresh ginger, grated
black pepper to taste
opt'l: another splash of ume plum vinegar
Spicy Peanut Sauce:
⅔ cups of leftover noodle broth
squeeze of lime juice
2 tablespoon peanut butter
2 tablespoon tahini
3 tablespoon maple syrup, grade B pref'd
dash of pepper
½-2 teaspoon hot chili oil (modify amount for desired heat level)
Directions:
1. Prepare boiling broth by adding 5 cups of water to soup pot. High heat. Add in all boiling broth ingredients. Bring broth to a boil.
2. Add in the dry soba noodles. Break dry noodles in half if you want shorter noodles. Make sure the noodles are completely submerged into broth.
Low Quality 'In Kitchen' Photos: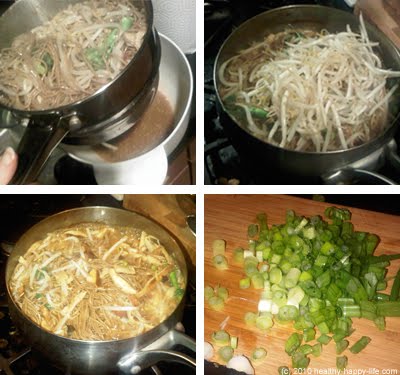 *boiling, add-ins, scallions and draining the broth in bowl.
3. Boil noodles for 6-8 minutes total. While boiling, prepare a big bowl of ice water bath. You should also prep the veggie add-in ingredients while the noodles are boiling (chop the scallions, shiitakes, cilantro, broccoli, etc.)
4. After about 5 minutes of boiling, add in your final 'boil add-in' ingredients: broccoli florets, shiitake mushrooms and mung bean sprouts. Allow them to mix with the broth and noodles to cook for 1-3 minutes. Stir frequently, do not let noodles stick to bottom of pan to burn. Total cooking time is still about 6-8 minutes, you are simply adding in veggies for the last 1-3 min of cooking time.
5. Once the broccoli is tender (do not overcook) turn off heat and drain the noodles, however do not toss the boiling broth down the drain – save it in a separate bowl. This leftover broth will be used as a base ingredient in the spicy peanut sauce.
6. Immediately submerge the noodles/veggies (still in a strainer) into the ice bath. Rinse them with ice cold water. Toss a bit in strainer to remove excess rinsing water. Set aside. Air dry noodle mixture a bit. Dry on a large bamboo mat if you have one. Wet Noodles Note: Slippery, damp 'wet' noodles are fine too, but in my experience the taste results are better with 'dry' noodles. The dry noodles will absorb more peanut sauce flavors as well as flavors from your cold toss-in ingredients.
7. Next, add cold noodles to a large mixing bowl and toss with the cold toss-in ingredients.
8. Place noodles in the fridge to chill for at least 20 minutes before serving. (You can also toss noodles with peanut sauce before chilling, see next step.)
9. While your noodles are chilling, you can prepare your spicy peanut sauce. Add the ingredients to the same pan you cooked your noodles in. Bring to a light boil and reduce heat to a simmer. Stir continuously. The sauce will begin to cook down and create a dense thick caramel colored sauce. You can do a taste test for salt, spice, sweet and savory levels. Don't be afraid to modify the recipe a bit and put your own spin on the peanut sauce. Add in ginger, chilies, ume, cilantro, garlic, pepper, soy milk, or simply prepare as I have posted. Pour your peanut sauce in a separate container and stick in the fridge to cool. NOTE: You can also toss your noodles in the warm peanut sauce and chill (this is my favorite way to prepare my noodles), however if you are serving your dish to multiple guests, they may want to add their own peanut sauce or they may not want any sauce at all. This takes care of "sauce on the siders" (as Bourdain would call them).
10. After properly chilled, serve your pad thai. This recipe is delicious cold OR warm. Leftovers are divine. Garnish dish with fresh chopped cilantro, sesame seeds and my fave – wasabi rice crackers. Fortune cookies, optional.
Learn more about Soba Noodles and see my first soba recipe here.