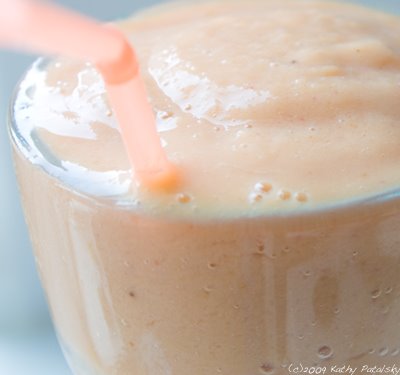 After my discovery of Trader Joe's frozen papaya chunks (my review), I was thrilled to blend up a few light and creamy tropical papaya smoothies. This one is low in calories and rich in antioxidants and healthy digestion probiotics. My Peach Papaya smoothie recipe ahead…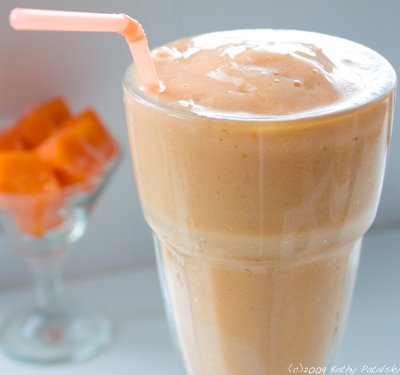 Peach Papaya Smoothie
vegan, serves two
1 ½ cups frozen papaya
5 frozen strawberries
½-1 container peach soy yogurt
5 coconut water ice cubes
1 small banana, fresh or frozen
1 cup soy milk
¼ cup fruit juice (pineapple, mango, orange, apple other)
To make:
Add liquids, yogurt, frozen fruit and ice.
Leave out a bit of the liquid to add slowly mid blend.
Blend ingredients.
(Any raw ingredients like the banana should be added at the end of the blending process-then blend on low.)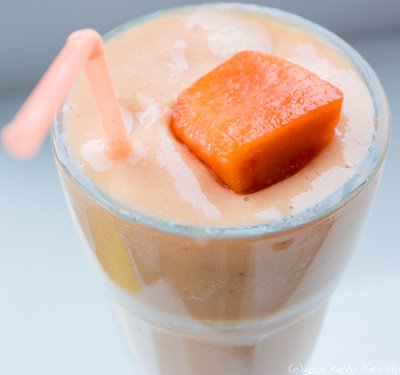 Notes: It is optional to add 1 teaspoon of agave. Using a ripe banana will aide in sweetness.
*Adding the whole yogurt container will make your smoothie creamier rather than frosty and thick.
*Adjust the liquids to get your ideal thickness consistency.
*Frozen peaches can also be added to this smoothie in place of or in addition to the strawberries.
* If using a raw banana, add it at the end of the blending.
*If using a frozen banana, let it thaw just a tad so it is not rock hard.
*optional ingredients: shredded raw coconut, wheat germ, spirulina powder, raw almonds.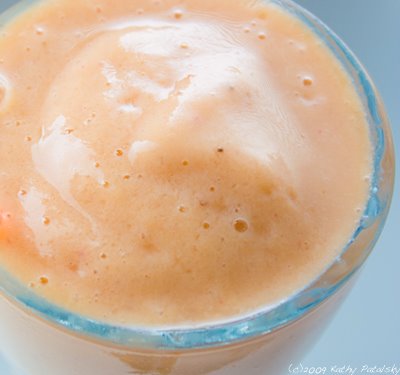 Healthy Smoothie
*Since frozen papaya and strawberries are both only about 50 calories per cup, this is a light and diet-friendly smoothie. Make it lighter by adding unsweetened or plain yogurt and/or light soy milk and remove the fruit juice. However, as is, this smoothie is high in nutrients and packed with healthy foods.
*Add some green super food powder or spirulina powder for an extra nutrition kick. The color will change, but the taste won't if you use a high quality brand of green food.