My Peanut Butter Chocolate Mousse Pie has everything you crave in a chocolate-peanut butter dessert! It's creamy, rich, silky, sweet and textured – with a chocolate cookie crust and soy whip swirled on top! Oh, and the best part? It's vegan! Get my recipe…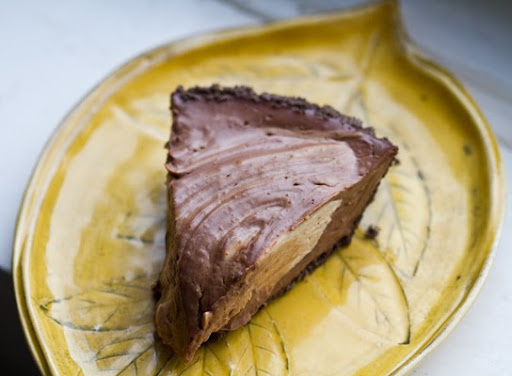 One bite: the creamy peanut butter swirl is a bit denser than the fluffy chocolate mousse filling. Taste the hint of cinnamon, vanilla and coconut with layers of chocolate accents. PB-Choco bliss.
Peanut Butter Chocolate Desserts. My favorite kind of desserts to make are "favorites!" My mom's favorite: lemon desserts, my sister: strawberry shortcake or chocolate cake. My dad: anything rich chocolate – maybe a hint of berry sauce. (Hmm, do we see a chocolate theme here??!) ..And my husband (MrHHL) loves anything that combines peanut butter and chocolate. So PB Choco Pie it was…
Add in the tofu! No, really. The silken tofu makes this pie creamy and fluffy (and even a little healthy! Protein-packed.) And FYI, like many people, MrHHL is not terribly fond of tofu – so when he dove into this decadent dessert with a smile on his face I knew a little battle had been won. Tofu-lover or not – you will love this creamy pie!
And it's no-bake. You can make this pie now and be sliding a slice onto your silver platter plate in just a few hours.

Coconut Cream. If you've never used the 'top layer' of a can of chilled coconut milk, here is your chance to experiment! One of my favorite vegan chefs Chloe Coscarelli swears by this stuff! She calls it "a vegan substitute for heavy cream" – and I agree! If you are looking to make a decadent, rich, creamy dessert or whipped topping here is what you do…
Coconut Cream 101:
1) Buy a can of full fat coconut milk.
2) Stick the can in the fridge to chill for at least 4 hours.
3) Open can. You will notice that the milk has separated into two parts. A watery thin milk and a dense buttery cream on top. Scoop out the dense cream for your recipe and use the leftover thinned out milk however you wish – you will need some to thin out the swirl mixture.
Chilled Coconut Milk Cream..

….in this recipe, I blend the coconut cream with salted peanut butter for a rich peanut butter swirl in my chocolate mouse pie.
The nutrition-side of my brain is shouting "everything in moderation!" Obviously, you won't be downing cans of coconut cream every day – but once in a while it makes a very luxurious vegan treat. Coconut milk in moderation – but you already knew that. 🙂
Soy Free (Tofu-Free) Option. I have not officially tested this method. Though I'm pretty confidant it will work. Substitute the silken tofu with 1 avocado and 1 cup cashew cream. This cashew cream will be made of 1 cup soaked raw cashews and blended with the soaking water until smooth.
Here's my recipe..
Peanut Butter Chocolate Mousse Pie
vegan, makes one pie plus some leftover for a few mini parfaits
Peanut Butter Swirl:
¾ cup chilled coconut cream (see above)
⅓ cup peanut butter (smooth, salted)
3 tablespoon agave syrup
¼ teaspoon sea salt
dash of cinnamon
dash of cayenne (optional for warmth)
thin out as needed with leftover coconut milk liquid (the non-hard liquid left in the can).
Chocolate Mousse Filling:
½ cup soy milk (or other non-dairy milk)
½ cup dark chocolate chips
1 package chocolate vegan pudding (or see notes)
1 teaspoon sea salt
1 16oz. block of silken tofu
½ teaspoon vanilla extract
1 tablespoon cornstarch or arrowroot powder
dash of cinnamon
optional: sweeten to taste (see notes)
1 vegan chocolate cookie crust – (or process vegan chocolate cookies into crumbs.)
Notes:
* if you do not have vegan chocolate pudding mix, simply add this instead: 3 tablespoon cocoa powder, 1 cup dry sugar, 2 tablespoon cornstarch or arrowroot, ¼ teaspoon salt.
* Sweeten to Taste. After you combine all the ingredients, do a taste test. It you like a less sweet, rich chocolate flavor you should be good. But if you want to increase the sweetness intensity, add in some dry sugar during the heating process. You can also add in agave syrup – however dry is preferred for solidity.
Directions:
1. Chill you coconut milk can and scoop off the coconut cream on top. Set in a large bowl. Add the remaining peanut butter swirl ingredients and whip with a large whisk or beat on low speed until fluffy. Add coconut liquid (the thin clear stuff left in the coconut milk can) as needed until a thick/fluffy/buttery cream cheese-like texture is reached. Set aside in fridge.
2. In a sauce pot, add the soy milk – over medium heat. Dissolve the cornstarch/arrowroot and/or the pudding mix (or pudding mix substitute as described above).
3. Add in the chocolate chips – stir until they are melted and the mixture begins to thicken. Transfer the liquid to a high speed blender of food processor. Add in the silken tofu and remaining chocolate filling ingredients. Blend until smooth.
4. Grab your chocolate cookie crust and pour the chocolate filling about ¾ the way full.
5. Grab your peanut butter swirl and dollop it over top the chocolate layer. Using a fork or knife, swirl the peanut butter into the chocolate gently. If you have leftover filling (you will!) use it to make mini pb-choco parfaits.
6. Set pie in fridge to chill and harden for at least 2 hours.
Serve chilled! With soy whip om top!